Euro 2020 Groups – Predicting Who Moves On!
The euro 2020 groups have been determined, and its now time to predict who moves on from each group!
Over the past couple weeks, I have brought to you some aspects of the competition to think about. In example, teams to follow and even some of the players to watch during this competition. In this weeks' opportunity, I'd like to share with you the teams I believe will move on out of their group and have a deep run to win the Euro 2020 competition.
Group A – Who Advances?
In this group, you will find Italy, Switzerland, Turkey and Wales. All of which have excellent talent brewing and could have a realistic opportunity.
However, I'd be wrong if I didn't immediately point out the amazing talent growing for the Italian nation. For starters, their goalkeeper! Gianluigi Donnarumma is rumored to be one of the hottest signings this off-season in European club competition.
Donnarumma is just waiting to sign his contract until June 2026 as new PSG player – verbal agreement completed. 🇫🇷 #PSG

He's expected to stay at PSG as Keylor Navas too – no loan chance as of today.

Total salary in 5 years around €60m net only if all add ons will be activated. https://t.co/Ir48OHA9lC

— Fabrizio Romano (@FabrizioRomano) June 8, 2021
His youth and skill as well as vision has increased his value and now that he is moving on from AC Milan, he'll be a major factor for the Italians to move on deep in this competition and maybe even be winners. Italy is my immediate pick out of this group but I will warn you, do not fall asleep on Wales as they can surprise too!
Group B & C Predictions!
Belgium and Russia have lucked out in this draw for the Euro 2020 competition.
One of the teams that is mostly overlooked however is Denmark. People have quickly forgotten that Denmark, while not deep in their roster, still count with serious contributors to their success in this competition. Leicester City's own, Kasper Schmeichel is their goal-keeper and in the midfield, the Danish count with the likes of Christian Eriksen and Hojbjerg.
One quick pick on this group is clearly Belgium, it is impossible not to! My only concern for them is their shaky goalkeeper, Thibaut Courtois. I will say though, they could be a sleeper pick in others mind but a team that you should NOT disregard. Going with Belgium out of this group, even if there are other factors that could change that.
Looking over group C, this is another somewhat easy group.
While Ukraine and Austria could pose a threat to the Netherlands, it is impossible to disregard how good the Dutch are stacked for this competition. One concern for the Netherlands is that Donny Van De Beek will be out due to injury. The upside is, talents like Memphis Depay and Gini Wijnaldum to count on. For me, Netherlands is the clear advancing choice out of group C.
Group D – The Interesting One!
Group D is an interesting group altogether.
You are looking at Croatia, Czech Republic, England and Scotland all in one group. Sure, one could think that Scotland isn't much of a threat but you would be wrong! In fact, they have a lot in store that could create shock in this years' competition. Moreover though, Croatia and England are quite intriguing!
Croatia, they have the likes of Ivan Perisic, Mateo Kovacic, and last but not least Super Mario (Mario Mandzukic).
England, well they pretty much brought every good player out of the English Premier League. Literally, all jokes aside this is a stupidly-amazing team put together by Gareth Southgate. In my opinion, they are the clear winners for this competition but will have to see it to believe it.
Personally, this is a tough group to decide but I believe we will see the best of England in this competition, and it will be hard to choose against them.
Group E – Eyebrows are Raised.
The group consists of nations like Poland, Slovakia, Spain and Sweden.
The two teams I am most curious about are Poland and Spain. Sweden for me is a wild card team but not one that I can see going far in this competition. Sweden lacks of youthful star power and their main piece of attack is Zlatan Ibrahimovic who could possibly miss the World Cup coming up.
Meanwhile, I look at Poland and have some curiosity there. Poland managed to be quite an exciting team to watch last World Cup even though they exited early after losing to Colombia that year. Poland's own, Robert Lewandowski is their arsenal and frankly, he shouldn't be taken lightly considering his great season this year with Bayern Munich.
Lastly, I look at Spain and have to applaud the job well-done by Luis Enrique, the former Barcelona manager. For starters, he is bringing this team into a competition without their reigning captain Sergio Ramos who is out due to injury. Secondly, this is a team that many might overlook but if Luis Enrique establishes a decent 4-3-1-2 formation with this team, they could go far! Just think about it:
David De Gea (GK). Pau Torres, Laporte, Eric Garcia, Cesar Azpilicueta (DEF).
Rodri, Thiago, Busquets, Moreno (Midfield)
Morata, Ferran Torres (Forward).
I think Spain quietly will sneak into top 4 nations to win this competition.
Group F – The Group of DEATH!
Here is the good stuff! UEFA literally saved the best for last!
The group consists of France, Germany, Hungary and Portugal. Right off the bat, I want to send my sincerest condolences to Hungary, this group is extremely unfair.
Now looking into each of the remaining teams, my goodness! Starting with France, a youthful team having fun in the pitch with easily the next greatest football player in the world, Kylian Mbappe. France in my opinion are possible World Cup champions again and could actually win this Euro 2020 competition. The likes of Benzema, Pogba, Kingsley Coman, Mbappe, Griezmann and Lloris truly give this team a massive edge.
Moving on, you look at Germany and all one can say is wow! Manuel Neuer still in his prime, Thomas Mueller, Toni Kroos, Werner, Havertz, Ruediger and the list just goes on and on. Never mind the fact that now, Germany is under Flick's leadership. Flick is the same person who took Bayern Munich on a 6-title run all within one year!
Oh and Portugal, oh my lord!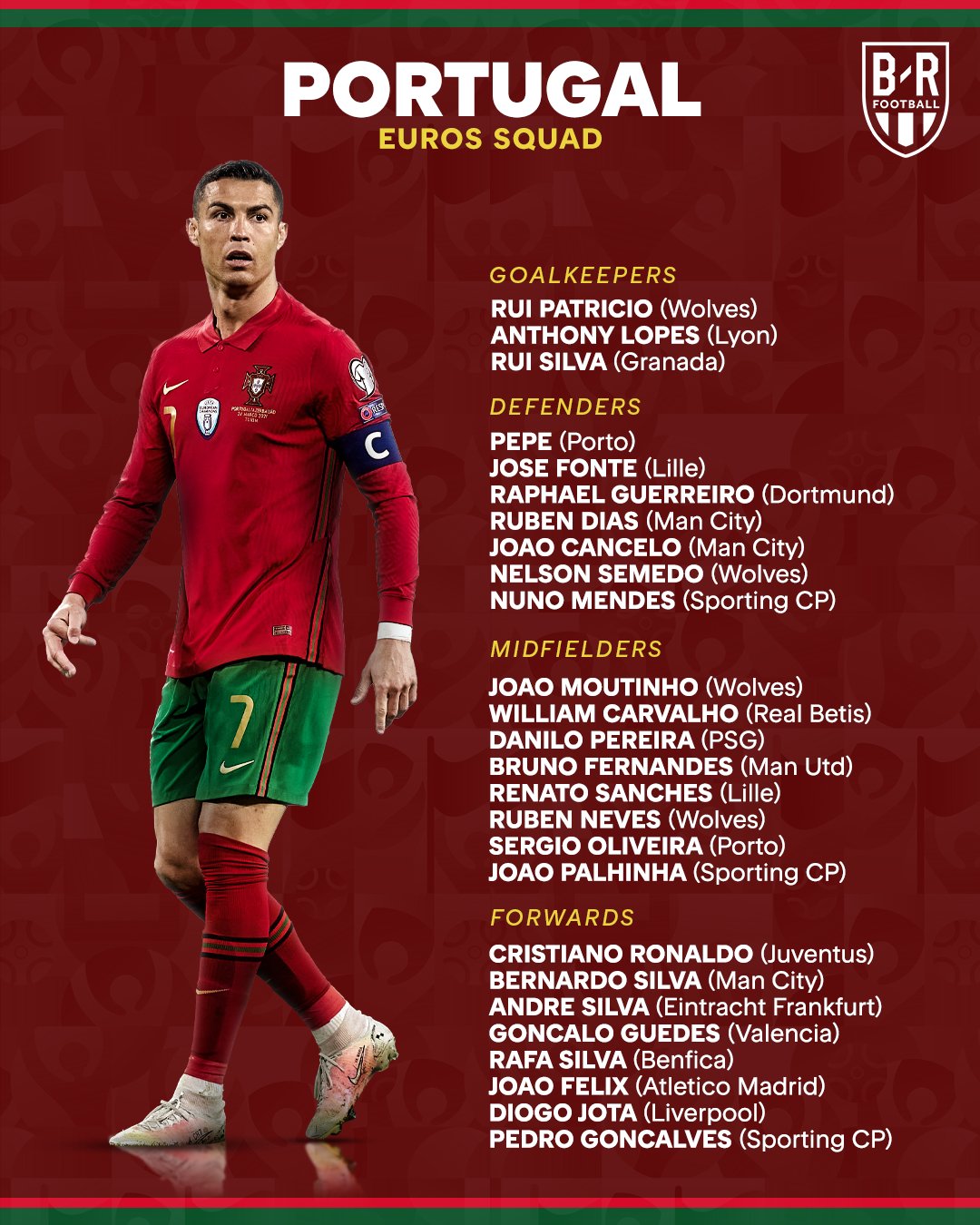 The midfield is insanity for Portugal. You are looking at Bruno Fernandes, Cristiano Ronaldo, Ruben Neves, Renato Sanches and even fitting in there Joao Felix who just won La Liga with Atletico Madrid.
Truly, picking a clear winner out of this group is nearly impossible. For me, this is a two-way tie between France and Portugal simply because of their attacking capabilities and versatility. Obviously, do not fall asleep on Germany who could literally change things here at any point.
In conclusion, make sure to check out the Yellow Card Podcast brought to you by Couch Guy Sports. The boys will be covering this competition all along and bringing you up-to-speed on everything you need to know on Euro 2020. You can find them on Spotify, YouTube and SoundCloud.
~Diego Galvis (@Diego_TheDJ On Twitter).