Why the Patriots Won the Gronk Trade
First, the news that shook all of New England to the core yesterday afternoon:
Trade, pending physical: Patriots are trading TE Rob Gronkowski and a seventh-round pick to the Buccaneers for a fourth-round pick, source tells ESPN.

— Adam Schefter (@AdamSchefter) April 21, 2020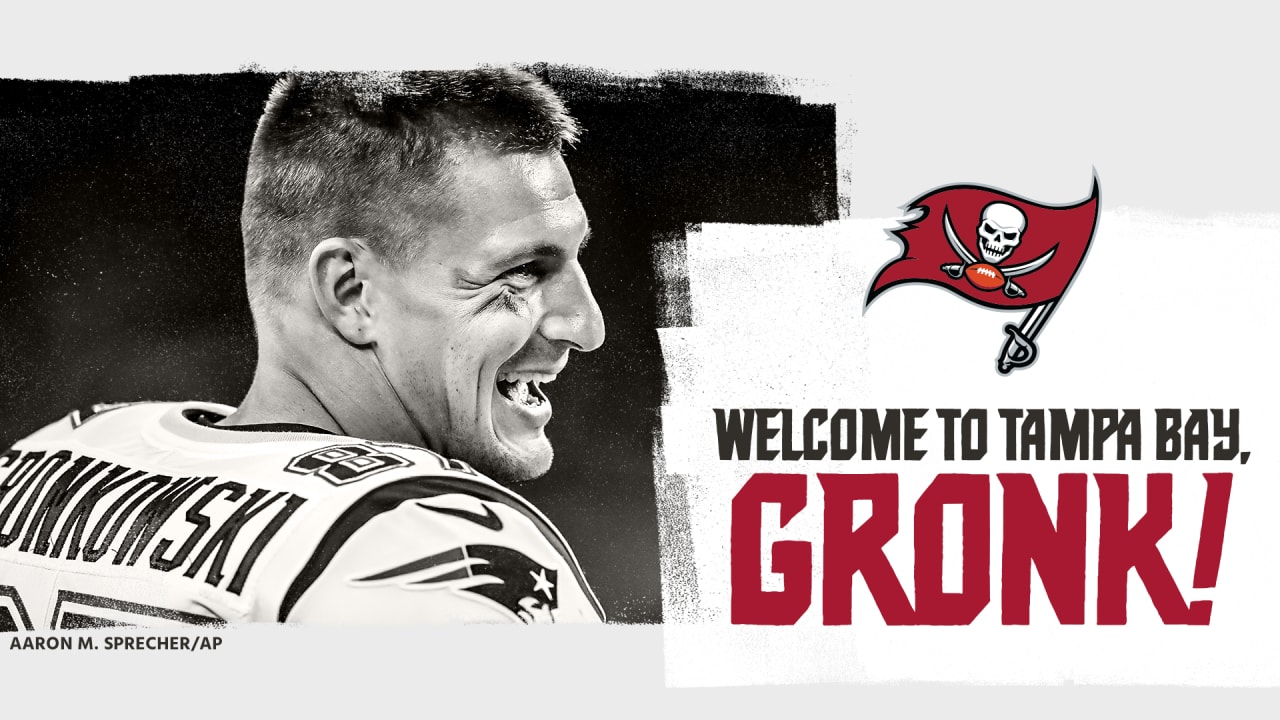 Patriots nation – we are sad, and we have every right to be. Brady's gone. We're not even sure if the team made any honest attempt to bring him back. And NOW Gronk is coming back out of retirement, to play with Brady?! In Belichick I trust, yada yada, but damn – our faith in Belichick is being immediately tested here. Let's stick together and stay level-headed as we navigate the hellscape reality in which we Pats fans now find ourselves.
On the surface level, giving up arguably the best TE to ever play the game for a 4th round pick feels like a total ripoff. But when you consider all the factors at play, I would argue that this return is more than fair. A couple of trains of thought on this, but first, I wanted to pull a few examples of similar trades. Obviously each situation is totally unique, and Gronk really doesn't fit any of these other molds to a T. But these examples may refresh our memories of the realistic trade-market involving a retired player.
Comparative trades:
Marshawn Lynch
Back in 2017 Marshawn Lynch came out of retirement after hanging it up with 1 year left on his deal with the Seahawks. Lynch wanted to come back to play for his hometown Raiders in a final swan song before they left for Las Vegas.
In that trade, the Seahawks received a 2018 5th round draft pick in exchange for a 2018 6th round pick and Lynch's rights. Not a great return here for Lynch. Considering he had no intention of returning for the Seahawks, only to play for Oakland, any return is gravy.  Moving up nearly 50 picks for a trade asset that wasn't an actual asset is very solid.
Jake Plummer
This one is weird, and doesn't quite fit, but serves as an example that sometimes players change their minds. During the 2006 Broncos season Plummer lost the starting job in Denver to a fiery rookie named Jay Cutler. Following that season, Plummer eyed retirement as Denver went all in on Cutler. 
In his best effort at a Brett Favre impression, Plummer toyed with retirement, without committing to it. Plummer was traded by the Broncos to the Buccaneers for a 2008 conditional draft pick. Plummer ended up retiring instead of competing for the starting job in Tampa Bay. (Not to be confused with the 2020 Florida city known as Tompa Bay.) The pick became a 2008 7th-round selection, instead of what could have been a 4th-rounder if Plummer had reported to the Bucs. 
Brett Favre
Famous for his gunslinger mentality and affinity to retire and un-retire, Brett Favre is the next example. Favre's 2008 trade from the Packers to the Jets is an interesting case. For those who may forget, Favre retired in early 2008. Favre was eyeing a comeback within a few months of his retirement. He ended up asking the Packers to unconditionally release him, enabling him to sign with another team. Green Bay refused, fearful Favre would immediately sign with the Vikings or another NFC contender. 
Favre was still very much capable of playing at a high level, leading the 2007 Packers to a 13-3 record and lost to the Giants in the NFC Championship game. That being said, it seemed that the Packers were ready to move on and hand over the reigns to some backup named Aaron Rodgers. 
After a lot of mud-slinging between Favre and the Packers, Green Bay traded Favre to the Jets for a 2008 conditional 4th round pick. That conditional pick, which could have been a 1st rounder had the Jets made the playoffs, became a 2008 3rd rounder. 
John Lackey
This one might not make any sense at first glance, but hear me out. Back in the winter of 2009, the Red Sox signed Lackey to a 5 year, $ 82.5 million contract. This contract, lucrative as could be, did have a clause regarding Lackey's injury history. If Lackey were to miss a full season due to injury, Boston would have a team option for a 6th year at the cost of the league minimum salary. With Lackey missing 2012 due to Tommy John, that hypothetical became reality. After a pretty tumultuous tenure with the Red Sox, Lackey had a phenomenal 2013 postseason. That run served as a sort of redemption for what some fans saw as an albatross contract.
When the 2014 season rolled around, it was rumored that Lackey was unhappy with the impending team-option. In order for Lackey to play beyond 2014, he'd need to be traded out of Boston. This is where the Red Sox were in a relatively similar situation to the 2020 Patriots with Gronk. The Sox ended up deciding to cut their losses, and get what they could in a trade for Lackey. Rather than spitefully hold onto the rights of a player who no longer wanted to play for their organization, they tried to make the most of it. 
The Red Sox ended up trading Lackey (and Corey Littrell) to the Cardinals for Allen Craig and Joe Kelly. Not an insane haul, but at the time it was an intriguing return. Allen Craig was an enigmatic offensive talent, who had 2 great 2012/2013 seasons before falling off a cliff in 2014. Joe Kelly, another former top Cardinals prospect, was converted into a solid reliever. Known and highly-regarded for his 2018 postseason run, Joe Kelly's a true Boston cult hero.
Carson Palmer
This one is going to be the rare outlier case, with the trade being a considerable HAUL. After several seasons in Cincinnati, Carson Palmer found himself unhappy, and requested a trade. Bengals team president Mike Brown refused, ultimately calling bluff on Palmer's threats to retire. Palmer retired, and sat out until mid-2011 when Oakland came calling. The Raiders were desperate for a QB, after losing Jason Campbell to a season-ending injury. Cincinnati made out like bandits in the trade, flipping the script and raiding Oakland. The Bengals received a 2012 1st round pick, and a conditional 2013 2nd round pick for Palmer.
Quite the haul here, but important to note is the desperation and general inadequacy of the Raiders. Palmer was a 32-year old Pro-Bowl QB, with plenty of gas in the tank. While Oakland failed to utilize Palmer well, he landed in Arizona where he flourished with… now Bucs head coach Bruce Arians…
Back to Gronk
In almost every circumstance above, the player would have retired over playing for the team that retained his rights. Obviously none of those trades are apples to apples. Quarterback is obviously a position of much higher value than tight end to an NFL team, and thus should warrant more in return. However, of those examples, we're only seeing slam-dunk return for Carson Palmer (made by the incompetent Raiders). With that context, we can grapple with the realization that Gronk didn't want to play for Belichick without Brady.
Additionally, should Gronk have played hardball with the Patriots / Belichick, they'd have been in trouble. Their cap situation is a mess. Adding in Gronk's salary for the 2020 season would have forced the Patriots into a game of chicken. The Pats faced with either cutting Gronk and his $10 million salary, or cutting other players to create cap space. The latter being a dangerous risk that he'd return to football if stuck in New England. (Spoiler: he wouldn't.)
Verdict: Patriots Win the Gronk Trade
Listen, I get it. On the surface, a 4th round pick in exchange for Rob Gronkowski, (and a 7th round pick) seems underwhelming. But considering the details, and that Gronk wasn't coming back out of retirement to play for the Patriots, it's a great haul, and a W for the Pats. 
So, if the Patriots won the Gronk trade, does that mean the Bucs lost it? Gronk could successfully come back, beef up and regain his title as the best tight end in football. The answer here for me is still that the Bucs overpaid. Certainly a successful trade for them, but the Patriots still win the deal.
The Bucs would have had to cough up much more in a Gronk trade 2 years ago, it's true. But this seems like an awful lot to pay a Patriots team with little to no leverage in the situation. Gronk made the decision, which totally forced the Patriots hand, and the Bucs didn't play hard ball. The Bucs made a great move on their part, but didn't quite make it the steal of an acquisition it could have been. Based on initial reports, this was a one dog race, with Gronk only interested to returning to play with Brady in Tampa Bay. 
Overall, this is a shrewd move by the Patriots, to turn a non-asset into a draft pick. New England finds themselves with a whopping 12 picks in the upcoming NFL draft. While they lack a 2nd round pick (Thanks Mohamed Sanu), they're tripled up in the 3rd, and doubled up in the 4th. That type of pick arsenal should be enough draft capital to be dangerous during the draft. I'm excited to see how they navigate the draft here. They could elect to hold onto those picks and draft a deep rookie class. Or maybe even consolidate picks and move up to pluck a premier talent (Tua!?! – JK, I wish). We could even see them use a pick or two to acquire a maligned veteran on the trade block. The options are endless!
Final grades on Gronk trade:
Patriots: A
Buccaneers: B+
When it boils down, the Gronk trade cannot be evaluated in a vacuum. They didn't trade a player who was going to suit up for the Patriots again, so any return was gravy. They added a formidable 4th round pick to their war chest of draft picks, with the ultimate goal of re-tooling for 2020.
Use Promo code "couchguy" or "LLP" at Manscaped.com and grab some of the best tools in men's below the belt grooming. Using the code will get you 20% off of your order AND free shipping. Help out the site and help out yourself by buying some products from Manscaped TODAY.
-Mike Gilligan (@BigGilli, and @SmallStateTakes Podcast) – https://podcasts.apple.com/us/podcast/small-state-big-takes/id1432138166