Which Road Team Will Win In The Divisional Round Of The NFL Playoffs?
On Saturday, round two begins of the NFL playoffs. After super wild card weekend super stunk, fans are hoping that the divisional round is much better, even though it won't take much to be better than the wild card round. On paper, the divisional round offers better matchups including a few rematches from the regular season. One of these matchups is also a rematch from the postseason last year as well. So with that being said, which road team will win in the divisional round of the NFL playoffs?
San Francisco 49ers vs Green Bay Packers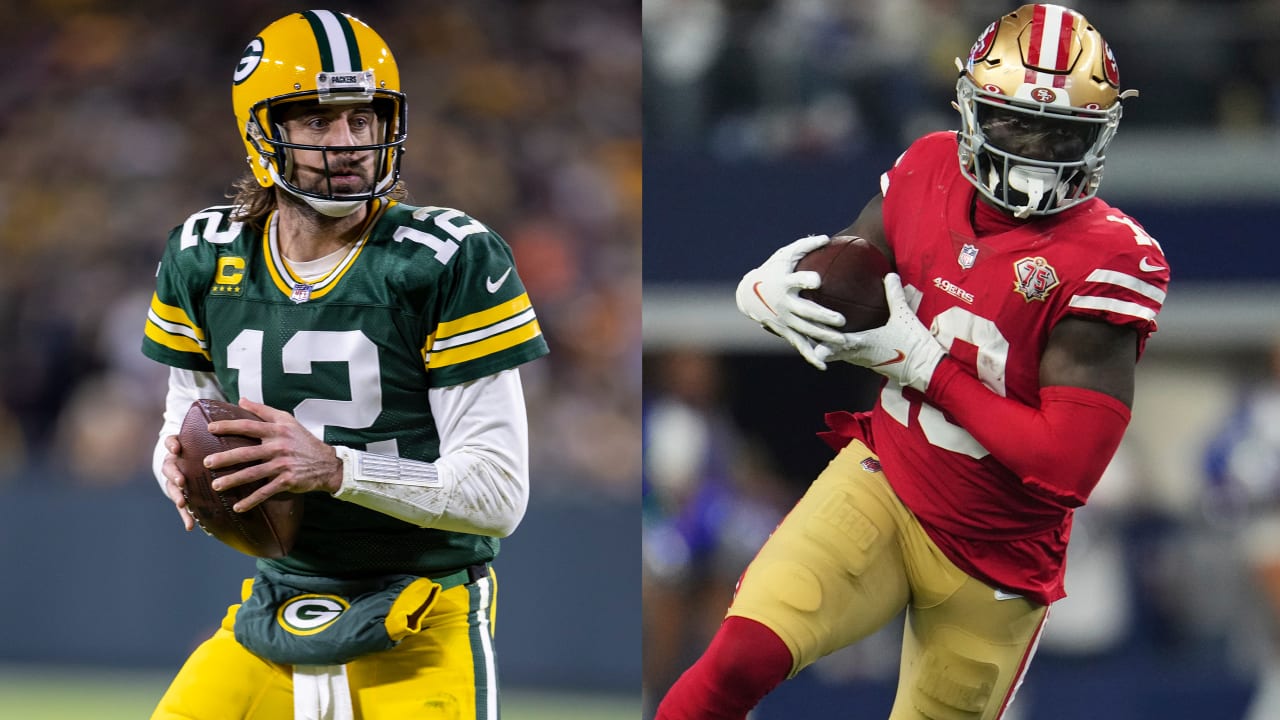 The San Francisco 49ers were the only road team that won in the wild card round. The 49ers took down the Cowboys in thrilling fashion when Dak Prescott ran up the middle of the field with 14 seconds left and no timeouts and didn't let the officials set the football. Now, San Francisco takes that emotion to Green Bay where it will be near zero degrees at kickoff. Jimmy Garappolo has never played in a game where it's been under 40. Packers quarterback Aaron Rodgers has never beaten San Francisco in the playoffs. Something has got to give here.
If the 49ers want to pull this off, they will need wide receiver Deebo Samuel to have a career game against the Green Bay defense. Games like this are where career defining moments happen. It's more than time for Deebo to have a career defining moment. The health of defensive end Nick Bosa will also play a factor into this game as well. If he's healthy, the Green Bay offensive line will have their work cut out for them.
Los Angeles Rams vs Tampa Bay Buccaneers
A rematch from week three where Los Angeles had their way with Tampa Bay. But, that was back in the regular season. At the time, this was an early speculation of a possible NFC championship matchup. But we get it a week early instead. The Rams are coming off of a steam rolling win against the Arizona Cardinals where the defense just dominated Kyler Murray and the Arizona offense. Tampa Bay is coming off of a big win against the Philadelphia Eagles.
Defense wins championships. In this game, the Rams defense has a chance to get to Tom Brady often. Tristan Wirfs is dealing with an ankle injury that could hold him out of this game. The Eagles were getting to Brady often when Wirfs went down with the injury. If the Eagles can get to Brady, so can Aaron Donald. The Tampa Bay offense is weaker compared to week three when these teams first met. Don't forget about Cooper Kupp too, he'll be keeping the Tampa Bay secondary on their toes.
Cincinnati Bengals vs Tennessee Titans
History was made last weekend as for the first time ever, text messages were sent saying the Bengals won a playoff game. Joe Burrow ended the 31 year drought and now he leads the Bengals into Tennessee to take on the Titans. There's a possibility that running back Derrick Henry makes his comeback and plays in this game after he broke his foot on Halloween. If that happens that changes everything.
For the Bengals, they need to do two things. One of them is of course is to stop Derrick Henry if he plays. The other is to get Ja'Marr Chase going early. The Burrow and Chase connection has been lethal this season and if Cincinnati wants to pull the upset here they're going to need Ja'Marr Chase to play like the rookie of the year we've seen all year long.
Buffalo Bills vs Kansas City Chiefs
The Buffalo Bills are coming off of a 30 point blowout victory against the New England Patriots. Kansas City is coming off of a blowout victory against the Pittsburgh Steelers. Arrowhead stadium is in for a treat when these two collide. The Bills were perfect as they scored a touchdown on all seven possessions. Kansas City gained momentum once they got through the first quarter against Pittsburgh. This is a rematch of an early season matchup where Buffalo won 30-20 in Kansas City, but can they do it again?
For Buffalo, they just need to find a way to contain both Travis Kelce and Tyreek Hill. That's easier said than done. In the first matchup this season Buffalo just dominated Kansas City on both sides of the ball. Obviously since then both teams have improved especially Kansas City. But, Buffalo's offense has been getting better each week along with that defense. Just simply outplay Kansas City, that's all they have to do.
With that being said, the Buffalo Bills have the best chance as a road team to win this weekend. Josh Allen is a future MVP and he will show this weekend in Kansas City. The Bills are the most balanced team in the AFC and they will be the lone road team this weekend to pick up a win. Bills mafia should be getting excited!
Images from: nfl.com, buffalonews.com, profootballnetwork.com
Feeling tired, unable to focus and low on energy? We can help. Go to shockedenergy.com today and get yourself Shocked Energy today! Obtaining maximum energy with healthy ingredients. Use the promo codes "CGS21" or "CGSN" for 10% off your order today.
Tired of soreness and pain slowing you and your workouts down? Change that. Melt stress away anytime, anywhere with the ExoGun. Designed to give you the ultimate recovery utilizing percussive therapy and deep tissue massage, it will change your recovery life FOREVER. Follow this link (Exogun) for 10% off or use code promo code CGS10 at checkout!
-Matt Burnett (@mattthew_jordan on Twitter)