Stay Melo: Carmelo Anthony is a future First-Ballot Hall of Famer
Carmelo Anthony is a future member of the Naismith Memorial Basketball Hall of Fame.
Why is this a relevant thought? Well, Melo has been balling out with some clutch performances in the bubble as the Trail Blazers look to secure a playoff spot. As a result, it's got teammate Damian Lillard praising him, and speaking out on his greatness:
"I mean he's a Hall of Famer." 🔥@Dame_Lillard reflects on Melo's big shot and impact as a teammate. pic.twitter.com/Tin8ZQgvzr

— NBA on TNT (@NBAonTNT) August 5, 2020
Bold statement by Dame? I don't think so. BUT, after the Melo bashing that occurred when he was unjustifiably blackballed by the NBA following his brief stint with the Rockets in 2018, I feel like there's a degree of disrespect for Melo throughout a small part of the NBA / basketball community.
Let's put this simply, because it seems those that have actual substance-related arguments in this conversation lean Melo. So, to be fair, this might be a downhill battle on the whole. That being said, Melo is a FIRST BALLOT, Hall of Famer, without a shred of doubt.
NBA Resume
His NBA career consists of 6 All-NBA teams, 10 All-Star appearances. 2012-13 NBA Scoring Champion. That right there is worthy of a HoF nod. Especially considering how NBA players often have a bit of a softer path to the HoF.
Collegiate Resume
If that somehow isn't enough for you, remember that the basketball Hall of Fame isn't merely just the NBA HoF, it's for collegiate and international performances as well. Melo put the Orange on his back and led Syracuse to the 2003 National Title. Quick photo and video game cover to jog your memory: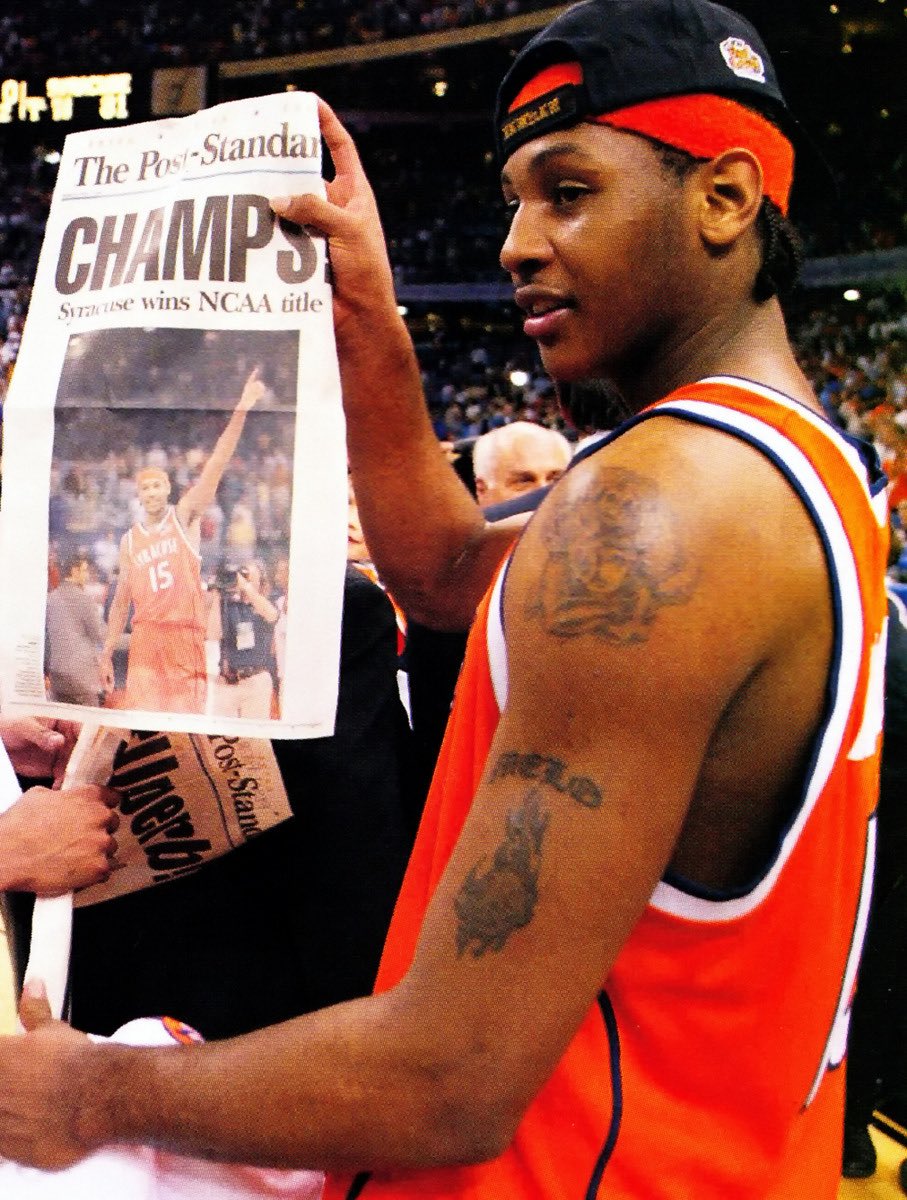 Olympic Resume
By the way, he only won 3 Olympic Gold medals for Team USA. Oh and speaking of Team USA? Dare I mention that Melo is also the All-Time leading scorer in US Olympics History? Does that quench your thirst for international basketball success?
First-Ballot Status
I'm sorry, but if Tracy McGrady is a first-ballot Hall of Famer, in this day and age, then so is Carmelo Anthony. Melo has a prolific collegiate career, as well as a much more successful Olympic stint than T-Mac. On top of that, their NBA careers are rather parallel, with no definitive edge on either side due to both players being ringless.
Hoodie Melo
Hoodie Melo? Need I say more? Hoodie Melo was a VIBE. His workouts with Chris Brickley were ICONIC for a reason. Dude was COOKING on the practice court. I literally looked up membership costs at that NYC Gym because of those highlight clips of Hoodie Melo. Do I live in NYC? No. Do I live in the state of New York? No. Do I even live in the tri-state area within a reasonable commute of that gym? Absolutely NOT!!! That's the effect of Hoodie Melo for you. Just gravy in terms of the Melo legacy in my opinion.
Verdict: It's over. The debate is done. There is no counter. I'm sorry to anyone who can't accept that.
What more can even be said that's relevant to the debate here? I'm not sure?
If you disagree, @ me on twitter, I literally DARE you. Prepare to get publicly stomped.
-Mike Gilligan (@BigGilli, @VerbalCommitPod and @SmallStateTakes Podcast) – https://podcasts.apple.com/us/podcast/small-state-big-takes/id1432138166 / https://podcasts.apple.com/us/podcast/verbally-committed/id1516871465