Saints at Washington: Fantasy Football Preview
Week five of the regular NFL season seems to be loaded with great matchups. With that in mind, another great matchup Sunday is the Saints at Washington Football team! These two teams have proven to be really good so far with plenty of surprises and more.
So for this matchup, who should consider starting, avoiding and keeping an eye on? Here we go!
Must Starts in This Matchup!
Alvin Kamara – New Orleans Saints – RB
(Image credit to Bigonsports.com)
Besides being an obvious start, Kamara has been trending in the right direction thus far.
Surely, week two was a tough battle against a solid Carolina Panthers defense that managed to shutdown the running game. However, Kamara's production has not slowed down at all. Last week, he set a career-high by running the ball 26 times! Out of those 26 carries, he managed to run the ball for 120 yards and while he's yet to score a TD in the season, he is a high-end RB1 entering this matchup against Washington Football Team.
Terry McLaurin – Washington Football Team – WR
(Image credit to draftsharks.com)
Coming into week five, McLaurin has solidified himself as the 6th best WR in Fantasy Football so far. With 38 targets, 25 receptions, 349 yards and 3 TD's, McLaurin averages 19 points through four weeks of football. Keep in mind, McLaurin is now commanding nearly 30% of the target shares and has been developing a very strong relationship with Taylor Heinicke. All of this together, makes him a very solid WR1 this week.
Definitely Avoid!
Washington Football Team Defense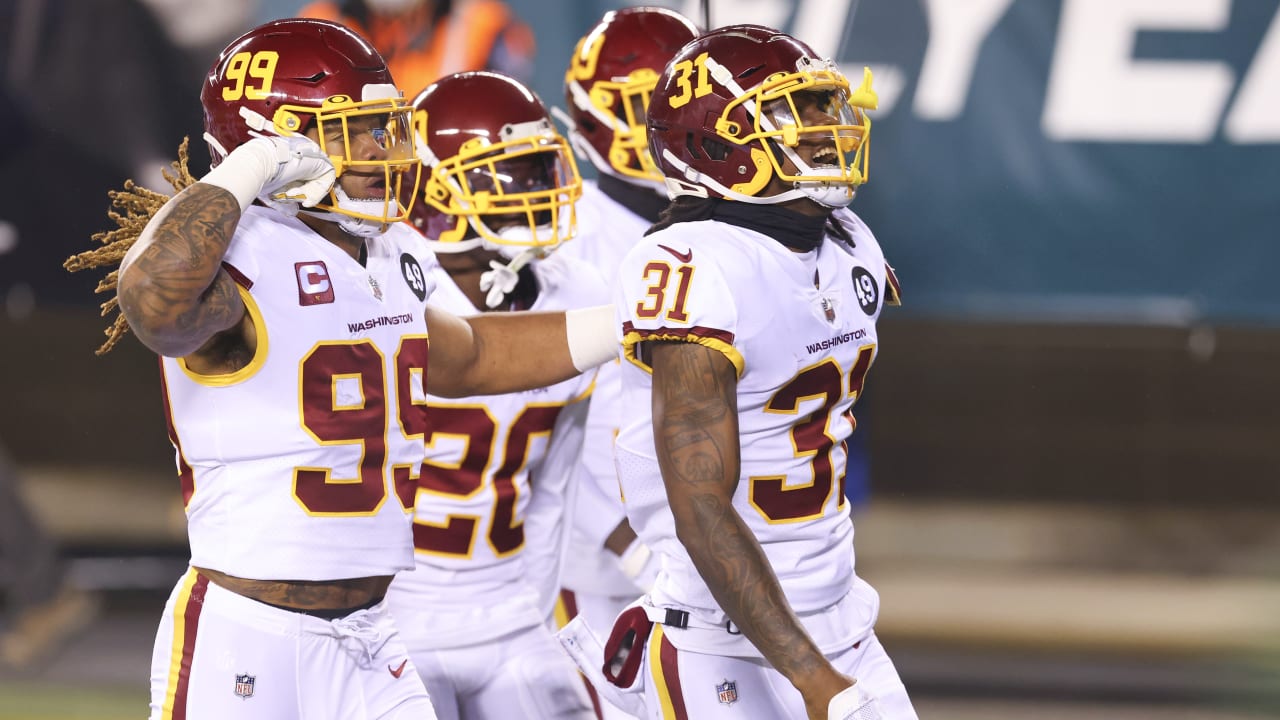 (Image credit to nfl.com)
Coming into this years' NFL season, Washington was a highly hoped for defense given their youth and talent. However, speed forward to week four and you'll realize, its been lackluster so far to say the least.
Currently ranked at 29 and rostered in 54% of fantasy football teams, this defense will need to be avoided in week five against the Saints. Out of the past four weeks, this defense was a bust in three of them! Additionally, while yeah Chase Young will be a sack monster all over Jameis Winston, Washington is weak against the running game.
Probably doesn't help either that in this week, they are going up against a top-five running back in Kamara. Avoid!
Keep An Eye Out On…
Taylor Heinicke – Washington Football Team QB
(Image credit to Wavy.com)
I'll be the first one to admit that as soon as I saw Fitzpatrick go down with that injury, I considered WFT done for the season. Boy, has Heinicke slapped me in the face for doubting and rightfully so. Currently, Washington Football Team is second in the NFC East behind the 3-1 Dallas Cowboys. However, since starting in game two, Heinicke has impressed a lot. He has thrown for 838 Yards, seven TD's and only three interceptions against defenses like the Giants, and two against Buffalo who have a good defense.
While many can expect for Heinicke to have a down week this week in the Saints at Washington game. You can also expect him to bounce back quickly. For me personally, he is one that I am heavily keeping an eye on when it comes to the waiver wire. Heavily recommend doing the same.
(Featured Image credit to neworleanssaints.com)
Feeling tired, unable to focus and low on energy? We got you covered. Go to shockedenergy.com today and get yourself Shocked Energy today! Obtaining maximum energy with healthy ingredients. Use the promo codes "CGS21" or "CGSN" for 10% off your order today.
Tired of soreness and pain slowing you and your workouts down? Change that. Melt stress away anytime, anywhere with the ExoGun. Designed to give you the ultimate recovery utilizing percussive therapy and deep tissue massage, it will change your recovery life FOREVER. Follow this link (Exogun) for 10% off or use code promo code CGS10 at checkout!
~Diego Galvis (@Diego_TheDJ on Twitter).