With the wild card round behind us, things are about to get interesting in the NFL. The divisional round is this weekend and every matchup is intriguing. With that being said, I'm going to give you a few reasons why the Baltimore Ravens and Buffalo Bills matchup will be the game of the weekend.
Battle of the 2018 quarterback draft class
This game will be headlined by two quarterbacks who were part of the 2018 draft class. Bills quarterback Josh Allen and Ravens quarterback Lamar Jackson will face off for the second time in their careers, first time in the playoffs. Round one went to Lamar as he defeated Allen and the Bills during the regular season last year. Lookin at the stats, we all know Lamar is well known for his legs. However, he does throw touchdowns too. During the regular season, Jackson threw 26 touchdowns and nine interceptions, registering 2,757 passing yards. Looking at his rushing stats, he rushed for 1,005 yards and seven touchdowns.
Looking at Allen's stats, there's no denying he had a tremendous season. He threw 37 touchdowns and 10 interceptions, throwing 4,544 passing yards. His rushing stats are nothing like Lamar's. Allen rushed for 421 yards and got eight touchdowns. Each quarterback has a great amount of respect for one another so it will be interesting to see what happens Saturday.
Can the Bills contain Lamar?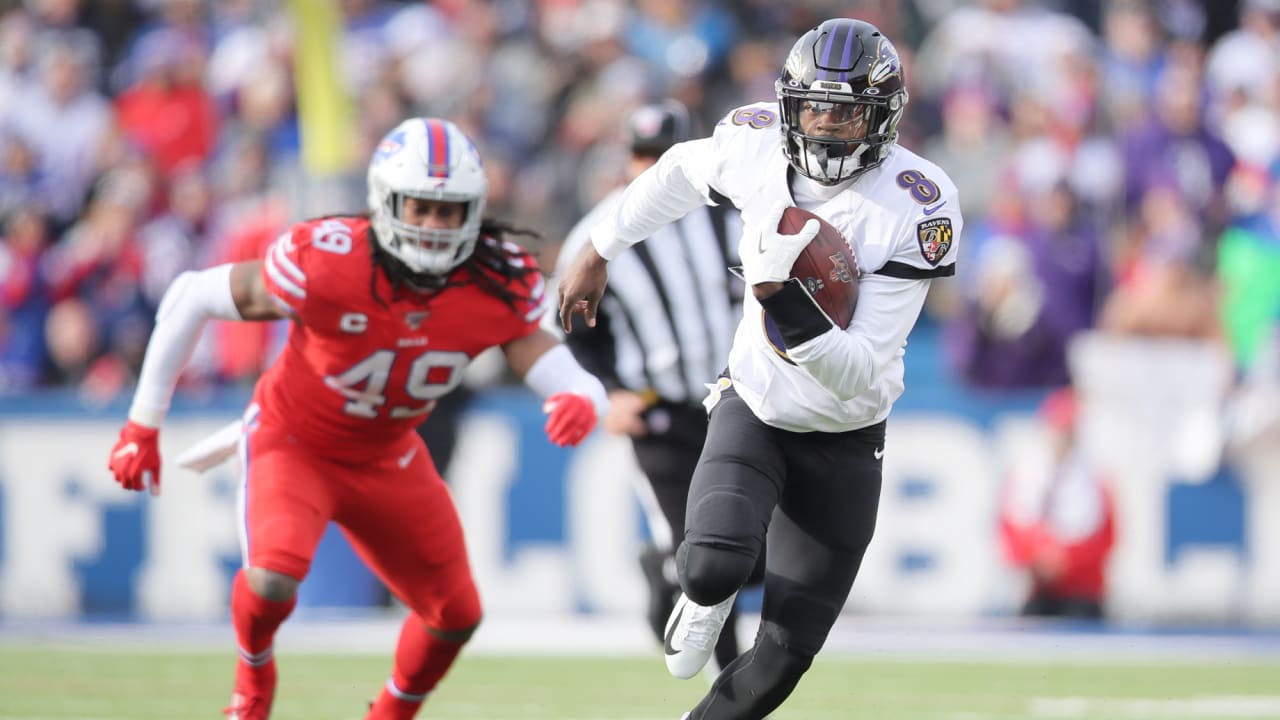 Despite losing the game, the Bills did a good job containing Lamar last year. According to ESPN.com, he had 11 carries and only registered 40 rushing yards. Buffalo held Colts running back Jonathan Taylor under 100 yards last week but he was able to break through at times and get some yardage. During the last few regular season games, the Bills defense has been playing much better but struggled last week. They need to improve because they are facing not only a mobile quarterback, but also a couple of good running backs.
Two hot teams
How poetic that the divisional round will be showing off two of the hottest teams at the end of the regular season. Both Buffalo and Baltimore went 5-0 the last five weeks of the season and if you're a fan of either team you should be thrilled. There's no better time to play great football then the last few weeks of the season. This another reason why I think this will be the game of the weekend and if you're not a fan of either team, I think you should be extremely thrilled that this is a playoff matchup.
Josh Allen
Allen had a decent game against the Ravens last year but did have some tough moments. According to ESPN.com, Allen went 17/39, throwing one touchdown and recorded 146 passing yards. As I mentioned earlier, Allen has taken a tremendous leap this year. I know a lot of Bills fan are nervous about facing the Ravens, but they need to know that they also have a good quarterback. The Ravens like to blitz a lot but Allen is pretty good against the blitz as you can see below.
Battle of the titans
Both teams all around are very good, but the last thing I want to talk about is the Bills offense going up against the Ravens defense. According to Pro Football Reference, the Ravens defense is no joke. They sit in 2nd when it comes to team defense, 6th in passing defense and 8th in running defense. Looking at the Bills offense, they're 2nd in team offense, 3rd in passing offense and 20th in rushing offense. All year long, the Bills haven't had a lot of success running the ball. However, I believe Buffalo's rushing offense needs to get it going. Running back Zack Moss is out for the rest of the postseason because of an ankle injury, so the Bills signed Devonta Freeman to help out Devin Singletary. Head coach Sean McDermott did say that running back TJ Yeldon will be activated for the game this weekend so we'll see what happens with Freeman and Yeldon.
Final thoughts
I do think this game will be a low scoring game. Especially since there is a possibility of snow in the forecast for this weeked, it'll be a shootout but I don't expect a high scoring game. Like I said earlier, this a battle of the two hottest teams in the league and we're in for a treat. You can catch the game on NBC this Saturday with kick off getting started @8:15pm.
Use Promo code "couchguy20" or "LLP" at Manscaped.com and grab some of the best tools in men's below the belt grooming. Using the code will get you 20% off of your order AND free shipping. Help out the site and help out yourself by buying some products from Manscaped TODAY.
-Zach Jezioro (@ZachJezioro_13)