Penn State Nittany Lions: Ohio States' Biggest Challenger
Penn State has been one of the most successful programs in the country over the last half decade. James Franklin became head coach back in 2014 after Bill O'Brien left for the Houston Texans. Both O'Brien and Franklin came into a tough situation after the horrible and disgusting Jerry Sandusky case. Ever since Franklin took over, Penn State has been one of the best teams that have not made the college football playoff. You can definitely make a case they should have after they won the Big 10 Championship back during the 2016 season. Since the beginning of the 2016 season, Franklin has led the Nittany Lions to a 42-9 record with wins in the 2017 Fiesta Bowl, the 2019 Cotton Bowl and 1 Big 10 Championship.
The Big 10 season starts up this Saturday and once again, it is Ohio State's conference to lose. They return Heisman Trophy finalist Justin Fields (who was originally committed to Penn State before signing with Georgia). However, Ohio State lost a lot of talent from last year's team. Most notably, they are without Chase Young, Jeff Okudah, and JK Dobbins. That is a lot of talent to lose, but Ohio State is always at the top of the recruiting boards. With that said, a conference championship is far from a done deal, and Penn State plays the biggest threat.
What Penn State brings
Penn State is an incredibly talented football team. Penn State opened at #7 in the Preseason AP Poll, but that was before the season was officially delayed. They return a ton of talent, especially on the offensive side of the ball. Quarterback Sean Clifford is back as team captain after throwing for 2,654 yards and 23 touchdowns. Also, Pat Freiermuth, one of the top tight ends in the country is returning. Freiermuth is poised for a monster season and will look to improve on that first round draft projection. He finished the season with 43 receptions for 507 yards and 7 touchdowns. Freiermuth looks to be a matchup nightmare for defenses all around the Big 10.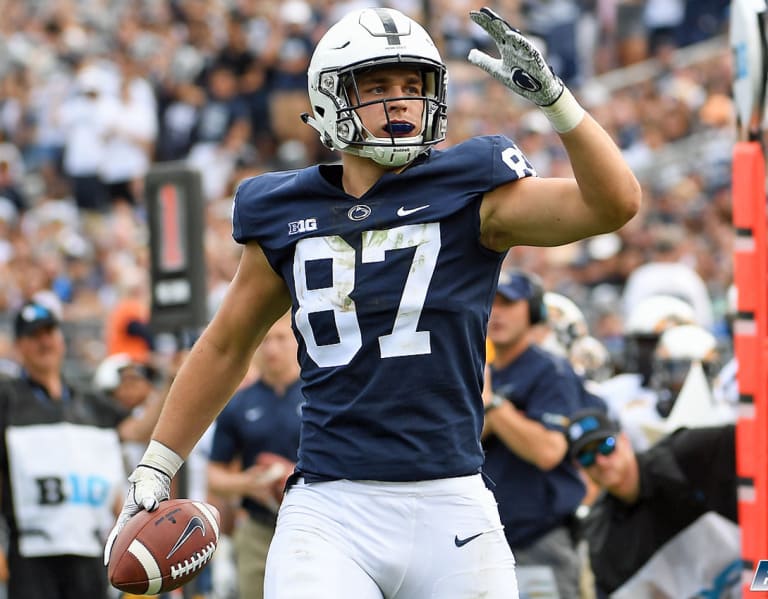 Penn State also returns a strong run game. They lost Ricky Slade to transfer but still have true sophmores Devyn Ford and Noah Cain to carry the load. Journey Brown is still with the team, but it just came out that he has a medical condition that may keep him sidelined for this season.
Defense
The biggest absence for Penn State will be star linebacker, Micah Parsons. Parsons decided to opt out of this season and focus on the NFL draft. Nobody can fault the projected top 10 pick for deciding what is best for him. Despite Parsons' absence, the Nittany Lions will once again have one of the best defenses in the nation. They always have a great front 7 with Jesse Luketa headlining a talented linebacking core. They also return star devensive linemen, Shaka Toney. Toney had a great season with 6.5 sacks.
Question marks
One of the biggest question marks coming into this season is the receiving core. They lost KJ Hamler to the Broncos and Jahan Dotson has yet to be a proven number 1 option. A couple of young and unproven receivers will have to step up for the Nittany Lions in order to have an elite offense.
Final Thoughts
Ohio State is one of the elite programs in the country, right up there with Clemson and Alabama. Even though they lost so much talent to the draft, Justin Fields is that talented and they always have a premier recruiting class every season. Penn State is going to need production from a lot of players who were not big time names last season. However, their defense should once again be one of the best in the country and single handedly keep them in a lot of games. There may not be a true threat to Ohio State this season, but if there is one, it is the Penn State Nittany Lions.
-Pete Chatterton (@Pchat12)