Packers at Bears: Fantasy Football Preview
Week six of the NFL Schedule unleashes a clash like no other in the Green Bay Packers at Bears game lined up for Sunday. A hate-filled clash between Aaron Rodgers and Khalil Mack as well as a clash with a young QB in Justin Fields trying to make a statement happening here. Scheduled for a 1PM EST kick-off, allow me to share with you my thoughts on this matchup from a fantasy football point-of-view. I'll be sharing starters, bench people and those to keep an eye on for!
Packers at Bears – Must Starts!
Davante Adams – Green Bay WR. 
(Image credit to forbes.com)
Davante Adams has been putting on a clinic once again for this Green Bay Packers team looking to go for one last dance with Aaron Rodgers. He's put out hot performances in weeks two, three and five against defenses very similar to that of the Chicago Bears. Week two against Detroit, Adams caught 8-of-9 targets for 121 yards. Week three against a San Francisco 49ers defense that had no answer for Adams. Davante caught 12-of-18 targets for 132 yards and a TD. Then, week 5 he caught 11-of-16 targets, putting up 206 yards for a TD.
Another Starter!
Khalil Herbert – Chicago Bears RB. 
(Image credit to flipboard.com)
All eyes are on Khalil Herbert as the sole option in the backfield for the Chicago Bears. After Damien Williams was listed in the reserve/COVID-19 list for the Bears on Thursday, its Herbert time in Chicago. Just last week, Khalil was the beneficiary of a David Montgomery absence that allowed for Herbert to run the ball for 75 yards in 18 attempts. With Green Bay hoping to shut down the wideout game for Chicago, the running game may be a vulnerable point for Green Bay. It would then allow for Herbert to capitalize and be a major option for Chicago.
Must Bench This Week!
Allen Robinson II – Chicago Bears WR. 
(Image credit to Chicagotribune.com)
I know what you're probably thinking. Why sit him?
Normally, I would question this decision and quickly. Looking at this years' production, it has been hindered by a QB looking to build some sort of chemistry and struggling to do so. While week six should offer more looks for Robinson to connect with QB Justin Fields, at the rate his production is going, Robinson offers at best a fringe flex option. With most leagues being deep enough, I'd sit him this week.
 One To Keep An Eye On!
Randall Cobb – Green Bay Packers WR.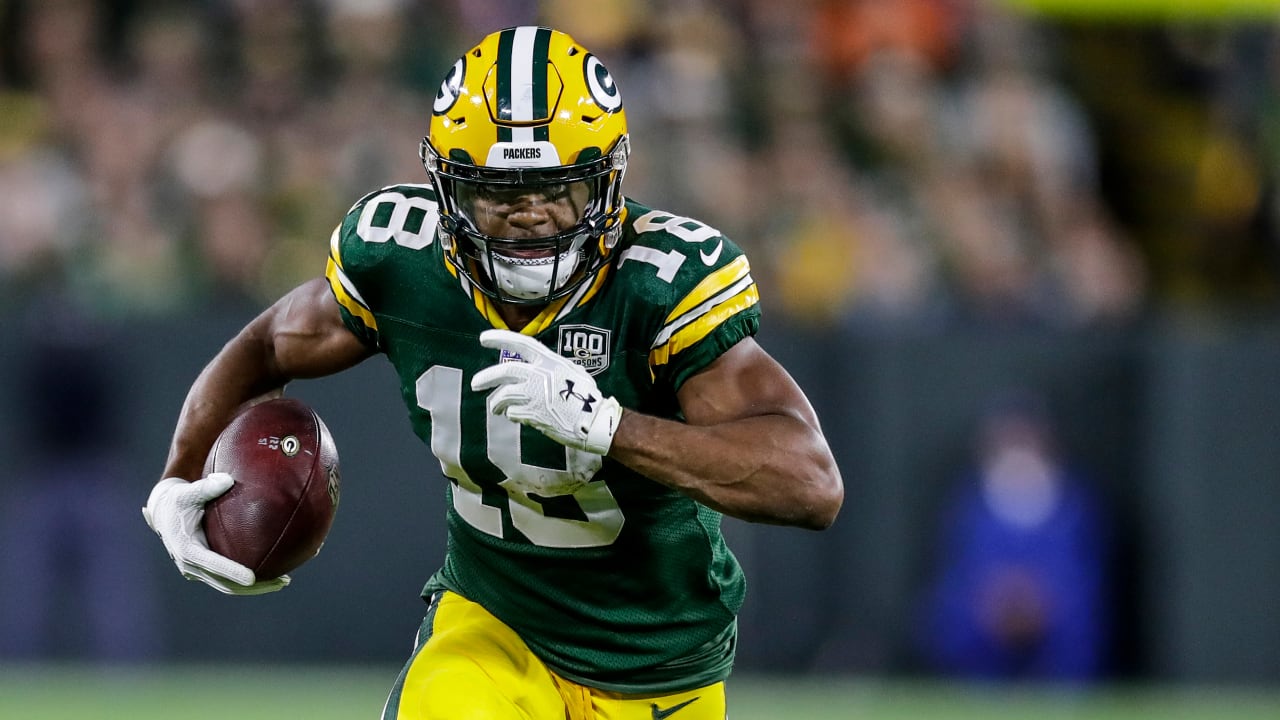 (Image credit to Packers.com)
Since signing with Green Bay in the transfer window, Cobb has quietly become more of option for Rodgers than the numbers speak for itself.
We all know the relationship between Rodgers and Cobb, right? Think about it, with Marquez Valdez-Scantling on the IL, it is just a matter of time for Cobb to cash in big time! Last week, Cobb caught 2-of-3 targets for 30 yards against the Bengals. With Chicago being up next, if there is anyone getting looks this week is him. Keep an eye out for Cobb in the waiver wire.
For now, this does it for this Packers at Bears fantasy football preview! As always, good luck and may the odds be ever in your favor.
(Featured image credit to cbssports.com)
Feeling tired, unable to focus and low on energy? We got you covered. Go to shockedenergy.com today and get yourself Shocked Energy today! Obtaining maximum energy with healthy ingredients. Use the promo codes "CGS21" or "CGSN" for 10% off your order today.
Tired of soreness and pain slowing you and your workouts down? Change that. Melt stress away anytime, anywhere with the ExoGun. Designed to give you the ultimate recovery utilizing percussive therapy and deep tissue massage, it will change your recovery life FOREVER. Follow this link (Exogun) for 10% off or use code promo code CGS10 at checkout!
~Diego Galvis (@Diego_TheDJ On Twitter)