NFL's #1 Cornerback on the Move
Howard Wants Out
Late Wednesday night Xavien Howard posted to social media that he would be requesting a trade from the Miami Dolphins. The 2X Pro Bowler and 1X All-Pro is coming off of his best career season. In just 56 career games, Howard has a total of 191 tackles, a sensational 22 Interceptions all backed by 60 Passes Defended. His 22 Interceptions since joining the league is second most behind Marcus Peters for the league lead in that time frame.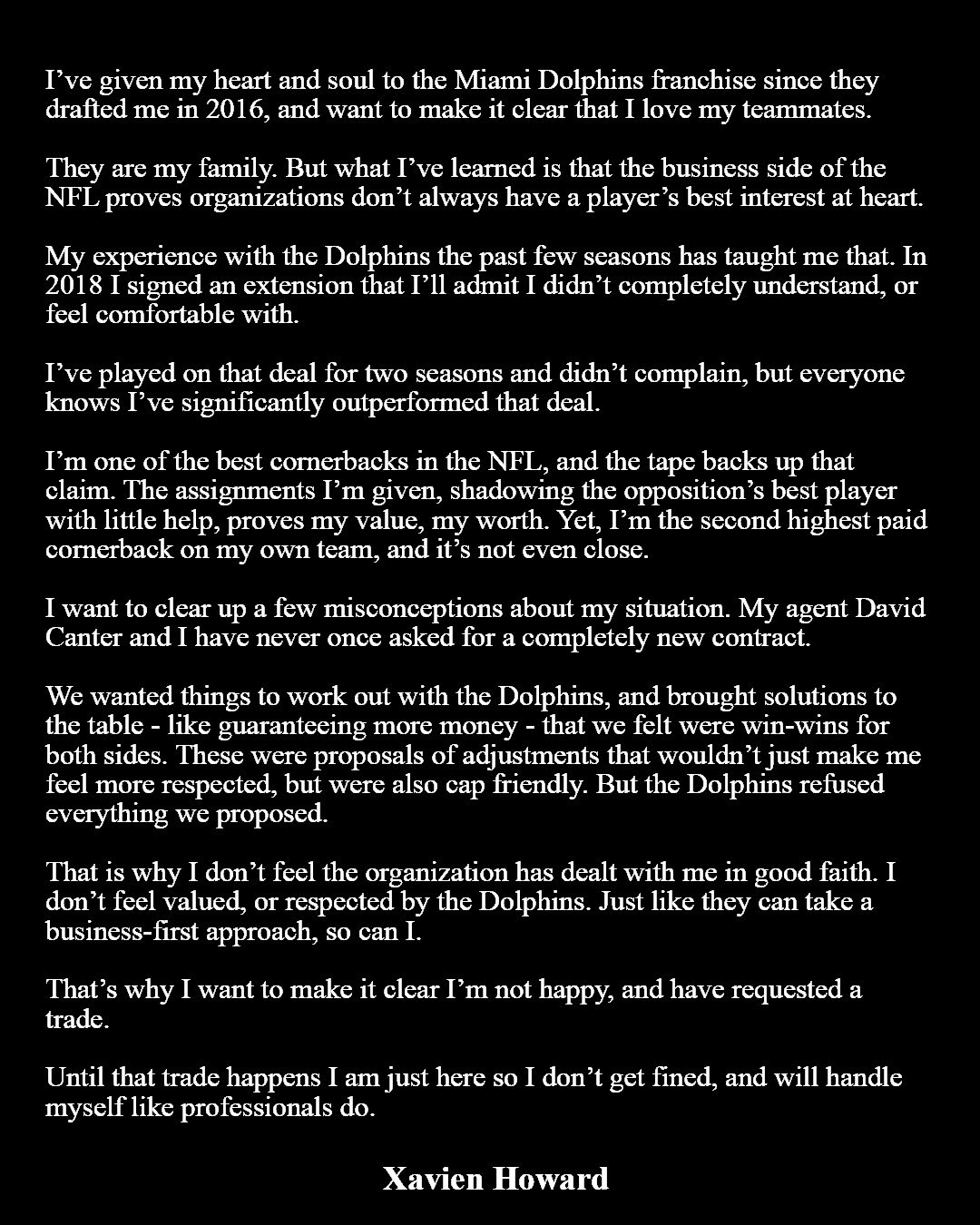 2020 All Pro
The real highlight of Howard's career came in 2020 where he came away with 10 Interceptions and finished third for the NFL Defensive Player of the Year Award which is extremely difficult to do as a cornerback. Obviously, Aaron Donald and TJ Watt ran away with the top two slots when it came to voting. His great year led to his first All-Pro season joining Jalen Ramsey as the two best corners in the league last season. However, he is not being compensated as such
"I don't feel valued, or respected" is a direct quote from Xavien Howard who feels he has indeed outperformed his contract. Being the second highest paid cornerback on his team is definitely a problem. Byron Jones the opposite corner of Howard signed a 5 Yr./ $82.5 M deal in Free Agency last year.
The Future
The question is definitely not if someone will sign Xavien Howard, thats a no brainer. However, where he ends up will be very interesting especially since Camps have already begun across the league this week. Over the last few seasons Corners have become an extremely important part of a teams success. Look no further than Stephon Gilmore and Jalen Ramsey who were able to create a real market value when it comes to the position. Howard will definitely want to get an increase in pay, so let's take a look at a few teams where he may just end up. These teams all happen to be in Super Bowl contention as well.
The Seattle Seahawks in my opinion are the number one spot. Imagine being on a defense with Bobby Wagner and Jamal Adams? Nevermind the fact you are going from second year unknown Tua at QB over to a Hall of Fame caliber player in Russell Wilson.
The New Orlean Saints have lost some key pieces but with the Super Dome and Sean Payton they always stand a chance at a title. Especially if the Bucs slip a little and father time FINALLY gets Tom Brady.
Last, but definitely not least is the Kansas City Chiefs. Flashback to last season when the Dolphins were hanging around all game until the Chiefs barely squeaked by 33-27. Mahomes and Reid saw first hand how effective Howard is for opposing offenses.
Tired of soreness and pain slowing you and your workouts down? Change that. Melt stress away anytime, anywhere with the ExoGun. Designed to give you the ultimate recovery utilizing percussive therapy and deep tissue massage, it will change your recovery life FOREVER. Follow this link (Exogun) for 10% off or use code promo code CGS10 at checkout!
-Fred O'Brien (@FOBSportsNFL)