NFL Sunday Standouts: Week Nine
The bio on the NFL Twitter page says it best. It's week nine already?! Yes, the ninth Sunday of the NFL season has come and gone. By far, this will be the most memorable week of the NFL season, for not great reasons. But, that's not what this is about. As always, there were great on field performances this week. Let's review this week's NFL Sunday standouts: week nine!
New England Patriots defense
This picture perfectly describes how the Patriots did yesterday defensively. Not only did the defense not give up a touchdown to the Carolina Panthers, but they also intercepted Sam Darnold three times. One of those interceptions was a 88 yard pick six by J.C. Jackson. Yes, Sam Darnold continue to see ghosts against the Patriots. On top of that, the Patriots contained D.J. Moore, Robby Anderson and Christian McCaffrey who returned from injury. New England made this 24-6 victory look easy.
Justin Herbert quarterback Los Angeles Chargers
Justin Herbert was the best quarterback on Sunday. This was a must win game for the Chargers and that's exactly what they did. The Chargers were victorious in this one with a final score of 27-24 because of the performance Herbert had against the Eagles. On the day, Herbert went 32-38, throwing for 356 yards and two touchdowns. In simple terms, Herbert was unstoppable in this game.
Nick Chubb running back Cleveland Browns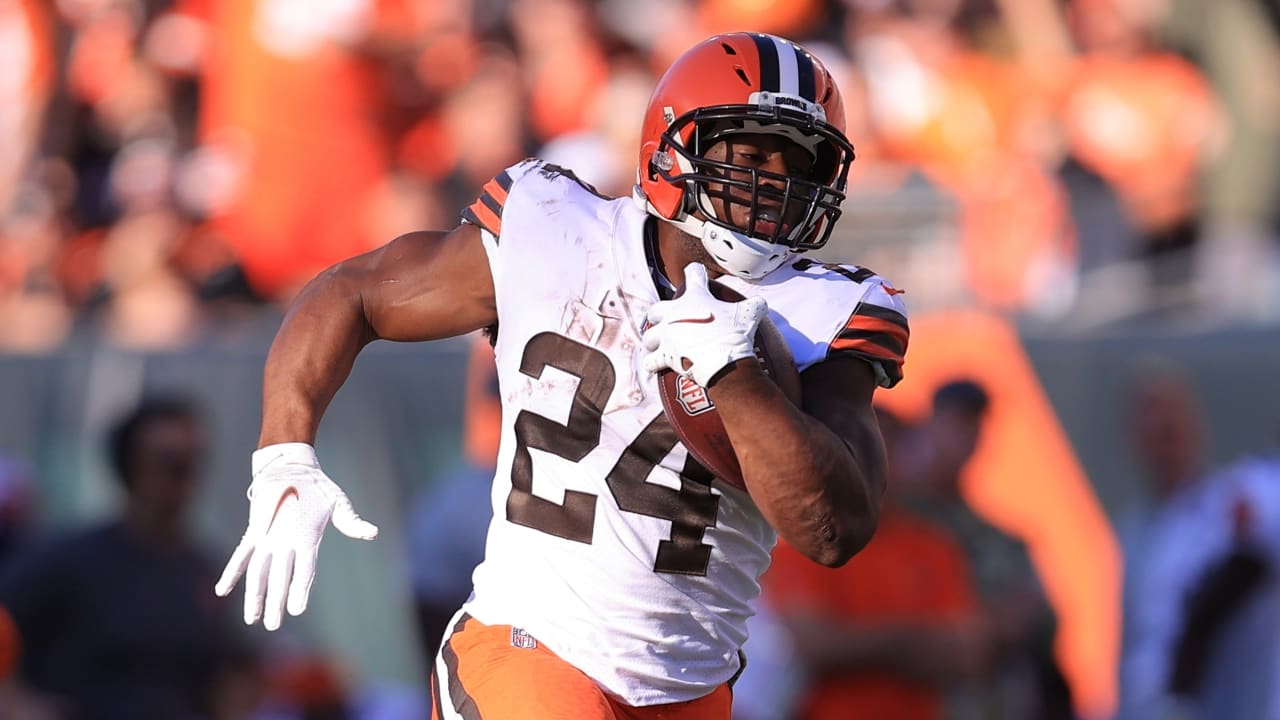 It seems hard to believe but the Cleveland Browns actually played a football game yesterday. All week, whenever the Browns were mentioned, it was about the Odell Beckham Jr. saga. With the saga finally over, it's time to talk about Nick Chubb. Cleveland needed it's beast to have a game and that's exactly what happened. Chubb went off with 14 carries for 137 rushing yards and two touchdowns. One of those touchdowns was a 70 yard touchdown run. Nick Chubb should not be taken lightly, otherwise a game like this is bound to happen. Chubb and company lead the Browns to a 41-16 victory over the Cincinnati Bengals.
James Conner running back Arizona Cardinals
The Arizona Cardinals did not have Kyler Murray or Deandre Hopkins available for this game. But, they had James Conner. To everyone's surprise, James Conner has the NFL lead in touchdowns at 11. What's more impressive is that all of those touchdowns have come within the last seven games. Speaking of impressive, that's what James Conner was yesterday for Arizona. Conner had 21 carries, rushing for 96 yards and two touchdowns. He also had five catches for 77 yards and one touchdown. Conner was a one man wrecking machine in Arizona's 31-17 victory over the San Francisco 49ers.
Images from: patspulpit.com, theathletic.com, nfl.com, yahoo.com, usatoday.com
Feeling tired, unable to focus and low on energy? We got you covered. Go to shockedenergy.com today and get yourself Shocked Energy today! Obtaining maximum energy with healthy ingredients. Use the promo codes "CGS21" or "CGSN" for 10% off your order today.
Tired of soreness and pain slowing you and your workouts down? Change that. Melt stress away anytime, anywhere with the ExoGun. Designed to give you the ultimate recovery utilizing percussive therapy and deep tissue massage, it will change your recovery life FOREVER. Follow this link (Exogun) for 10% off or use code promo code CGS10 at checkout!
-Matt Burnett (@mattthew_jordan on Twitter)