NFL Mock Draft 3.0 Part 2
Finally we made it! Today is part 2 of my NFL Mock Draft 3.0. This 12 week journey of researching constantly is finally coming to an end. It's been a wild ride, but I can't wait to see how many picks I get right. Let's get to it, shall we?
17. Las Vegas Raiders (8-8): Christian Darrisaw OT Virginia Tech
The Raiders don't have an offensive line. They'd be foolish not to draft offensive line with this pick. Like I said last time, it's not a smart strategy to completely rebuild the offensive line through the draft, but it's a decent one. Considering that the Raiders put themselves in this position, it's the only option they got if they want to keep Derek Carr upright next season.
18. Miami Dolphins (10-6): Najee Harris RB Alabama
It's no secret that the Dolphins need a running back. Najee Harris is the best running back in the draft. Remember that I had Miami take Ja'Marr Chase with the sixth overall pick. Now they add Harris here at 18. It's not a triple headed Alabama monster, but they got a gifted young quarterback with the best running back and wide receiver in the draft. That's trouble for the rest of the AFC East if Miami figures it out.
19. Washington Football Team (7-9): Trey Lance QB North Dakota State
With Alex Smith's retirement, Washington is left with Ryan Fitzpatrick and Taylor Heinicke. Yes, Heinicke got paid in the offseason but Washington's quarterback room is looking weak. Trey Lance will fall to them at 19 and Lance will be the next quarterback of the Football Team. The Football Team surprised everyone last year and won the NFC East with their dominant defense leading the charge. Now, they have a talented young offense ready to take it to the next level. All they need is a quarterback to lead them. Trey Lance fits that role perfectly.
20. Chicago Bears (8-8): Alijah Vera-Tucker OG USC
Since Chicago is continuing the narrative that Andy Dalton is going to be their starting quarterback, they will need a strong offensive line. Alijah Vera-Tucker played a huge role in the success of last season for USC. With Andy Dalton behind center, Vera-Tucker will have to block every play since Dalton isn't the best quarterback. Again, it would be foolish if Chicago doesn't go offensive line here unless one of the top players has a serious drop.
21. Indianapolis Colts (11-5): Kadarius Toney WR Florida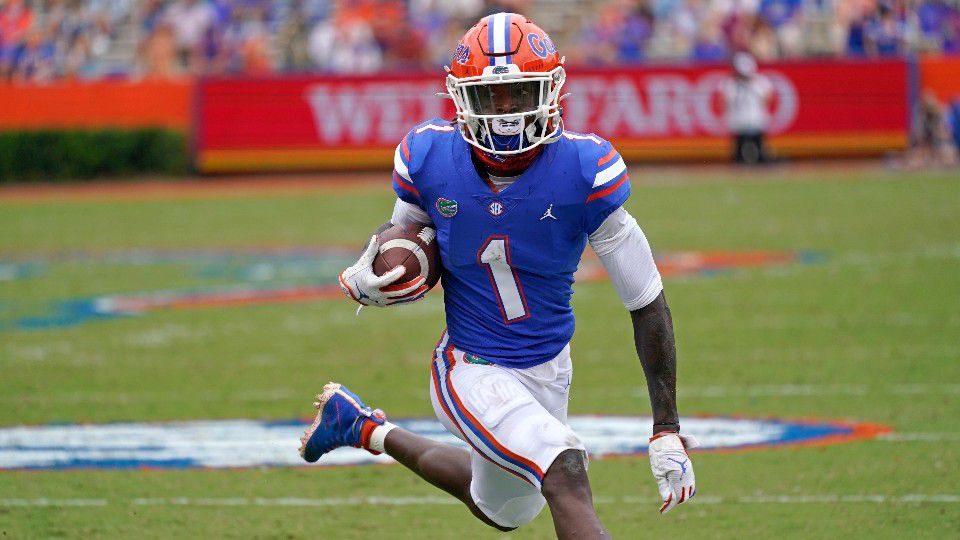 He's not the flashiest and he's not a stat stuffer. He goes out and plays hard. That's the kind of receiver the Colts need for new quarterback Carson Wentz. Wentz is coming off a year to forget and has a new start in Indy. Indianapolis has a young wide receiver group lead by veteran T.Y. Hilton. In what most likely could be Hilton's last season in Indy, Toney and everyone else will learn as much as they can from Hilton. In general, the wide receivers aren't the flashiest which is why Toney is the perfect fit in Indianapolis.
22. Tennessee Titans (11-5): Pat Friermuth TE Penn State
Wow! Once again, that's the correct reaction. Friermuth makes a jump to be selected at 22. Why? Tennessee needs a tight end that can fill the void that was left when Jonnu Smith joined the New England Patriots this offseason. In college he was referred as baby Gronk and that's a tight end Tennessee needs. Friermuth can block and create open lanes for Derrick Henry and he can go out to catch passes from Ryan Tannehill. The Titans shock the draft with this pick and it will pay off early.
23. New York Jets (2-14; from Seattle 12-4): Jalen Mayfield OT Michigan
So they got Zach Wilson with the second overall pick, and now they need to protect him. Mayfield is a strong and powerful offensive tackle that rarely gets taken advantage of. The Jets are slowly building a dominant offensive line. Mayfield is just another piece of that dominance.
24. Pittsburgh Steelers (12-4): Travis Etienne RB Clemson
The Steelers currently have a running back by committe scheme in the backfield. Not good. They need a true starting running back. Why not go get the all time leading rusher in the ACC? Etienne knows what it takes to be a successful running back on a successful team. With this most likely being Ben Roethlisberger's last season, Pittsburgh is going to want to go all out and try to give him one last Super Bowl run.
25. Jacksonville Jaguars (1-15; from LA Rams 10-6): Christian Barmore DT Alabama
This pick to me is a no brainer. He falls right into Jacksonville's lap. A few years ago, the Jaguars had the best defense in the league and looked like they were destined to run through every offense for years to come. That defense imploded. Now, they start to rebuild that once dominant defense and it starts with the tackling machine Christian Barmore. A pass rush is coming to Jacksonville.
26. Cleveland Browns (11-5): Patrick Jones II DE Pittsburgh
A first round talent that nobody has projected in the first round… except for me. I've been projecting Jones to go around this area. Yes, the Browns signed Jadeveon Clowney, but, he's only there for one season and he's injury prone. Cleveland needs to get another defensive end that specializes in sacking the quarterback. All he does his make key stops and tackles and gets the defense off the field on third down. He'll fit perfectly with Myles Garrett and if he stays healthy, Jadeveon Clowney.
27. Baltimore Ravens (11-5): Jaelan Phillips DE Miami
The Ravens need to find a replacement for Matthew Judon who left Baltimore for New England this offseason. Put in Jaelan Phillips and the Ravens have a pass rush once again. He put up similar numbers are Patrick Jones who just was selected by Cleveland. The Ravens will have a top tier pass rush with Phillips since he always finds his way to the quarterback.
28. New Orleans Saints (12-4): Jeremiah Owusu-Koramoah LB Notre Dame
DeMario Davis gets a friend who plays exactly like him. Owusu can cover the field, play man coverage and rush the quarterback if needed. A ball hawk as a linebacker, Owusu isn't afraid to make plays and put the spotlight on himself. Notre Dame had a top defense last season, and Owusu was out there leading the charge for Notre Dame. This would be one of the best picks in the entire first round.
29. Green Bay Packers (13-3): Levi Onwuzurike DT Washington
Aaron Rodgers will have to wait another year for Green Bay to take a wide receiver in the first round. The Packers address a big need with this pick by going defensive tackle. The quarterbacks in his division are, Kirk Cousins, Jared Goff and Andy Dalton. All three of them need to get to know Levi Onwuzurike before he is consistently sacking them. Seriously, this is a huge pick up for the Green Bay defense.
30. Buffalo Bills (13-3): Rashod Bateman WR Minnesota
The steal of the first round. Bateman falls to 30 and Bills mafia should rejoice. Yes, the Bills have Stefon Diggs, Cole Beasley and Emmanuel Sanders. But, adding Bateman makes their offense even better. He's the forgotten receiver in this year's class when it comes to top receivers. Josh Allen will have multiple down field targets to throw the ball to. In the NFL today, there's no such thing as too many receivers, you can't have enough.
31. Baltimore Ravens (11-5; from Kansas City 14-2): Samuel Cosmi OT Texas
In case you missed it, over the weekend the Ravens and Chiefs came to an agreement that Baltimore would send offensive tackle Orlando Brown (and other picks) to Kansas City in return for the 31st overall selection and other picks. The Ravens need to find a replacement for Brown so they go and get the best offensive tackle from the Big 12. Cosmi has a big job ahead of him in protecting Lamar Jackson, but, it won't be nothing he can't handle. He rarely is beaten by defenders so Lamar Jackson will be given plenty of time in the pocket.
32. Tampa Bay Buccaneers (11-5): Jayson Oweh DE Penn State
Tampa needs defense and they address it here. Yes, Tampa brought back everyone from their Super Bowl winning team, but they still need help on the defensive side of the ball. They take Oweh who makes key tackles on third down and is overall a tackling machine. He had a quiet 2020 season so he has something to prove and is given the perfect opportunity to do it with the defending champs. He'll learn from some of the most dominant pass rushers in the league which will make him better.
Final Thoughts
Thats it. All my mock drafts are complete. Now, it's time to see how many I get right. This draft class is insane and has the chance to be one of the best draft classes of all time. Enjoy the draft everyone and look out for my reactions and grades next week!
Use the Promo code "couchguy20" or "LLP" at Manscaped.com. Grab some of the best tools in men's below the belt grooming. Furthermore, using the code you'll get 20% off of your order AND free shipping. Help out the site and help out yourself by buying some products from Manscaped TODAY.
-Matt Burnett (@mattthew_jordan on Twitter)