NFL Mock Draft 2.0 Part 2
It's time for part 2! On Tuesday, my NFL Mock Draft 2.0 Part one came out! Check it out here: https://couchguysports.com/nfl-mock-draft-2-0-part-1/! Now, let's get into part two of my NFL Mock Draft 2.0, shall we?
17. Las Vegas Raiders (8-8): Christian Darrisaw OT Virginia Tech
Protect Derrick Carr! This is what this pick is all about. The Raiders basically lost their offensive line in free agency so it's time to rebuild through the draft. It's not a smart strategy but, atleast it's somewhat of a decent strategy! Darrisaw doesn't let defenders get by him often so Derrick Carr should be safe next season.
18. Miami Dolphins (10-6): Najee Harris RB Alabama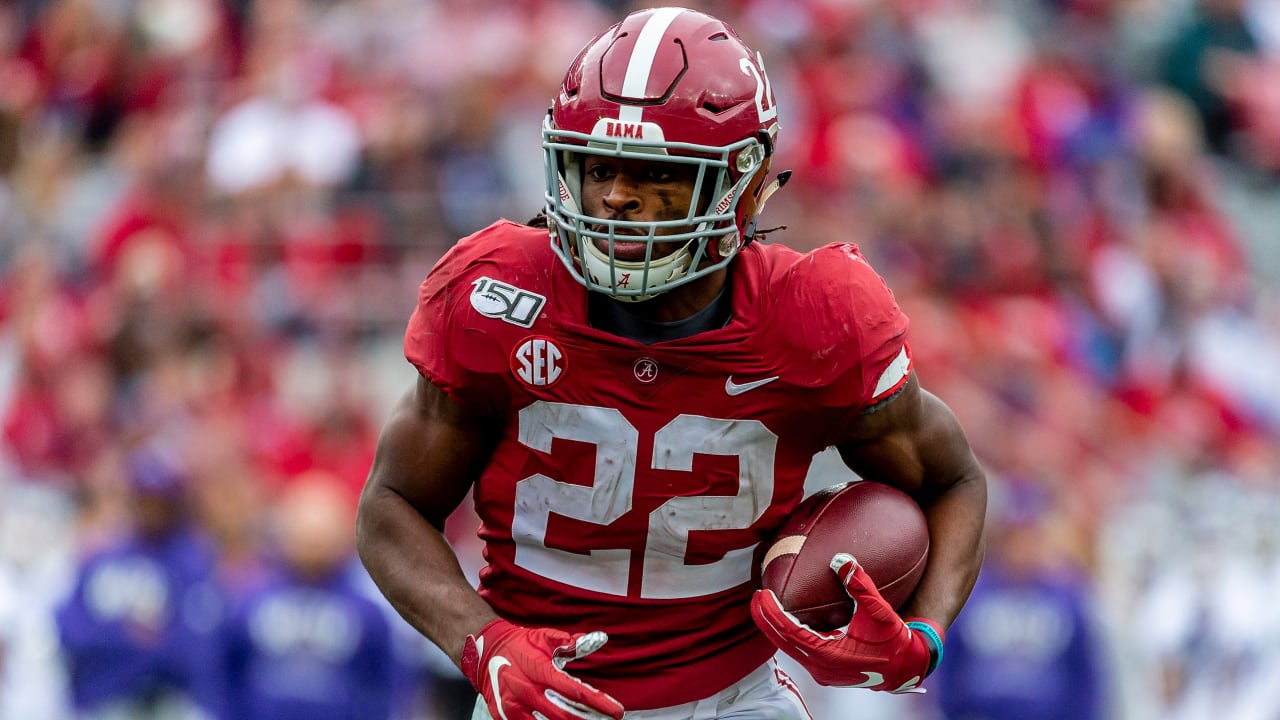 This is a no brainer for the Dolphins. Some say Najee Harris is the best running back in the draft. Harris will have a chance to prove it when he reunites with college teammate Tua Tagovailoa. Tua already trust's Harris in the backfield so that should bring him some comfort. Keep in mind, I also had Miami taking DeVonta Smith, so a possible triple headed monster at Alabama could take Miami (and the NFL) by storm. Harris will make a day one impact with the Dolphins.
19. Washington Football Team (7-9): Rashod Bateman WR Minnesota
Washington is loaded at wide receiver with Terry McLaurin and Curtis Samuel. Adding Rashod Bateman make's the wide receiver depth chart that much better. Bateman opted out last season and could have easily had a 1,000 yard season before he decided to focus on the NFL Draft. Bateman was a force to reckon with during his time in Minnesota. Now, once he learns how to be dominant in the NFL, Washington could be looking at a top wide receiving core in the NFL.
20. Chicago Bears (8-8): Alijah Vera-Tucker OG USC
Well Chicago, you have a quarterback. It might not be the one you wanted, but atleast you got one. Now, protect him. Alijah Vera-Tucker's talent at the offensive guard position shouldn't be taken lightly. This guy blocks, and only blocks. Last season, USC was one of the best teams in the PAC-12. Why? The offensive line protected quarterback Kedon Slovis. Vera-Tucker was a leader on that offensive line and he'll be a leader on that Chicago offensive line.
21. Indianapolis Colts(11-5): Kadarius Toney WR Florida
This might be one of the smartest picks in the first round of this year's draft. Indianapolis just brought back T.Y. Hilton on a one year deal. Indy has a young receiving core that should all pay attention to what Hilton does on the field and listen to what he has to say in meetings. On that note, who is Kadarius Toney? Toney quietly has raised his draft stock and a team like Indianapolis is a perfect fit. He'll fit right in to the young Indianapolis team. Last season Toney had 70 catches, 984 yards and ten touchdowns. He's bound to breakout and Indy might have a steal with taking him at 21.
22. Tennessee Titans (11-5): Christian Barmore DT Alabama
Like I said before, this guy is a beast and Tennessee need's him badly. The defensive line has a young talent with Jeffrey Simmons on it already. Now add Christian Barmore. A sack machine that's also a tackle machine. The defensive line will be scary with boht Simmons and Barmore on it. Watch out for that pass rush from Tennessee.
23. New York Jets (2-14; from Seattle 12-4): Jaycee Horn CB South Carolina
Jaycee Horn skyrocketed his draft stock after his pro day. But, what does he normally do on the field? This past season Horn had two interceptions, nine passes defended and 16 total tackles. The Jets need a young talent like him in the secondary that can play with Marcus Maye. Marcus Maye is the best player in the Jets secondary. Horn will be a nice compliment to Maye despite them playing different positions.
24. Pittsburgh Steelers (12-4): Jalen Mayfield OT Michigan
The Steelers need to protect Big Ben. This offseason hasn't gone in the Steelers favor. This pick of Jalen Mayfield sparks some positivity for the Steelers organization. Mayfield is dominant and that's no secret. He'll be able to convert his talent over to the game rather quickly and will have an important task of protecting Ben Roethlisberger in what most likely is the final season for Big Ben.
25. Jacksonville Jaguars (1-15; from LA Rams 10-6): Rondale Moore WR Purdue
Get Trevor Lawrence someone to throw the ball to. Moore isn't exactly the flashiest receiver or even a stat stuffer. He's someone that can go out and get open and make a play. Urban Meyer always seems to have an answer on offense so this pair of Rondale Moore and Trevor Lawrence could either be really good or really bad. But, with Meyer's track record, it'll most likely be good.
26. Cleveland Browns (11-5): Jaelan Phillips DE Miami
Eight sacks, 45 tackles. Now put him on the same defensive line with Myles Garrett. That's a nightmare situation for anyone going up against the Browns. The Browns proved last year that they can be a good team. Now, they gotta be consistent. Drafting defensive line help will show that Cleveland means business. Jaelan Phillips likes to tackle and be a disruption in the backfield. Phillips and Garrett will beautifully compliment each other's play style on the field.
27. Baltimore Ravens (11-5): Patrick Jones II EDGE Pittsburgh
Say hello to Matthew Judon's replacement. Since Baltimore failed to keep one of their best pass rushers, they go out and get another one. Nine sacks and 44 total tackles. It'll take Jones some time to get used to playing at the NFL level but once he does, look out for Jones. This is who exactly Baltimore needed, someone who is a tackling machine.
28. New Orleans Saints (12-4): Jeremiah Owusu-Koramoah LB Notre Dame
Owusu was one of the leaders on the Notre Dame defense last season. So why does New Orleans go defense here? Other than DeMario Davis, the Saints don't have much talent at the linebacking position. He had 55 total tackles last season with three forced fumbles, two fumble recoveries, one interception and three passes defended. In short, he's not afraid of going after the ball. He can make plays which is what exactly the Saints defense needs.
29. Green Bay Packers (13-3): Levi Onwuzurike DT Washington
With all the receivers gone who are worth a first round pick Green Bay goes defense. Onwuzurike did not play last season but he is ready to play in the NFL. He can rush the passer and make tackles in the backfield. The NFC North quarterbacks should be scared that they will have to see this guy twice a season along with the Smith's. The Green Bay defense could be something to pay attention to next season.
30. Buffalo Bills (13-3): Pat Freiermuth TE Penn State
Josh Allen finally has a tight end that can block and go can out and make a play. Freiermuth was called baby Gronk during his time at Penn State so it would make perfect sense if the baby version of Gronk plays in the AFC East. Freiermuth is the clear second best tight end in this draft and the Bills should be jumping up and down that he is still sitting there at 30. The Big Ten had a shortened season so his numbers were down. But, that doesn't take away from his talent. Bills mafia will love this guy.
31. Kansas City Chiefs (14-2): Samuel Cosmi OT Texas
Kansas City needs help on that offensive line. They went out and got Joe Thuney. But they need more. Samuel Cosmi was one the best offensive tackles in the country during his time at Texas. He doesn't let defenders get by him which is good considering who his quarterback is. Patrick Mahomes is safe with Samuel Cosmi being his offensive tackle. With Mahomes being fully protected again, it'll be a long season for everyone facing Kansas City.
32. Tampa Bay Buccaneers (11-5): Jayson Oweh DE Penn State
Jayson Oweh is underrated. Just like others, he had a quiet 2020 season due to the shortened seaso because of the pandemic. He's a tackling machine though which is something that Tampa could use. Yes, Tampa's defense balled out during the Super Bowl. But, they need to keep that level of dominance throughout the season. Oweh can make a tackle or make a key sack on third down.
Final thoughts
That's it. That's my second NFL mock draft. Two down… one to go. My last mock draft will be released the same week as the draft which is just over a month from now. What do you think of part two or part one? Let me know!
Use the Promo code "couchguy20" or "LLP" at Manscaped.com. Grab some of the best tools in men's below the belt grooming. Furthermore, using the code you'll get 20% off of your order AND free shipping. Help out the site and help out yourself by buying some products from Manscaped TODAY.
-Matt Burnett (@mattthew_jordan on Twitter)