NFL Mock Draft 2.0 Part 1
It's that time again. The NFL Draft is just over a month away. Like last time, this will be two parts. Let's not waste anytime! Here is my NFL Mock Draft 2.0!
1. Jacksonville Jaguars (1-15): Trevor Lawrence QB Clemson
It's almost time to hear Roger Goodell announce that Trevor Lawrence is the first time in the NFL Draft! In a recent interview, Jaguars head coach Urban Meyer said that Trevor Lawrence can do it all. Soon, very soon the Jacksonville Jaguars will have a franchise quarterback that maybe, just maybe will make them a winning team.
2. New York Jets (2-14): Penei Sewell OT Oregon
No. The Jets shouldn't take a quarterback. Sam Darnold is fine. The problem with Darnold is that he has no protection or barely anyone to throw the ball to. He now has Corey Davis, and he'll have an offensive line that can protect him. The Jets need to do what the Indianapolis Colts did with their offensive line and just build it. Give Darnold protection he and will thrive. That will Sewell's only job, to keep Sam Darnold upright.
3. Miami Dolphins (10-6; from HOU 4-12): DeVonta Smith WR Alabama
Yes, my first three picks haven't changed. Smith overall is the better fit in Miami compared to soemone like Ja'Marr Chase. Plus, again Tua and Smith were teammates at Alabama so these two already have chemistry with one another. Sure, they'll need to rekindle it but they will in no time. The AFC East will be a dog fight next season and Miami is one of the teams that will be involved. Having someone like Smith can perhaps give them an extra win or two that might decide their fate within the division.
4. Atlanta Falcons (4-12): Zach Wilson QB BYU
Okay what's going on here? The top four hasn't changed! This pick is simple, have Wilson learn from Matt Ryan and have Wilson build chemistry with the offense. Year one will be a learning year for Wilson and that's okay. Towards the end of next season is when Falcons fans should expect to see Wilson play. The future is bright in Atlanta with Zach Wilson at quarterback!
5. Cincinnati Bengals (4-11-1): Rashawn Slater OT Northwestern
Something different! Slater moves up from the ninth pick to the fifth pick. Why? Cincinnati needs offensive line help. Joe Burrow is coming back from tearing his ACL. Typically, young quarterbacks tend to be hesistant when they first come back after suffering an injury like that. Don't believe me? Look at RG3. Again, in his final season with Northwestern, Slater didn't give up a single sack. Slater is underrated to some. He will have a big career in the NFL.
6. Philadelphia Eagles (4-11-1): Ja'Marr Chase WR LSU
Philadelphia really needs a wide receiver. With DeVonta Smith off the board, Ja'Marr Chase should be the pick. This should be an easy pick for Philly. Some are saying Chase is the best wide receiver in this draft. If Chase want's to prove them right he is going to want to ball out immediately with quarterback Jalen Hurts. It'll be interesting to see if Chase and Hurts can build an early enough connection with each other in order to have early success.
7. Detroit Lions (5-11): Micah Parsons LB Penn State
So this is where Micah Pasons fell to. With Dan Campbell at head coach, literally anything is possible. Parsons is a Dan Campbell kind of player. A true leader, a hard hitter and someone who just wants to win. Detroit needs leadership and Micah Parsons is someone who can a leader on the field and in the locker room. After all, Parsons bascially won majority of the defensive awards in college.
8. Carolina Panthers (5-11): Justin Fields QB Ohio State
So why does Carolina need another quarterback when they have Teddy Bridgewater? For starters, Bridgewater is injury prone. So Carolina needs to have a backup plan. Plus, if Bridgewater struggles, they can have Fields play. Fields balled out in the College Football Semi Final where his draft stock absolutely sky rocketed. Like before, Fields is a work in progress. He will take time to develop. But, once he is, look out because Carolina will have an explosive offense.
9. Denver Broncos (5-11): Caleb Farely CB Virginia Tech
Denver will have a top secondary in the league next season. They resigned Justin Simmons and just brought in Kyle Fuller. Now add Caleb Farely. Kyle Fuller is only signed for one year so have Farely learn as much as possible from Fuller just incase Fuller leaves. Farely, Simmons and Fuller together in the same secondary is a scary thought. Denver is quietly building a great team in general. Don't sleep on the Broncos next season.
10. Dallas Cowboys (6-10): Patrick Surtain II CB Alabama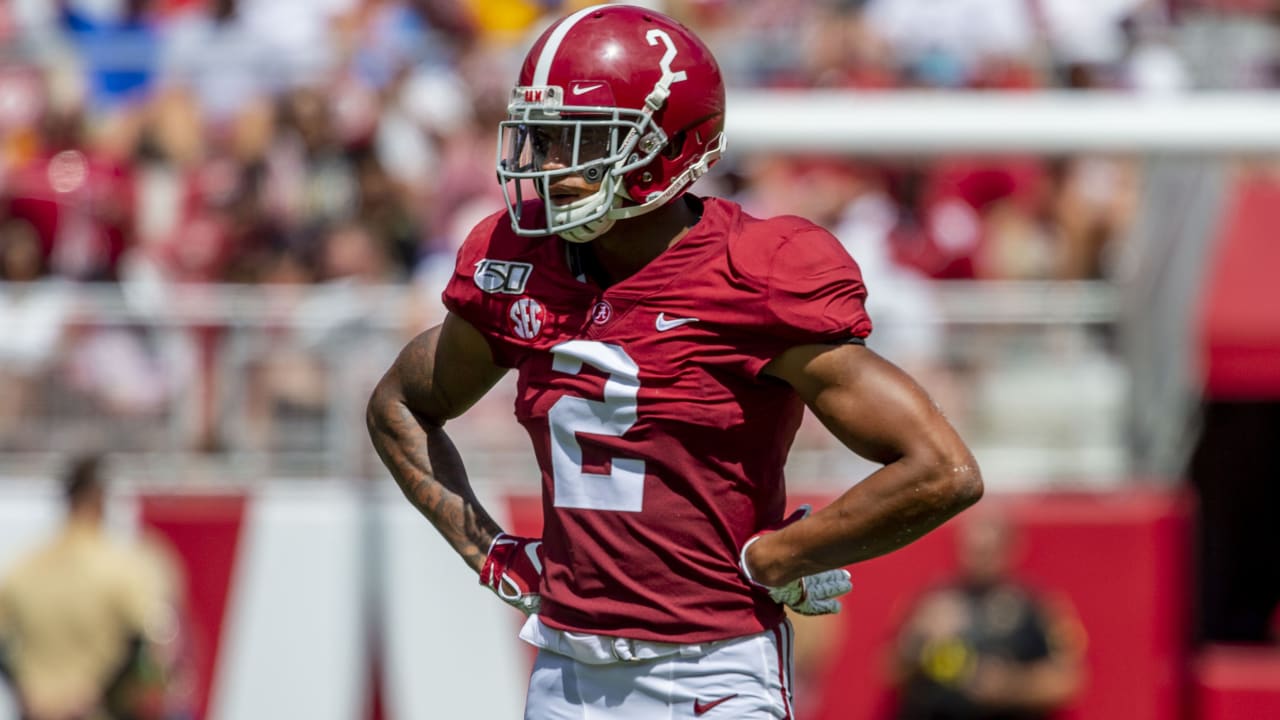 There's one major mystery solved in Dallas. They have their quarterback. But what a cornerback? Surtain is just as talented as Farely (maybe even better). Surtain is a perfect fit for the Cowboys. He's not a stat stuffer, but he's someone that can make a play when needed. Plus, he's got leadership skills which is something Dallas always needs.
11. New York Giants (6-10): Jaylen Waddle WR Alabama
Giants fans should be drooling at this. Yes, Waddle is coming off of a major injury. But, that shouldn't be a concern. The Giants just signed Kenny Golladay. Now add Jaylen Waddle to that receiving core will make Daniel Jones very happy. The Giants overall have put together a very nice offseason quietly.
12. San Francisco 49ers (6-10):  Gregory Rousseau DE Miami
Get Nick Bosa a friend since Nick Bosa is coming off of a major knee injury. Rousseau opted out last year and he is ready to go in the NFL. With a returning Nick Bosa, Rousseau will have the chance to learn from one of the best young pass rushers in the league. The 49ers have a challenge in building a defense that will no longer be lead by Robert Saleh. But, they can do it.
13. Los Angeles Chargers (7-9): Kyle Pitts TE Florida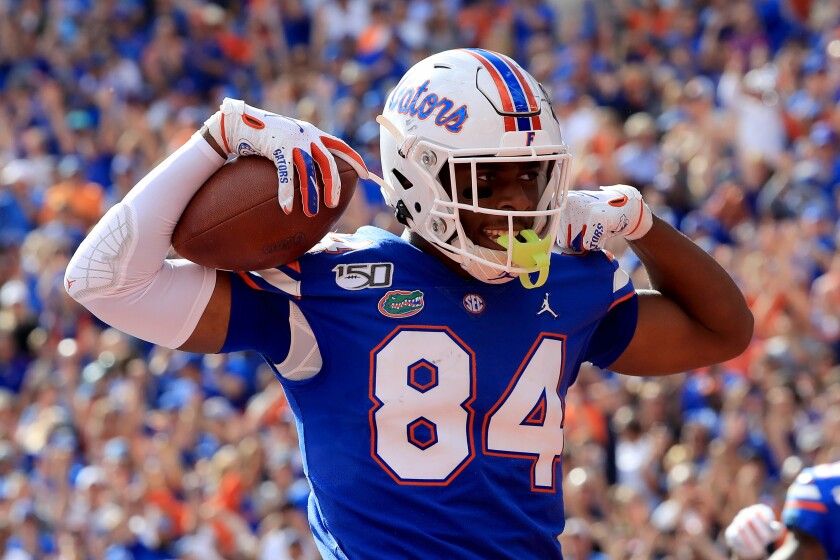 Here is Hunter Henry's replacement. With Henry now in New England the Chargers have a void to fill. Yes, the Chargers brought in Jared Cook but they need someone else since Cook is only signed for one year. The Chargers have had it made with tight ends with their last two being Antonio Gates and Hunter Henry. The Chargers will strike gold again with Kyle Pitts.
14. Minnesota Vikings (7-9): Kwity Paye DE Michigan
The Vikings need someone who can rush the passer. Kwity Paye will be that guy. Paye is a tackling machine and can make plays from behind the line of scrimmage. Minnesota needs to rebuild their defense and having Paye on the defensive line is a good start. Just like the actual defense in Minnesota, Paye will be a work in progress.
15. New England Patriots (7-9): Trey Lance QB North Dakota State
The Patriots current quarterback situation isn't great. Cam Newton is the starter and some fans need to learn to accept that. But, Newton isn't the future. Trey Lance is. I don't do trades in my mock draft so if this were to happen, New England needs to trade up. Lance had one of the best pro days so far this offseason and teams took notice. Put him together with the young receiving core in New England and it could be a future problem for defenses to stop. For now, Lance will learn from Newton.
16. Arizona Cardinals (8-8): Travis Etienne RB Clemson
Arizona lost Kenyan Drake in free agency. Their starter (for now) is Chase Edmonds. Arizona's biggest hole on offense is at the running back position. That's why they should go get the running back king from the ACC Travis Etienne. Etienne just wrapped up his career in Clemson where he knows what it takes to be successful. Etienne is the all time rushing leader in the ACC so he knows a thing or two about how to be a good running back. Put Etienne on the explosive Arizona offense makes the Cardinals a much better team.
Final Thoughts
That's it for my NFL Mock Draft 2.0 part one. Overall, most of the players didn't move whereas Trey Lance saw the biggest jump. What do you think of part one? Part two will drop this Thursday!
Use Promo code "couchguy20" or "LLP" at Manscaped.com and grab some of the best tools in men's below the belt grooming. Using the code will get you 20% off of your order AND free shipping. Help out the site and help out yourself by buying some products from Manscaped TODAY.
-Matt Burnett (@mattthew_jordan on Twitter)