NFL Mock Draft 1.0 Part 1
On Sunday, the NFL season concluded with the Tampa Bay Bucs winning the Super Bowl. Now that the season is over and Tom Brady has his seventh championship, it's time to gear up for the offseason. Although it's sad we won't be getting any football until September, the offseason can be just as exciting or maybe a little less. However, with how this NFL is shaping up, this will be one of the more exciting offseason in recent memory. That's especially true when it comes to the draft.
The NFL draft is always an exciting time for fans and players who are eagerly waiting to see who will be joining their team. Here is my first mock draft of the offseason. Today, it will only be picks one through sixteen. On Thursday, it will be picks 17-32.
1. Jacksonville Jaguars (1-15)
With the first pick, the Jacksonville Jaguars select, Trevor Lawrence, quarterback from Clemson. Jacksonville needs a quarterback. Trevor Lawrence is by far the best quarterback in this draft. In fact, he might be one of the best if not the best college football quarterback. He is a can't miss player. Trevor Lawrence and Urban Meyer will blend nicely together. He will be the day one starter. This pick should be a no brainer for the Jaguars.
2. New York Jets (2-14)
With the second pick, the New York Jets select, Penei Sewell, offensive tackle from Oregon. The Jets last year took Mekhi Becton from Louisville. Becton for the most part succeed. Add Sewell to the offensive line and the Jets are building a wall to protect Sam Darnold… assuming he doesn't get traded. Despite opting out last season, he still is considered a top pick in the draft. That should tell you how much talent he has as an offensive tackle.
3. Miami Dolphins ( 10-6; from HOU 4-12)
With the third pick, the Miami Dolphins select, DeVonta Smith, wide receiver from Alabama. The Heisman trophy winner. Smith this year had the most dominant season at the wide receiver position out of everyone this year. Smith lead the NCAA in receiving touchdowns with 23 this past season. He leads a very talented group of wide receivers into the draft this year and if he actually lands in Miami, he'll be reuniting with fellow college teammate Tua Tagovailoa. Smith is dangerous and will put defensive coordinators and defensive backs on edge.
4. Atlanta Falcons (4-12)
With the fourth pick, the Atlanta Falcons select, Zach Wilson, quarterback from BYU. Matt Ryan isn't getting any younger. Atlanta's backup, Matt Schaub, retired. Atlanta needs a quarterback that can learn from Matt Ryan. Zach Wilson will be that backup quarterback. He can take a year or two to learn how to be successful in the NFL. Wilson is a project. Sometimes projects work, sometimes they don't. In this case, it will work if he is taught properly.
5. Cincinnati Bengals (4-11-1)
With the fifth pick, the Cincinnati Bengals select, Micah Parsons, linebacker from Penn State. The first defensive player selected in the draft. The Bengals need help from the front office to the players on the field. Especially at linebacker. The linebacker position for the Bengals doesn't stand out. Micah Parsons won Butkus-Fitzgerald Linebacker of the Year award, was named to the first team All Big-Ten, was named a consensus All-American and was the Cotton Bowl Defensive MVP all in 2019 (his last season). This would be quite the addition to the Cincinnati defense.
6. Philadelphia Eagles (4-11-1)
With the sixth pick, the Philadelphia Eagles select. Ja'Marr Chase, wide receiver from LSU. Alright the Eagles literally have a bunch of washed up players or a bunch of nobodies at wide receiver. Yes they took Jalen Reagor last year, but he did not live up to expectations at all. Insert Ja'Marr Chase and all of a sudden there's some talent. Chase opted out last season and LSU missed him badly. Chase will make Jalen Hurts a better quarterback. Ja'Marr Chase and Justin Jefferson were a one-two punch for LSU. Expect Chase to have a similar season that Justin Jefferson just had. They are a mirror image of each other.
7. Detroit Lions (5-11)
With the seventh pick, the Detroit Lions select, Jaylen Waddle, wide receiver from Alabama. The Alabama receivers both go in the top ten. Detroit just traded Matthew Stafford to the Rams in exchange for Jared Goff in picks. Why not give Goff a young talented wide receiver? Yes, there is some injury concerns with Waddle as his season was cut short due to an ankle injury. Even in the national championship game, Waddle didn't look healthy and had no business playing in that game. Regardless though, he'll instantly be a top target for Goff.
8. Carolina Panthers (5-11)
With the eighth pick, the Carolina Panthers select, Justin Fields, quarterback from Ohio State. Yes, the Panthers do have Teddy Bridgewater but hear me out. Bridgewater isn't the future, Fields is. Plus, just like Zach Wilson, Justin Fields is a work in progress. He will need time to learn. The Panthers could do what the Chiefs did with Patrick Mahomes and have Fields sit his rookie year and just learn. Plus, Fields fits perfectly with Matt Rhule's offense.
9. Denver Broncos (5-11)
With the ninth pick, the Denver Broncos select, Rashawn Slater, offensive tackle Northwestern. Just like the Jets, the Broncos should build a wall to protect Drew Lock. The more protection for Lock, the better he will be a quarterback. In his last season with Northwestern, Slater gave up zero sacks. He might not be as talented as Penei Sewell, but he can still go out and make a block espeically during crunch time.
10. Dallas Cowboys (6-10)
With the tenth pick, the Dallas Cowboys select, Patrick Surtain II, cornerback from Alabama. Dallas needs help from just about everywhere (including front office and coaches). Surtain is everywhere on the field. He played a huge role into the success of Alabama's defense this past year. He might not get a lot of interceptions, but he defends the ball nicely which is something Dallas needs. Surtain is also a great leader, something Dallas needs if Dak walks in free agency.
11. New York Giants (6-10)
With the eleventh pick, the New York Giants select, Rondale Moore, wide receiver from Purdue. Get Daniel Jones a fresh set of hands. That's the meaning behind this pick. Moore is not talked about a lot but he should be. He might not be the flashiest receiver on the field, but he can get the job done. Getting the job done is what Joe Judge expects from his players. He might not be well known now, but once the season starts, he'll make his presence known.
12. San Francisco 49ers (6-10)
With the twelfth pick, the San Francisco 49ers select, Gregory Rousseau, defensive end from Miami. San Francisco needs to rebuild that dominant defense. With Nick Bosa coming back (and everyone else basically) from injury, there will be high expectations for this defense. Insert Rousseau and this defense will be scary. It would be even scarier if Robert Saleh was still the defensive coordinator. Rousseau is a tackling machine. In 2019 (his last season), he had 15.5 sacks and 54 total tackles. He would fit perfectly in San Francisco. Bosa on one side and Rousseau on the other, this defense would see many sacks.
13. Los Angeles Chargers (7-9)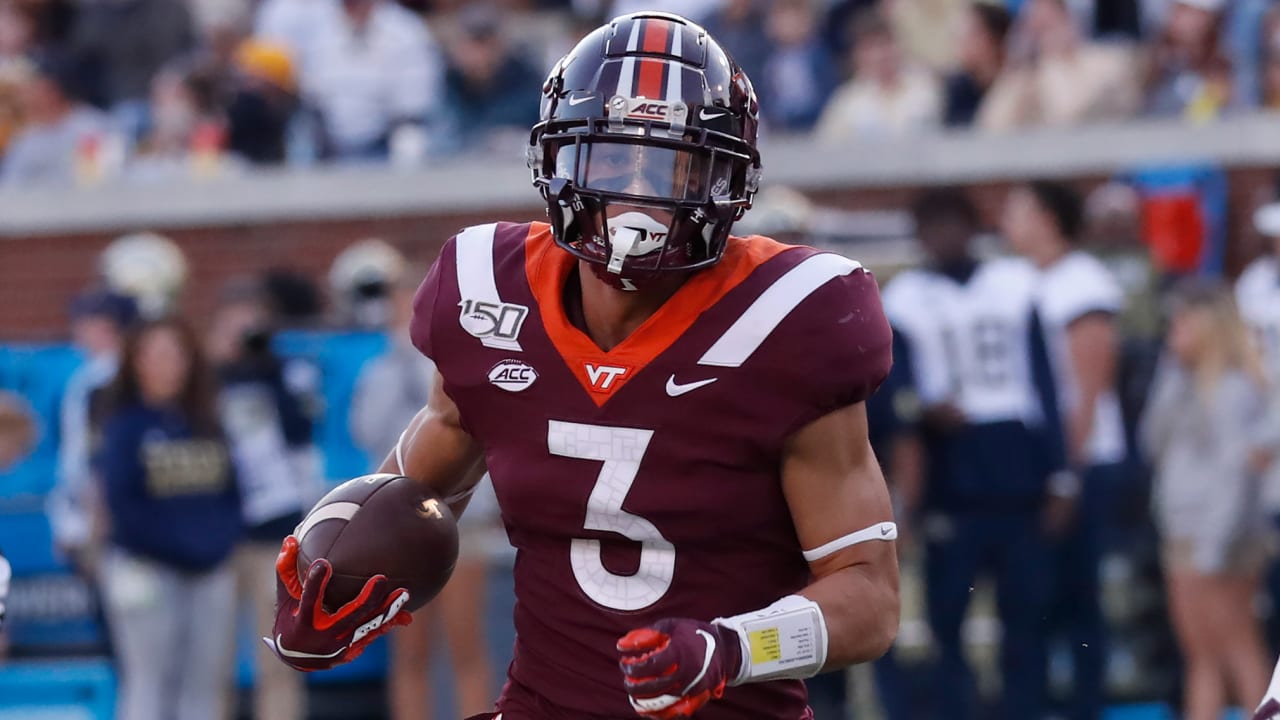 With the thirteenth pick, the Los Angeles Chargers select, Caleb Farley, cornerback from Virginia Tech. The Chargers will have a new coaching staff next year. With the offense being set for the most part, the Chargers should focus on defense. Farely had four interceptions in his final season with Virginia Tech and returned one of them back for a touchdown. He also defended 19 passes. With having Patrick Mahomes in his division, he'll be all over the field trying to stop that offense, which he is talented enough to do.
14. Minnesota Vikings (7-9)
With the fourteenth pick, the Minnesota Vikings select, Kwity Paye, defensive lineman from Michigan. Minnesota a few years ago had a top defense in the NFL. Adding Paye will bring back the intensity that defensive line had a few years ago. All this guy does is tackle. That is something the Vikings defense needs. Someone who can tackle and can create a disruption in the backfield.
15. New England Patriots (7-9)
With the fifteenth pick, the New England Patriots select, Kyle Pitts, tight end from Florida. New England needs this guy to fall to them. Pitts is a monster at the tight end position. When Gronk retired, it left a giant gap in the tight end position. Pitts can fill that gap. Pitts was by far the most dominant tight end in college football last year, and if New England can land him, watch out. He'll be a starter rather quickly and instantly make an impact on the field.
16. Arizona Cardinals (8-8)
With the sixteenth pick, the Arizona Cardinals select, Travis Etienne, running back from Clemson. The first running back is off the board. Arizona really needs a running back. Kenyan Drake is currently a free agent and there's a chance he won't return. Even though Arizona has Chase Edmonds, that's not good enough. Etienne is the all time ACC rushing leader. Adding Etienne to an offense that already has Kyler Murray and DeAndre Hopkins will improve the team's chances of making it to the playoffs. Etienne will make an impact immediately.
Final Thoughts
Well that's it for the first half of the mock draft! Let me know what you think! What surprises you? What do you agree and disagree with? Remember, picks 17-32 are coming on Thursday!
Use Promo code "couchguy20" or "LLP" at Manscaped.com and grab some of the best tools in men's below the belt grooming. Using the code will get you 20% off of your order AND free shipping. Help out the site and help out yourself by buying some products from Manscaped TODAY.
-Matt Burnett (@mattthew_jordan on Twitter)