Chiefs at Raiders: Fantasy Football Preview
The Kansas City Chiefs at Raiders game is set for Sunday Night Football action. Rolling into week 10 of the NFL schedule and fantasy football, here's a quick preview. I share with you who to consider starting, benching, and a potentially really good waiver wire option to consider.
Your Starter: KC Chiefs at Raiders.
Josh Jacobs – LV Raiders Running Back 
(Image credit to cbssports.com)
Josh Jacobs has been reliable and a decent fantasy football option as a running back this year.
In week nine's showdown against the Giants, Jacobs had his highest yardage game of the season with 76 of them rushing and grinded his way to a 95 scrimmage yards game against that defense.
For this weeks' game against Kansas, I fully expect for Jacobs to be the center piece of the Raiders' offense as Kansas' defense is allowing about 4.4 yards per carry to backs this year. For a defense that was supposed to be a top-five defense, that is a generous average, allowing for Jacobs to immediately be considered a high-end RB2 this week.
The Must-Bench of this matchup!
Kansas City Chiefs Defense 
(Image credit to KCkingdom.com)
I thought the major problem in Kansas City was the atrocious dancing of the marionette himself, Jackson Mahomes. Maybe even the whiny and undesirable tweets from Brittany Matthews. Boy was I wrong! Ok, sure! those two aforementioned causes can be a serious distraction. However, this Kansas City team has more issues than just those two.
The serious lack of pressure off the edge, the bad coverage against wide receivers, and the ease in which backs can run the ball against this defense makes them extremely subpar. With the Raiders having a decent offense and a solid running back game, look elsewhere for your defensive needs.
Waiver Wire Pickup!
DeSean Jackson – LV Raiders Wide Receiver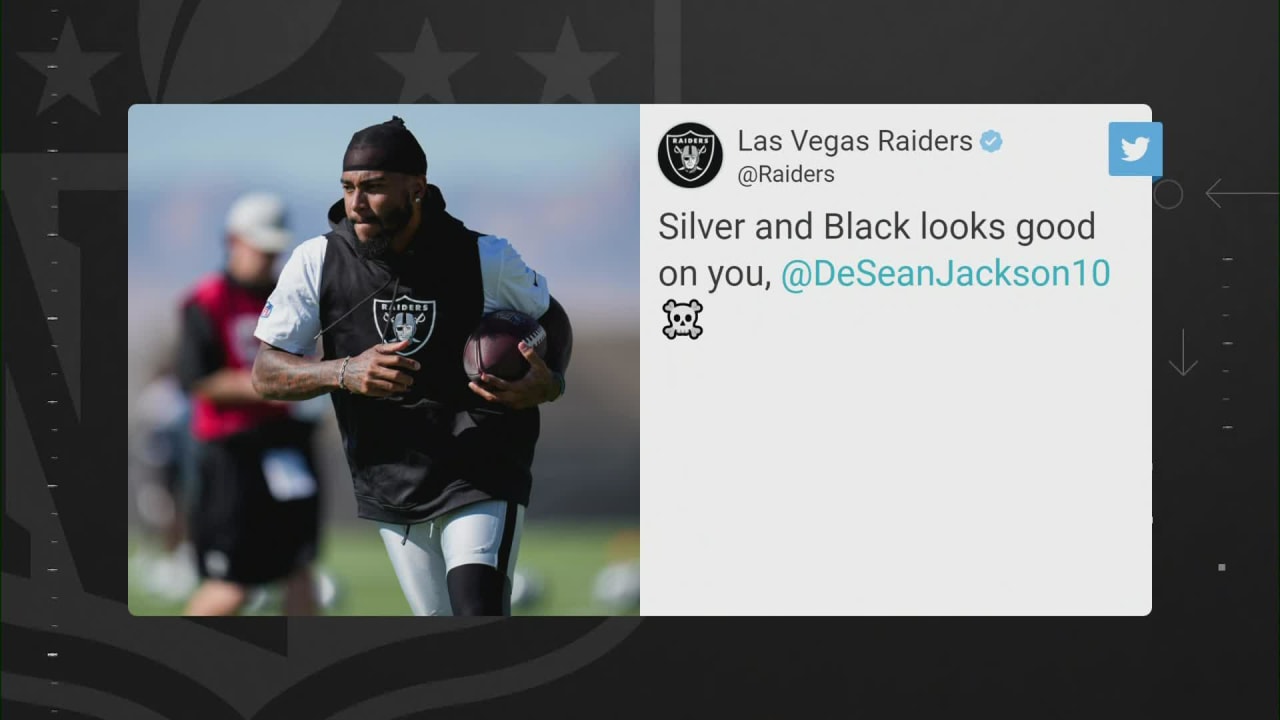 (Image credit to nfl.com)
DeSean Jackson has officially joined the Las Vegas Raiders offense.
If you look at DeSean Jackson and what he does, Jackson provides now an opportunity for a veteran receiver to a Derek Carr who has been impressive this season. The guy is known to be a field stretcher offensively, and while he may not be a heavy fantasy football alternative right off the bat, he could prove to be a strong waiver wire pickup.
Personally, I think that for the Raiders this is a bold and wise move. Maybe, this move helps in facilitating an open field for someone like Darren Waller?
I hope you enjoyed this Chiefs at Raiders preview. If you need more fantasy football info, check out the latest rankings from our fantasy show here.
(Featured Image credit to CBSSports.com)
Tired of soreness and pain slowing you and your workouts down? Change that. Melt stress away anytime, anywhere with the ExoGun. Designed to give you the ultimate recovery utilizing percussive therapy and deep tissue massage, it will change your recovery life FOREVER. Follow this link (Exogun) for 10% off or use code promo code CGS10 at checkout
Feeling tired, unable to focus and low on energy? We can help. Go to shockedenergy.com today and get yourself Shocked Energy today! Obtaining maximum energy with healthy ingredients. Use the promo codes "CGS21" or "CGSN" for 10% off your order today.
~Diego Galvis (@Diego_TheDJ on Twitter).