10 Things You Probably Missed This Week
In the past week: The NHL trade deadline happened, Rick Nash is a Boston Bruin, Justin Thomas is a certified asshole, James Harden sucked the soul out of Wesley Johnson, Rob Gronkowski is supposedly coming back to the Patriots (maybe?), and Michael Holley left WEEI. Oh, and the NFL combine checks in at #1 on the list of things nobody cares about.
With everything that went on, I'm sure there were some stories that slipped through the cracks. But don't worry, that's what I'm here for. I got you.
1. Sean Miller vs. ESPN
Sean Miller and Arizona aren't backing down against ESPN https://t.co/xVNDl3w5E4

— New York Post Sports (@nypostsports) March 2, 2018
The University of Arizona basketball coach got himself in some hot water last weekend when ESPN reported that Miller had offered to pay $100,000 to ensure that star freshman DeAndre Ayton came to Arizona. Ayton is likely to be the first pick in the draft.
Sports Illustrated has since proven the initial story to be incorrect, but ESPN is gonna do what ESPN does best. Lie.
2.NCAA Conference Tournaments
The Big Ten or B1G (whatever the hell you want to call it) conference tournament started yesterday. It brought with it this gem.
Mood all March Madness pic.twitter.com/BKnxhqz786

— Barstool Sports (@barstoolsports) March 1, 2018
She wants a foul.
3. Louisville's Choke Job
This is unbelievable!
Virginia scores 5 points in 0.9 seconds to beat Louisville!#MarchMadness2018

📹 @Mike_Schmitz pic.twitter.com/kzWR8lsJOe

— Ballislife.com (@Ballislife) March 2, 2018
Technically is was 5 points in about 1.4 seconds, but whatever way you cut it, that's not great for the brand.
4. Gary Bettman is Clueless
Bettman on Olympics: "The tournament was entertaining. The hockey was not best on best. Based on the reaction this tournament got, we were justified on our decision"

— Farhan Lalji (@FarhanLaljiTSN)
February 28, 2018
I mean….okay?
5. NHL to Seattle?
720 seconds.

That's how long it took to hit our goal of 10,000 deposits.

We're now at 25,000 and counting.

Thank you, Seattle.#NHLSeattle

— NHL Seattle (@NHLSeattle_) March 1, 2018
This seems likely, especially if Seattle gets their NBA team back (which they should). The real question here is why the hell did they tweet this using 720 seconds? Are we too cool to just say 12 minutes?
Bonus props to all the Big Ballers out there that purchased season tickets to something that may never exist.
6. Steph Curry the Golfer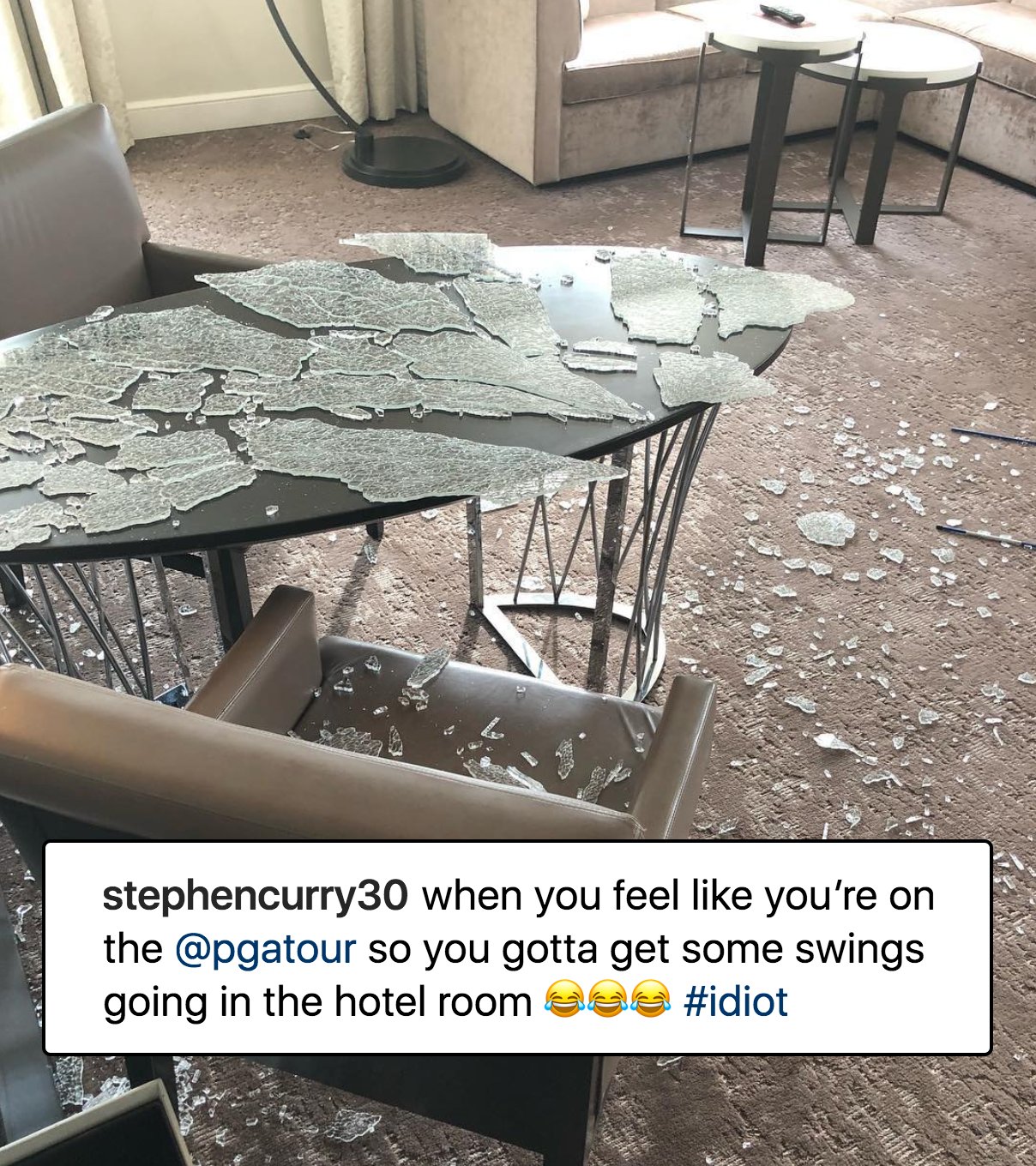 Hey at least Steph has the Chase Mobile App for problems like this, right?
7. This is……Awkward
Happy birthday, @Mac_BZ! pic.twitter.com/WIXUvjvf2X

— New England Patriots (@Patriots) March 2, 2018
Weird move.
8. Jon Rahm is a Great Guy
Jon Rahm is donating $1,000 for each birdie and $3,000 for each eagle he makes @WGCMexico to the Mexican Red Cross. 👏

Check out his highlights to see how much money he raised in Round 1. pic.twitter.com/bM2cq7QmKZ

— PGA TOUR (@PGATOUR) March 2, 2018
9. Don't You Dare Run Up The Score Around Jordan Clarkson
The 76ers were up 9 with 11 seconds to go and the shot clock was turned off. Then this happened.
Jordan Clarkson wasn't having it 😤 pic.twitter.com/ZN3MO01gyX

— Bleacher Report (@BleacherReport) March 2, 2018
10. Yawkey Way
The #RedSox are asking the city of Boston to change the name of Yawkey Way back to its original name, Jersey Street, saying the move is intended to send a message of inclusion. https://t.co/F1NJOxfIzf pic.twitter.com/c0dKYDAZBa

— The Boston Globe (@BostonGlobe) February 28, 2018
Tbh I don't care if the street is named Yawkey Way or not. But holy hell, pick something different than Jersey Street. What a boring ass name. 4 Jersey Street is the new address of Fenway Park. That has a shitty ring.
*Bonus #11. Nick Quaglia 
Our very own Nick Quaglia (@NickQuag) has indirectly banned me from ever watching baseball again. Seems kinda harsh.
If anyone answers anyone other than Kris Bryant you shouldn't ever watch a baseball game again. https://t.co/ipPQkLSTeP

— Nick Quaglia (@NickQuag) March 2, 2018
The answer here is clearly Nolan Arenado. But hey, maybe Bryant can overtake him this year. Again, I've been banned from baseball, so it's not like I'll ever know.
-Brian Borders (@bborders12)