World Series Prediction and Recap of MLB News
As I promised I am writing my second article on Friday. Boy, has there been a lot to talk about since Tuesday. Another no-hitter, two aces facing off against one another, and a hitter so hot it is unbelievable. But, before I get to all of that I will talk about who I think will win the World Series. If you look back at my previous 2 articles you can see who I picked here.
World Series
So I have the White Sox coming out of the American League to play the Dodgers, who come out of the National League. This matchup has so much youth and firepower I really hope it happens. Walker Buehler against Luis Robert?!?! Feed it to me!
This World Series will come down to experience. Yes the White Sox have in a veteran manager Tony La Russa, but the Dodgers are the defending World Series Champs. I think that will give the Dodgers the edge. This will go all 7 games and be a great World Series for fans. The Dodgers will be the first team to repeat as champions since the 1999-2000 Yankees.
Recent Games Recap
Lucas Giolito Verse Shane Bieber
The 2020 American League Cy Young award winner going up against my prediction for the 2021 America League Cy Young award. What more could you want in a matchup? How does 16.0 combined shutout innings with 19 strikeouts sound? Lucas Giolito went 7.0 innings while striking out 8 and Shane Bieber went 9.0 shutout innings striking out 11. (Thank you Bieber for the fantasy numbers). The game would go to extras where the Indians would score 2 in the top of the 10th to win 2-0. That game is exactly what you want when 2 aces go against each other. But, those were not even the best pitching performance of the series.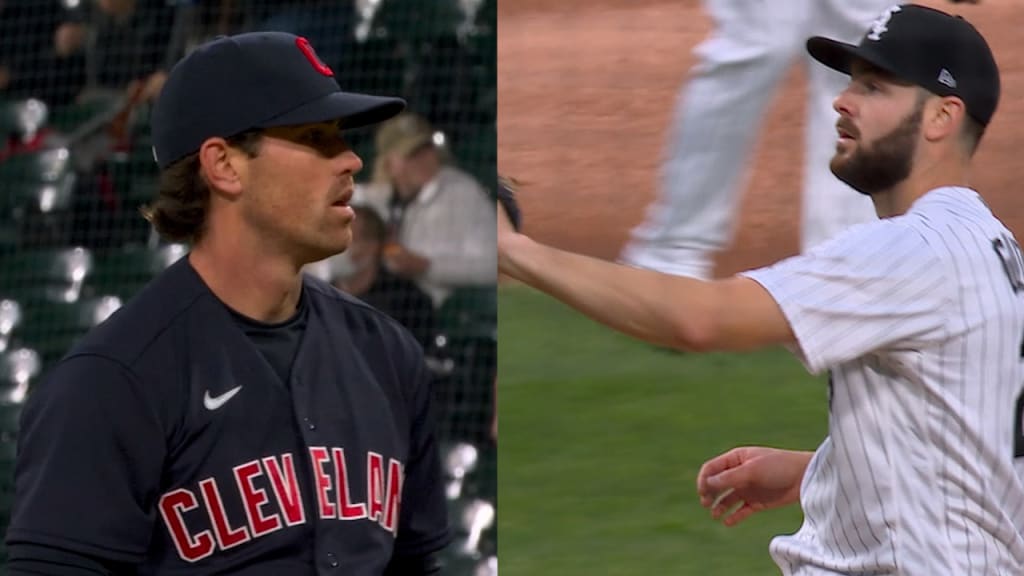 Carlos Rodon No-Hitter
The next day after Bieber verse Giolito there was a no-hitter! Carlos Rodon of the Chicago White Sox threw a near perfect game on Wednesday night. See Pete's article about the crazy pitching performances so far in 2021.
Rodon went into the 9th inning with a perfect game. I just got home from date night and was about to get in the shower when I saw the alert that there was a perfect game through 6. So I got on my MLB.TV app and tuned in. In the 9th inning with 1 out Rodon hit the batter to lose the perfect game. But, do not worry he finished up the not hitter. It was amazing to watch.
Ronald Acuña Jr Is Not Human
Ronald Acuña Jr. started off the season 2-for-12 with no homers. Since then, he's hitting .525 with a 1.790 OPS and 7 home runs, all of which lead MLB over that span. He has more home runs than the Nationals and the Mets.

— Jared Carrabis (@Jared_Carrabis) April 16, 2021
Just read those stats 2 or 3 times to let them sink in. Yes the Mets and Nationals have both had game canceled but they still could have homered more. Ronald Acuña is playing out of his mind right now. I feel like every game he is blasting another ball way over the fence. He is must watch tv at this point. Watch out Trout for the best player in the game. I hope Acuña can stay healthy and put up monster numbers like this all season long!
Wrap Up
Now starts my 2 articles a week. This right here is why I wanted to write more than once a week. There is so much going on in the baseball world and I need to write about it. The latest episode is out for Legends Lingo. I am going to edit the YouTube video now for it. Check it out!
-Tom "Powder" Cadmus (@powder42308)
Images From:
https://www.theringer.com/2021/4/13/22382749/ronald-acuna-jr-is-as-much-the-face-of-baseball-as-anyone
https://www.truebluela.com/2020/12/18/22179807/world-series-documentary-review-dodgers-vin-scully
https://www.mlb.com/news/lucas-giolito-shane-bieber-epic-pitchers-duel