Why Serena's Catsuit Should be Banned
In case you missed the latest controversy in tennis, French Open officials say that they are banning the catsuit outfit worn by Serena Williams during the French Open. Here's the controversial outfit:
Many say that the ban is rooted in both racism and sexism. They say that it's simply a case of rich white males going on a power trip to ban an empowering outfit. However, I whole-heartedly disagree. Tennis, like most sports, is a sport with rich traditions. One of those traditions, especially at majors, is wearing an appropriate outfit. Whether you're curvier like Williams, thinner like her sister, or more muscular like Nadal, a bodysuit is just inappropriate. Form fitting outfits show every bump, curve, or bulge of a person, which no one needs to see on a tennis court. And this isn't an issue of prudeness. I'm all for celebrating the human form in all its beauty. However, this catsuit just shows too much in a sport where fashion is so important to tradition. Serena stated that the catsuit wasn't just about fashion. It also served a medical purpose. It apparently helped stop blood clots from forming, which is a complication from her pregnancy. If that's the case, wear the catsuit. That's not the issue! Just wear a skirt over the bottom.
Now of course, I'm a white male so anyone reading this who disagrees will think I'm also racist and sexist. However, this isn't the first time that a bodysuit was worn. In 1985, Anne White wore an all white catsuit to Wimbledon. A CNN article that I read about Serena mentioned this, but failed to mention that her outfit was banned mid tournament. In fact, it was actually banned mid match. White's match was suspended due to darkness. Officials made her change her outfit that night before her match resumed the next day. It's not about racism. It's about tradition. You can see her outfit below: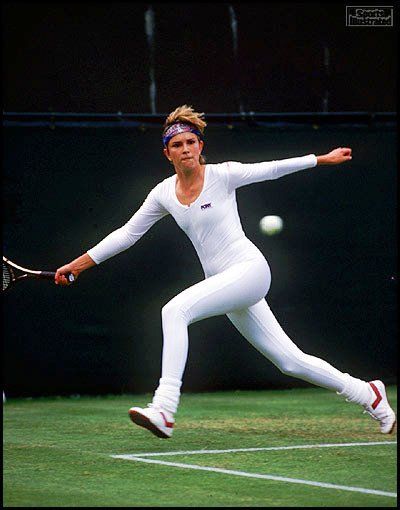 There are of course people out there who will say that the suit is inappropriate because it's "distracting". That's not the issue for me. The issue is simply tradition. Some outfits take it just a bit too far and show a bit too much. Tradition is why we don't see golfers wearing shorts or baseball players wearing their hats backwards. There's nothing inappropriate about those things except that that break tradition. And that's the real problem with Serena. It's not racism. It's not sexism. It's simply tradition.
-Stephen Brown III (@sbtrey23)
You love fantasy sports but getting tired of the same thing every year? Stop it. Join ThriveFantasy today where you bet on only the top tier players and gain points based on prop bets. Sign up today using the Couch Guy Sports link NOW & get in on the action. (Must deposit a minimum of $10 upon signup)