What Is Going On Between Tennessee & Greg Schiano?
While we were all enjoying Thanksgiving weekend, the biggest story of the college football season dropped. Not Auburn beating undefeated Alabama in the Iron Bowl, not even unranked Pittsburgh knocking off undefeated Miami. No; the biggest, craziest, most bizarre story of the 2017 college football season is the ongoing saga between Tennessee and former Tampa Bay Buccaneers head coach Greg Schiano. This story has more angles than a Frank Lloyd Wright building (for all you academics out there). If you haven't followed college football this year, Tennessee had one of their worst seasons in program history, with losses to Kentucky and in-state rival Vanderbilt, and a near loss to joke of a program UMass. After losing 7 of their last 8, and going winless in SEC play, the school fired 5-year head coach Butch Jones…and that is where the fun begins.
During Sunday's NFL action, a report came out that Tennessee was ready to hire former Rutgers head coach and Urban Meyer's Ohio State defensive coordinator Greg Schiano. If you can't tell from the previous credentials, Schiano is a Belichick disciple. Like many of Belichick's protégés, Schiano has found little success as a head coach, posting a 68-67 record at Rutgers and an 11-21 record with the NFL's Tampa Bay Buccaneers. As a traditional SEC top tier program, one would expect Tennessee to be able to do better than a coach who's highest level of success came at the BIG10 punch line that is Rutgers. Their fans noticed this, and that's when all hell broke loose.
Within an hour of the announced hiring, Volunteer Twitter was ablaze with distain for the move. This charge was led by noted Tennessee fan, Fox Sports Radio Host, and CNN Public Enemy Clay Travis, who shared Tennessee Athletic Director John Currie's email, Twitter, office, and CELL PHONE numbers to his 527,000 followers (side note; you can't help but respect this beyond savage move from Travis. The man gets his point across). A bit later, Currie was a trending topic on Twitter and a few hundred students and fans had gathered outside of his office to protest. But wait…we still haven't hit peak ridiculousness.
I think we can all agree that Schiano is a sub-par hire for Tennessee. An SEC program should be able to do better, especially one that has seen less than typical SEC success in recent years and is ripe for a redemption story. If Vols fans had made THAT the point of their protest, then this angle of the nonsense ends right here. Instead, the mob both in person and online rallied around an unsubstantiated claim that Schiano had knowledge of, and helped cover up the Penn State Child Abuse Scandal when he was a defensive assistant coach in Happy Valley between 1990 and 1995. Whether Schiano was involved or not, and to what extent, we may never know; but let's not start pretending that Tennessee football fans, or any college footballs fans for that matter, have any legitimate moral soapbox. Many of these same fans were also calling for the school to hire Mike Leach, who was rumored for the job and has a history of LOCKING CONCUSSED PLAYERS IN A SHED. If fans want to be mad because their team hired the wrong coach, fine, but there is no need to make it an ethical debate.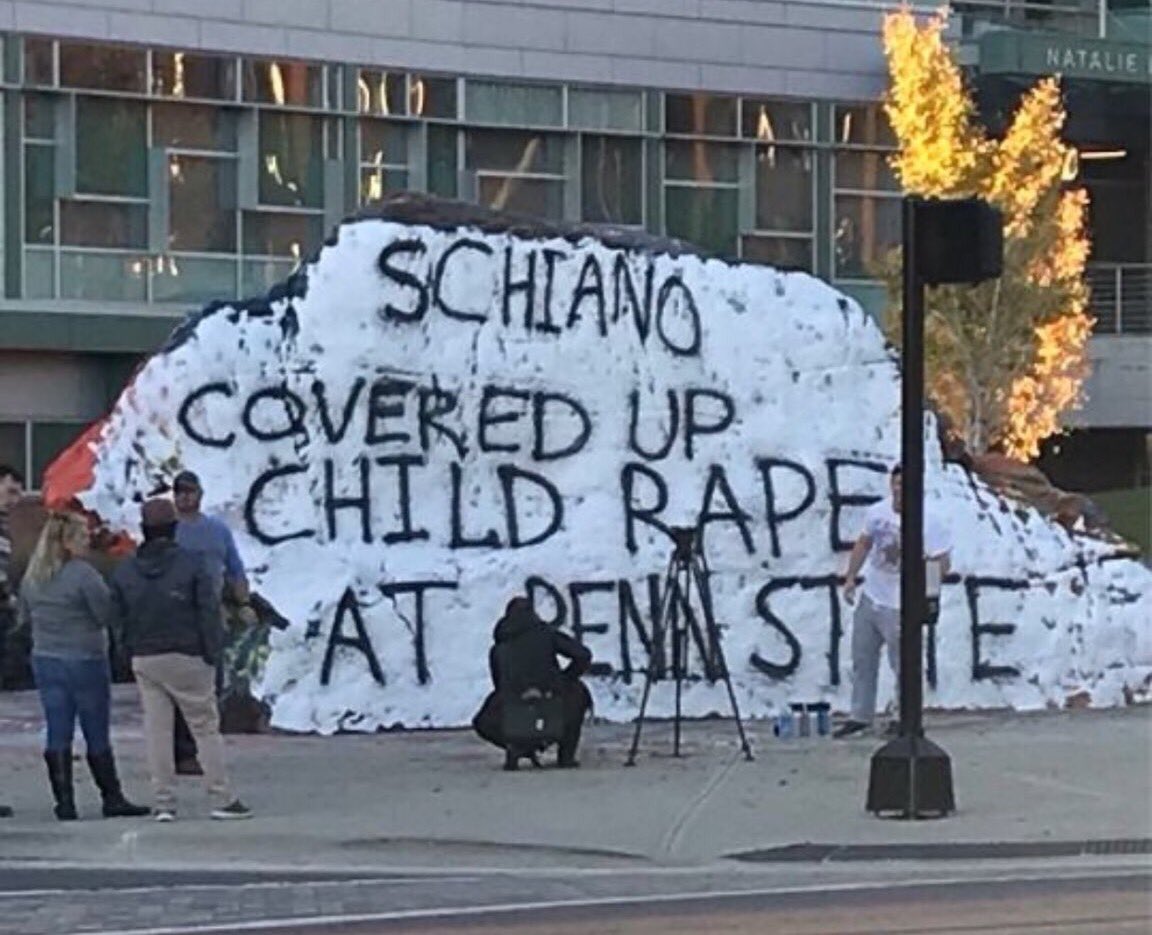 To add to the loony-ness of it all, many fans were less stunned by who the school hired as opposed to who they didn't. After months of Travis spreading rumors on the Internet, fans were disappointed to not see Jon Gruden take the reigns from Butch Jones, despite the fact Gruden has said repeatedly he has no plans to leave the Monday Night Football booth. Much like the Penn State storyline, the Vols fans had every right in the world to be upset about the hire, but based their protest outside the realm of reality. That being said, reality is lost on this situation…and we still haven't gotten to the best part.
You're John Currie. You think you've just hired the coach you believe will turn your program around and return you to national relevance. You turn around to get your car keys and head home for the day, and that's when it hits. Fans protesting outside your office. Twitter blowing up. Your personal cell phone blowing up. You made the wrong decision. Now what? This is where things get tricky, mostly because nobody can seem to figure out if Tennessee ever officially hired Schiano. The Vols are trying to say the talks never developed that far, and the proper paperwork was never filled out. Schiano says they had an agreement in principle.
It took just 24 hours for the lawyers from both sides to get involved, and it may be a while before we know if and what Tennessee has to pay Schiano. It's no small matter either, especially if Schiano is entitled to the full buyout. College coaching buyouts are often as big as the contracts themselves. Just this offseason, Jim Mora received $12 million after UCLA let him go, former Texas A&M coach Kevin Sumlin got $10.4 million upon being relieved of his duties, and even Butch Jones got $8.2 million for running the Volunteers program into the ground. If Schiano and Tennessee go to court expect things to get ugly, there may literally a lifetime fortune on the line.
Believe it or not, there is one more angle we haven't touched on, and it may be my favorite. Where does Tennessee go from here? Schiano will not be the coach at Rocky Top next year, that part seems clear. That means the Vols are on the hook for as many as THREE head coaching contracts next season in Jones, possibly Schiano, and whomever they actually hire for the job. That third one could end up costing them big too. Who in their right mind would take this job right now? The fan base ran the last guy out of town before the ink was dry on the contract. They have unreasonably high demands. The program clearly has systemic organizational issues. On top of all that, the purse strings will probably be tight, given how much dead money Tennessee owes coaches next year, and that this whole ordeal has soured boosters and former players, some of whom publicly spoke about no longer supporting the program. This may be as undesirable a job opening as an SEC school has ever had.
There are still plenty of shoes to drop in this story. Will Schiano get paid? Who will Tennessee hire? What is Schiano's standing at Ohio State? But one thing is clear. Tennessee is coming for the NBA's "Best Drama Of 2017 Award", and they have a compelling case.
Thoughts? Comments? Angry Tennessee fan? Drop me a line on Twitter @RealAlexBarth and let's hash it out.
Written By: Alex Barth (@RealAlexBarth)