Top Five Rookie Wide Receivers To Draft In Fantasy Football
It seems like every season, the wide receiver position has a lot of rookie talent. Expect nothing less than top talent again this season. With this year's rookie class being offense heavy, the wide receiver is expected to have an explosion of talent. That means that there will be a lot of big plays this upcoming season. So what about the fantasy impact? Yes, some of these rookie wide receivers don't have the best quarterbacks or they are on teams with other top talent at the position. But, that won't slow them down. Let's take a look at the top five rookie wide receivers to draft in fantasy football!
1. Ja'Marr Chase: Cincinnati Bengals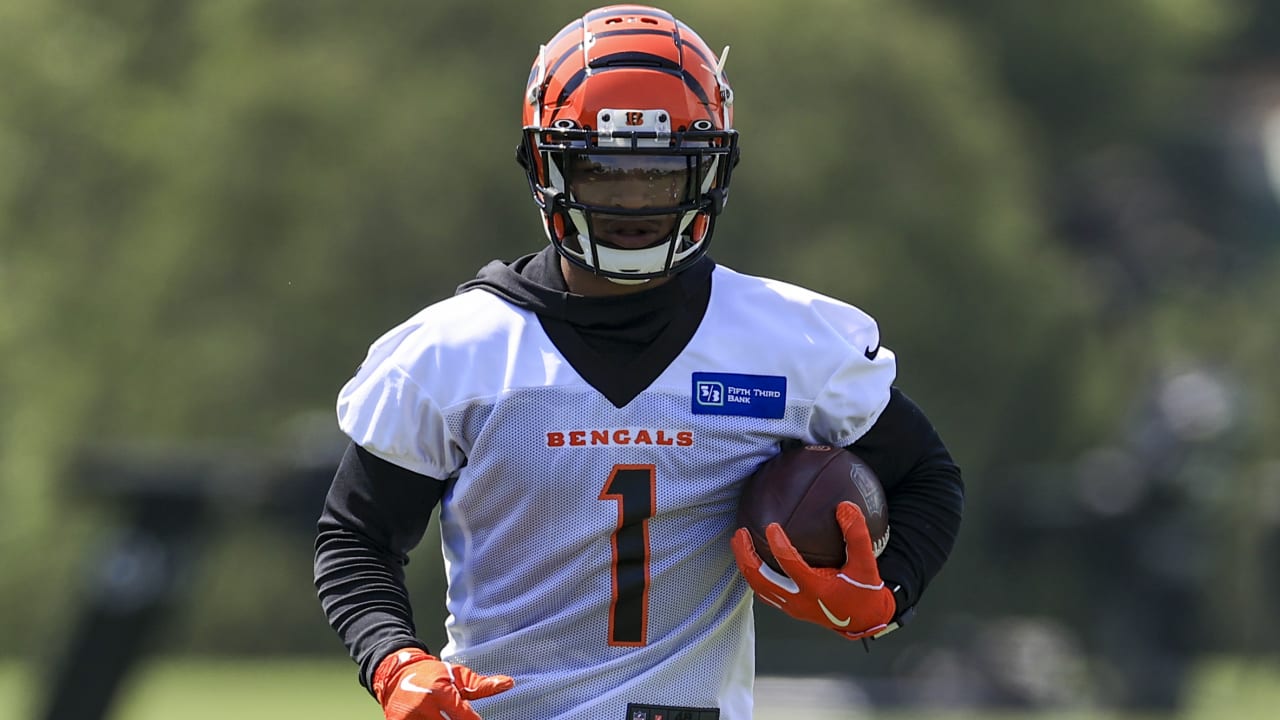 This should be no surprise here. The first wide receiver selected is at the top of the list. Ja'Marr Chase joins a young up and coming Bengals team lead by quarterback Joe Burrow. Before Burrow's season ending torn ACL injury, he had developed chemistry with fellow rookie wide receiver Tee Higgins. Now Burrow get's his LSU teammate back. Ja'Marr Chase is going to be a problem for defenses to slow down. Which is exactly what Cincinnati needs. Now, where should you draft Chase? This might sound crazy but grab him around round five or six. He's going to make a week one impact for the Bengals.
2. Elijah Moore: New York Jets
Alright what gives with all the Jets rookies being in the top five? It's hard to believe this since the Jets are the Jets, but the Jets did a great job this year in the draft when it comes to addressing team needs. Elijah Moore was selected in the second round when he easily could of been selected in the first round. So, if Moore pans out, he could be a steal for the Jets. Plus, the Jets have Zach Wilson at quarterback. A real quarterback in New York. Such a crazy concept. Take Moore in the middle rounds as a possible flex. Just remember, he's a Jet, you never know what to expect from this team no matter who the player is.
3. DeVonta Smith: Philadelphia Eagles
It's rare to say this about the Eagles these days… they got a star. DeVonta Smith basically rewrote the record book last season with Alabama. Now, he's in Philadelphia with former college teammate quarterback Jalen Hurts. The Hurts-Smith connection is going to be special to watch. Smith will be the best wide receiver on this team in no time. So where should he be drafted? Take a risk maybe and select him early middle rounds as a possible WR2 or late middle rounds as a flex.
4. Kadarius Toney: New York Giants
In fantasy football, sometimes it's worth it to take a risk. Yes Kadarius Toney is a risk because he's a Giant. Remember who his quarterback is. But, he's also worth drafting. Toney will be another option for quarterback Daniel Jones who will mainly be targeting Kenny Golladay, but the rest of the Giants receivers will get equal playing time behind Golladay. Toney's last season in Florida he left his mark with the team while improving his draft stock. So where should he be drafted? Take him in the later rounds, he'll be sitting there just waiting to be picked.
5. Jaylen Waddle: Miami Dolphins
Out of these five wide receivers, Waddle is the least ready at the moment. He's coming off of a near season ending injury, and he forced himself to play in the national championship when he really didn't need to. Plus his quarterback is Tua Tagovailoa, who still has more question marks surrounding him than answers. Yes, Waddle is reunited with his college quarterback, but will the connection be there? In this Miami offense, probably not. Be wary when drafting Waddle, take him in the late rounds. But, Waddle if definitely one of the top five rookie wide receivers to draft in fantasy football.
Images from: cbssports.com nfl.com jetswire.usatoday.com theeagleswire.usatoday.com giantswire.usatoday.com thephinsider.com
Use the Promo code "couchguy20" or "LLP" at Manscaped.com. Grab some of the best tools in men's below the belt grooming. Furthermore, using the code you'll get 20% off of your order AND free shipping. Help out the site and help out yourself by buying some products from Manscaped TODAY.
Tired of soreness and pain slowing you and your workouts down? Change that. Melt stress away anytime, anywhere with the ExoGun. Designed to give you the ultimate recovery utilizing percussive therapy and deep tissue massage, it will change your recovery life FOREVER. Follow this link (Exogun) for 10% off or use code promo code CGS10 at checkout!
-Matt Burnett (@mattthew_jordan on Twitter)