Should Josh Allen Be Considered An MVP Candidate?
It's that time of year again. The NFL regular season is almost over and the debate of who should be the MVP begins. When we think of who will be the MVP, two names come into our minds. Patrick Mahomes and Aaron Rodgers. However, I think another name should be considered. In this article, I'm going to tell you why Bills quarterback Josh Allen should be a candidate for the MVP.
Before I take a deeper dive into Allen's season, let's quickly talk about what he did last night against the team that always gives Allen trouble, the New England Patriots. In the 38-9 victory over the Patriots, Allen went 27/36. He threw for 320 yards and four touchdowns. The Bills quarterback also rushed for 35 yards. For a guy who's never thrown for 300 yards during the first two years of his career, throwing for 300 yards or more is becoming a habit for Allen and if you're a Bills fan, you should be thrilled.
Now let's take a look at his season stats. In 15 games played, Allen has 4,320 passing yards, 34 touchdowns and nine interceptions. This is exactly what Bills fans wanted to see from the franchise quarterback. If you look at his career numbers, he has improved dramatically. In his rookie year (2018), he threw 10 touchdowns, 12 interceptions and recorded 2,074 passing yards. He did improve in 2019 as he threw 20 touchdowns and nine interceptions, while throwing for 3,089 passing yards. This year was a breakout year for Allen and his 2020 stats are definitely worthy of the MVP award.
Next, I want to talk about who Allen is battling for the MVP award. Packers quarterback Aaron Rodgers might be the one who wins MVP and his stats back it up. I sound like a broken record but Rodgers is having another great year. He has thrown 44 touchdowns and only five interceptions while registering 4,059 passing yards. When comparing the two, the only edge Allen has over Rodgers is the number of passing yards. To be a good quarterback in this league, you need to have good weapons and both of these guys do. So does the next person who I will talk about now.
Chiefs quarterback Patrick Mahomes is also having a good season but just like Rodgers, no one should be surprised. Mahomes has thrown for 4,740 yards, 38 touchdowns and six interceptions. However, Mahomes hasn't been the dominant quarterback the last few weeks that we know him to be. Now I'm not saying he shouldn't be the MVP because he is still one of the best, if not the best player in the league. But there is a case to be made for Allen. To give you some comparisons between Allen and Mahomes, check this out:
😲😲😲

Josh Allen Patrick Mahomes
4,320 Pass Yards 4,740
43 Total TD 40
9 INT 6
69.1 Comp% 66.3
106.4 QB Rating 108.2

Josh Allen has been THAT good this season. pic.twitter.com/hRmsdc5I8q

— NFLonCBS (@NFLonCBS) December 29, 2020
When it comes to the last few weeks for these three quarterbacks, Allen is definitely making a case for himself.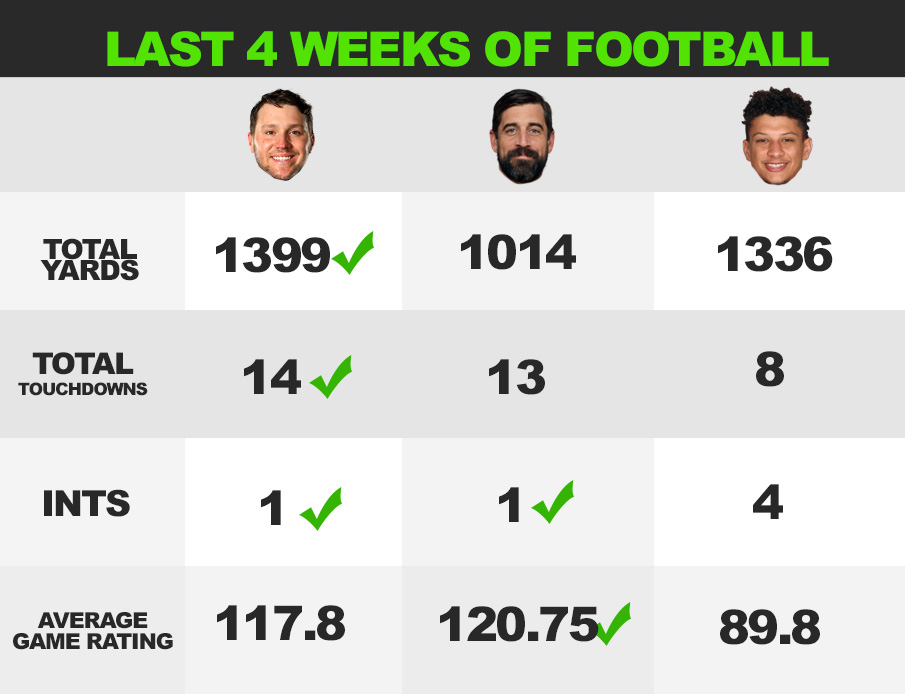 My prediction
As much as I want Allen to win the MVP, I do think Rodgers will win it when all is set and done. You can also make a case for Tennessee Titans running back Derrick Henry as well. With that being said, Allen should definitely be considered in the conversation.
All stats are credited to Pro Football Reference.
-Zach Jezioro (@ZachJezioro_13)