Rangers Fans Buy Billboard Mocking the Sabres for Jack Eichel Situation
If you are a fan of the NHL, you know that Jack Eichel and the Buffalo Sabres are going through a rough patch in their relationship. Eichel needs a serious neck surgery but for whatever reason, the Sabres and their infinite knowledge are refusing to let Eichel get the surgery. Therefore, the franchise center has requested a trade out of Buffalo. The Sabres, who hold almost no leverage in this situation, have refused to budge so far. The boys at Blueshirts Breakaway, a popular Rangers fan podcast, are over this Jack Eichel situation.
It is not often that a player of Eichel's caliber is available on the trade market. Teams would usually be lining up around the corner to try and acquire his services. However, the Sabres are refusing to release his medicals until both teams are deep in conversation. This saga has been going on all offseason and for some reason is still going on. The Rangers have long been rumored to be a destination for Eichel, but nothing has come of it yet.
Making their opinion known
The boys at Blueshirts Breakaway have made their opinion known about Jack Eichel. Eichel is a game changing player and can alter the course of the Rangers. Personally, I see that Eichel will either make them win the Stanley Cup or because of his cap hit and injury history, a move that can blow up in the Rangers face. Like many people, they just want this saga to be over. They don't care whether or not the Rangers trade for Eichel anymore. They just want Eichel to get traded so he can get the care he needs to return to full health and return to the ice.
What better way to get that message across then to buy a billboard right next to the Sabres arena? That is exactly what they did.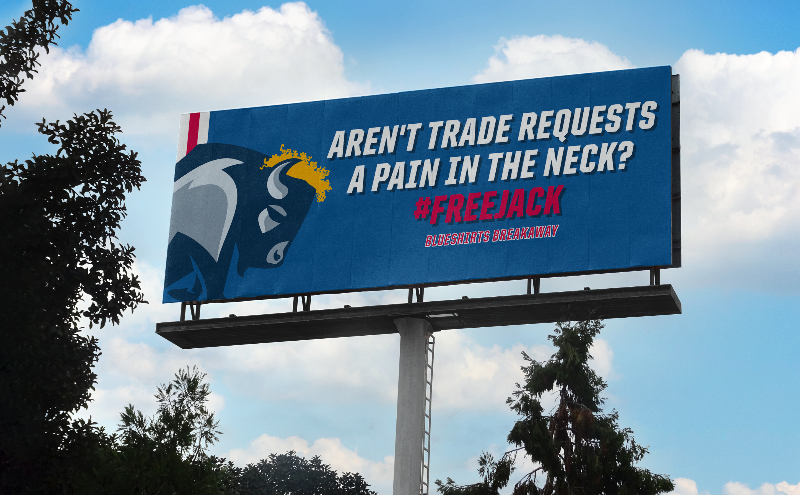 As you can imagine, there was a mixed reaction on social media. Many Sabres fans called it a waste of money while many Rangers fans (and analysts) thought it was hilarious.
Final Thoughts on Blueshirts Breakaway and Jack Eichel's Situation
Regardless of what you think of this approach, you have to admit that this is hilarious. The Sabres are shooting themselves in the foot and showing just how much of a joke of a franchise they are. Why would you not let your star player and one of the most important players in the game today, not get a surgery that would let him play at his highest level? There is nothing the Sabres can say or do that would make me believe that they are in the right in this situation. I am on the fence about the Eichel trade for the Rangers. A $10 million cap hit his a hefty price for not a healthy player and with Adam Fox, Mika Zibanejad, and more needing new contracts soon. If the price is Filip Chytil, a 1st round pick, Vitali Kravtsov, and one of Zac Jones or Braden Schneider I think you have to do it. If its Kakko or Lafreniere, you need to stay put.
Eichel is a franchise altering move for both sides and need to be handled with caution. Neck injuries are nothing to balk at. The Rangers need to proceed carefully and it seems like Chris Drury is doing just that. However, just like the boys at Blueshirts Breakaway, I just want this Jack Eichel saga to be over.
-Pete Chatterton (@Pchat12)
Featured Image courtesy of Ryan Mead/Blueshirts Breakaway
Use the Promo code "couchguy20" or "LLP" at Manscaped.com. Grab some of the best tools in men's below the belt grooming. Furthermore, using the code you'll get 20% off of your order AND free shipping. Help out the site and help out yourself by buying some products from Manscaped TODAY.
Tired of soreness and pain slowing you and your workouts down? Change that. Melt stress away anytime, anywhere with the ExoGun. Designed to give you the ultimate recovery utilizing percussive therapy and deep tissue massage, it will change your recovery life FOREVER. Follow this link (Exogun) for 10% off or use code promo code CGS10 at checkout!