NFL Mock Draft 3.0 Part 1
It's finally here! Happy Draft week everyone! We all finally find out who goes where and we get to see dreams come true. There will be tears of excitement and happiness from both the players and the fans. Unlike last year, the draft will be held in person in Cleveland. Let's get this party started!
1. Jacksonville Jaguars (1-15): Trevor Lawrence QB Clemson
The wait is almost over. Trevor Lawrence is the undisputed number one overall pick. Lawrence hands down might be one of the most talented quarterbacks to ever play college football. Urban Meyer succeeded with young quarterbacks on the college level. Will Lawrence and Meyer succeed in Jacksonville? Time will tell, but this is a great pick and a great start to a new era in Jacksonville.
2. New York Jets (2-14): Zach Wilson QB BYU
A changeup at number two overall. Before, I've had Penei Sewell to the Jets in both of my first two mock drafts. However, things have changed. The Jets traded Sam Darnold to the Carolina Panthers for draft capital. So, a quarterback is needed in New York. Zach Wilson is the second best quarterback in the draft. He faces a challenge of being in the spotlight in the big apple, but he can face it head on with the new look Jets. This pick will change the Jets organization for years to come.
3. San Francisco 49ers (6-10; from Miami 10-6 via Houston 4-12): Mac Jones QB Alabama
A major trade! The 49ers moved up to the third spot with Miami in a trade where Miami moved to the 12th pick. The 49ers have made it no secret they want a quarterback. Finally, Mac Jones makes an appearance. Personally, I don't think Mac Jones is a first round talent. But, he fits the mold in San Francisco. Mac Jones threw for 4,500 yards, 41 touchdowns and four interceptions. But, he had Devonta Smith to throw the ball to. I'm not sold on Jones yet, I want to see how he plays on a team that isn't loaded with stars and playmakers on the team.
4. Atlanta Falcons (4-12): Penei Sewell OT Oregon
Get protection for Matt Ryan. Matt Ryan isn't getting any younger and hasn't been the same player since his MVP season. If Atlanta wants to succeed, they need to keep Matt Ryan upright. Sewell is the best offensive linemen in this draft. Atlanta doesn't need to worry about a quarterback in the first round. They need to worry about protecting their quarterback.
5. Cincinnati Bengals (4-11-1): Kyle Pitts TE Florida
Joe Burrow is very happy. Kyle Pitts is a jack of all trades. He can block, he can run routes, he can catch and he can break tackles in the open field. Cincinnati is a good young team, and they're about to get even better. They say that sometimes, quarterbacks in the NFL go through a sophomore slump in their second year. With Kyle Pitts, Joe Burrow will not go through that. Cincinnati will be a threat next year and Pitts is the missing piece they need.
6. Miami Dolphins (10-6; from Philadelphia 4-11-1): Ja'Marr Chase WR LSU
Another trade! After moving down to the 12th pick, Miami and Philadelphia agreed to a trade that would send the sixth pick to Miami and the 12th pick to Philly (as well as other picks). A bad trade for Philly and a great trade for Miami. Miami gives Tua Tagovailoa a weapon. Chase is the best wide receiver in the draft and he goes to a Miami team that already has DeVante Parker. Miami is loading up to make a run at the AFC East title next season.
7. Detroit Lions (5-11): DeVonta Smith WR Alabama
Help is coming to Detroit. The Lions have no receivers at the moment other than Tyrell Williams, Geronimo Allison and Breshad Perriman. They also have a bunch of "supporting role" wide receivers which is a nice way to see, bench players to don't see the field often. Yikes! They are in desperate need for a wide receiver that can make an impact. Football fans know what Smith is capable of. Jared Goff will need a go-to receiver and that will be Smith. He may be small, but he plays as if he's one of the biggest receivers on the field.
8. Carolina Panthers (5-11): Rashawn Slater OT Northwestern
The Carolina Panthers have their quarterback in Sam Darnold. There is no need in drafting another one. Now that they have their quarterback, go get someone who is already being hyped up as someone who already a potential hall of famer without even taking a snap. Rashawn Slater is getting all sorts of hype. Why? He blocks, and blocks, and blocks! He never gave up a sack during his final season at Northwestern. That should make Darnold very happy as a quarterback.
9. Denver Broncos (5-11): Gregory Rousseau DE Miami
Wow! That's the correct reaction to this pick. Sometimes you have to be bold when making a mock draft. This is my bold pick right here. Denver needs another edge rusher. They have Bradley Chubb yes, and yes, they have Von Miller, but Miller is getting older plus it's his last year on his deal. Get a young, talented tackling machine and that Denver defense could be something to look out for next season. The Broncos have a team that could make enough noise to make the postseason.
10. Dallas Cowboys (6-10): Patrick Surtain CB Alabama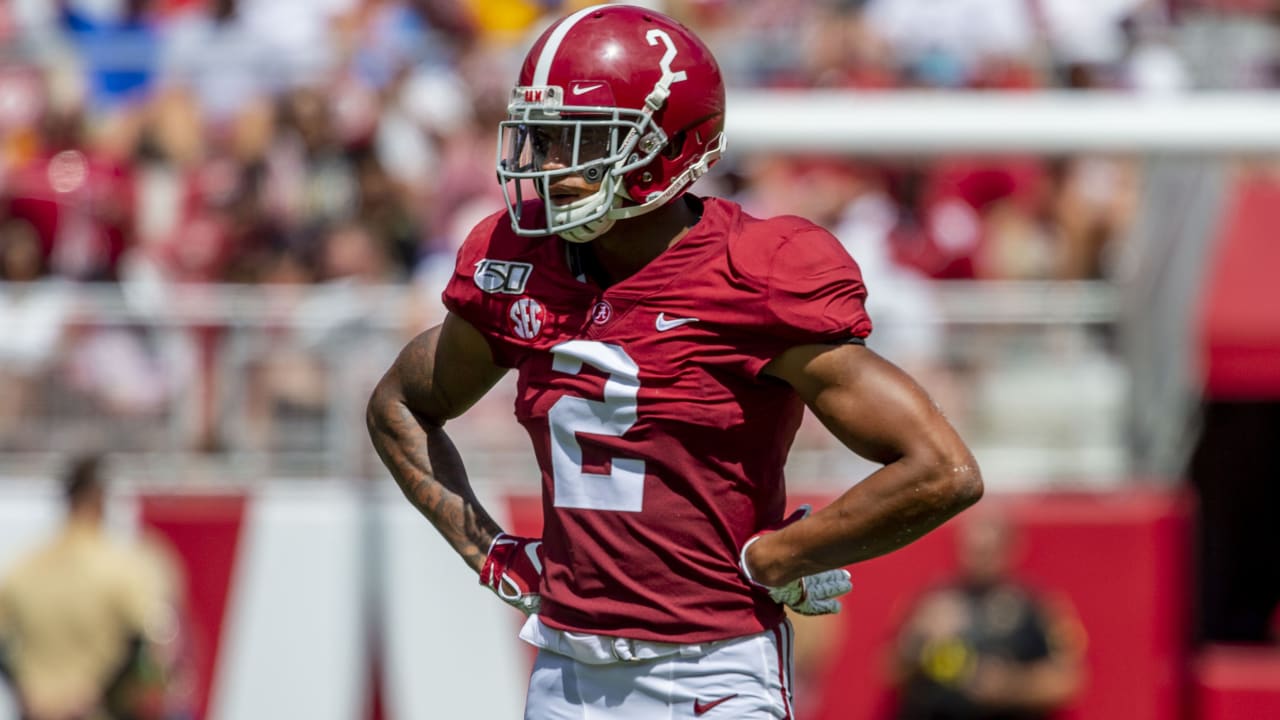 Every day this week someone needs to tell Jerry Jones that he doesn't need to draft a wide receiver. Jerry Jones is notorious for drafting playmakers he doesn't need. Dallas needs defense. Patrick Surtain is a playmaker on the defensive side of the ball. That should entice Jerry. But, again, it's Jerry Jones. In all seriousness, this is the perfect pick for Dallas. Their secondary is depleted along with the rest of the defense. Expect the draft to be defense heavy for the Cowboys unless… Jerry goes awol and does whatever he wants without listening to the scouts and coaches about team needs.
11. New York Giants (6-10): Jaylen Waddle WR Alabama
Assuming Jerry Jones doesn't Jerry the Cowboys pick at 10, Jaylen Waddle will be sitting there at 11 for the Giants to take. Pair him with Kenny Golladay and this Giants receiving core looks good for Daniel Jones. The injury Waddle sustained last season shouldn't be much of a concern despite Waddle playing in the championship while he was still clearly injured. The Giants almost took the NFC Leas… I mean NFC East last season and they could seriously threaten to take it this season with a new and improved offense.
12. Philadelphia Eagles (4-11-1; from Miami 10-6 via San Francisco 6-10): Caleb Farley CB Virginia Tech
Here's another situation where this should be who the Eagles take at 12. But they won't. General Manager Howie Roseman might be the worst GM when it comes to drafting. Recently, he picked Jalen Reagor over Justin Jefferson…. YIKES! The Eagles need help just about everywhere but defensive line, so hopefully Roseman realizes that. Farley will make the secondary a lot better. Like a lot a lot. He's the perfect spark the defense needs in order for Philly to be taken seriously again after what Doug Pederson did at the end of last season.
13. Los Angeles Chargers (7-9): Micah Parsons LB Penn State
A new linebacker is coming to Los Angeles. Parsons won just about every possible defensive award during his career at Penn State. He's a true leader on the field and in the locker room. The Chargers are an up and coming team with quarterback Justin Herbert leading the charge(rs). Now both Justin Herbert and Micah Parsons will be leading the charge (pun intended, credit: Jess Donahue), and hopefully be a threat to be a wildcard team next season.
14. Minnesota Vikings (7-9): Kwity Paye DE Michigan
This is a true Mike Zimmer pick right here. Even though he personally doesn't make the pick, he's heavily influenced by this pick. Defense, defense, defense, that's what the Vikings need to focus on. Even though they truly only have to worry about going after one quarterback twice a year, they need someone in general to make key tackles and sacks to get third down stops. That's what Kwity Paye will do.
15. New England Patriots (7-9): Justin Fields QB Ohio State
It's happening! The Patriots have been linked to Fields and I also think Fields will end up in New England. However, the Patriots will most likely move up to go get him. This is exciting though! The Patriots have their quarterback of the future. He will learn from Cam (settle down Newton haters), and then from there Fields' career will take off. He can throw, move around the pocket and if he needs to he can tuck the ball under him and run with it. Patriots fans should be excited about this pick for numerous reasons.
16. Arizona Cardinals (8-8): Jaycee Horn CB South Carolina
With Patrick Peterson in Minnesota the Cardinals need someone to replace him. Jaycee Horn will be that replacement. Some are considering Horn to be the best cornerback in the draft. Horn will be all over the field and tested constantly with the talented receivers in the NFC West. But, just like Peterson, he will rise to the occasion and become the next leader of the secondary in Arizona. He's someone to watch out for to win defensive rookie of the year.
Final Thoughts
That's it for Part 1 of my NFL Mock Draft 3.0. Tomorrow, yes tomorrow part 2 will be revealed. But for now, what do you think of part 1? Am I crazy for thinking Gregory Rosseau will be selected in the top ten? Let me know!
Use the Promo code "couchguy20" or "LLP" at Manscaped.com. Grab some of the best tools in men's below the belt grooming. Furthermore, using the code you'll get 20% off of your order AND free shipping. Help out the site and help out yourself by buying some products from Manscaped TODAY.
-Matt Burnett (@mattthew_jordan on Twitter)