Most Underrated Safeties of the 2000s
Now we flip back to the defensive side of the ball, and back to my favorite area in the secondary. Not every safety can be Ed Reed or Brian Dawkins. There are plenty of safeties that might not have been as all around well rounded as they were, but were ball hawks in their own right, or weren't afraid to fill a hole in the run game.
Requirements:
4 Years as a starter
Less than 3 Pro Bowl appearances
Adam Archuleta
Having Archuleta on your team was like having an extra linebacker. He had a somewhat short, yet successful career. He wasn't much of the type of safety that could find the ball, but man he would make you pay for coming his way. 530 tackles in his 7 year career, and he wasn't afraid to get in the backfield either. 18 sacks for a safety is a big number in any regard, much less only 7 seasons.
Donte Whitner
Whitner finds himself on here because he was not a favorite around the league. He used to absolutely CRUSH receivers, and it was right in the middle of head to head contact rule changes. He didn't get the nickname "Hitner" for no reason. He wasn't afraid to find the ball either, he had 11 interceptions and even found himself in the end zone on 2 of those. Whitner was a beast for 11 full years, found himself in 2 Pro Bowls, but was disrespected by the Goodell committee.
Donovin Darius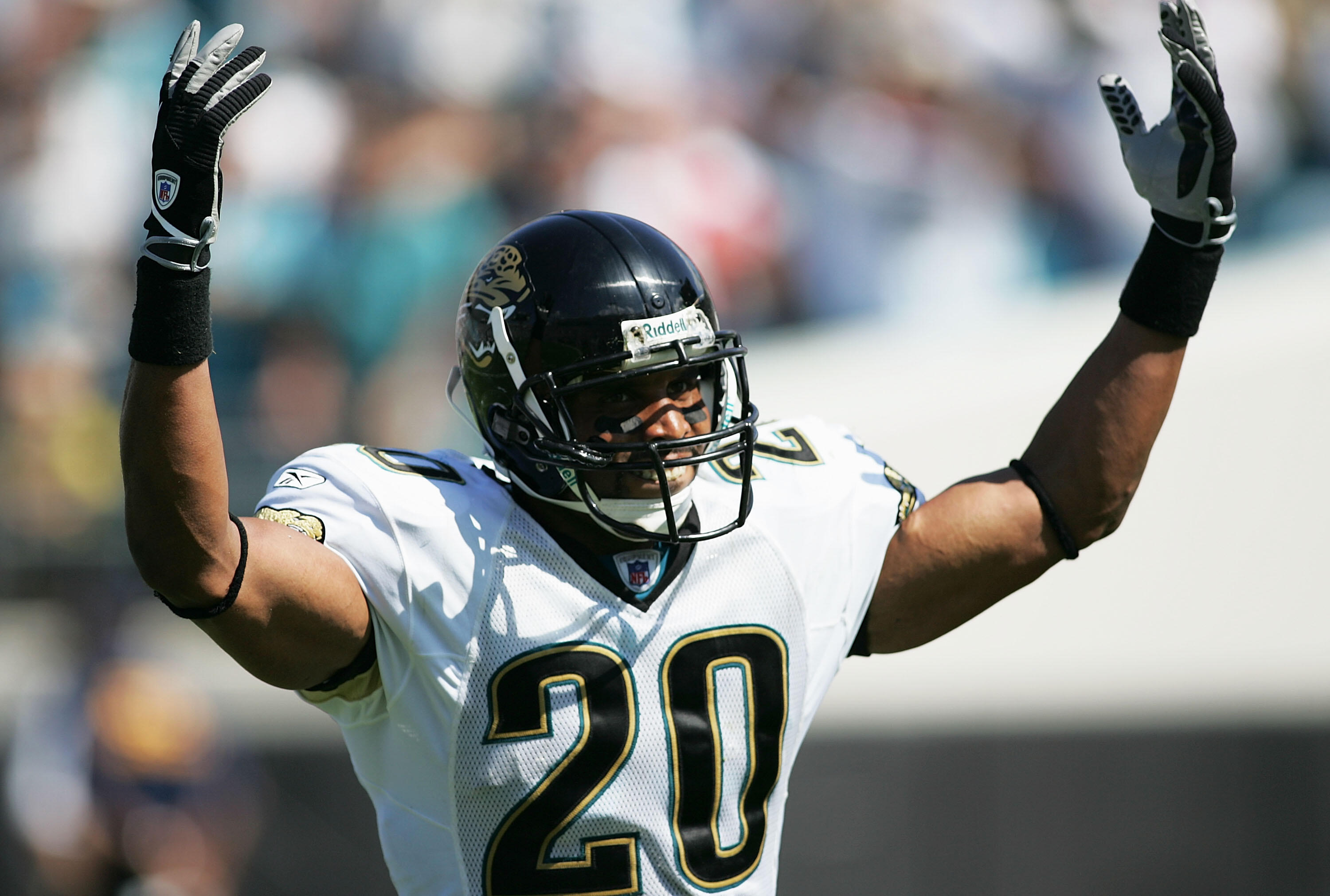 Darius is one of the most forgotten about safeties. He was always so solid but was just a part of a relatively weak defense. He didn't have the flash that a lot of other safeties had, but he was very well rounded. He wasn't afraid to stick his nose in to make a big hit, and could make big plays with the ball in the air too. In 2009 he had 5 interceptions, 2 forced fumbles, recovered 4 more, and racked up 89 tackles and still never found himself in the Pro Bowl. Let's give a minute to remember Donovin Darius when we talk about great safeties.
Mike Brown
Mike Brown was a very under the radar BEAST. If you're not a Bears fan, you probably don't remember him too much. Impressively, he had a season where he was named an All-Pro, but somehow not to the Pro Bowl. He was a guy with a nose for the ball, and the end zone. 20 INTs, and 4 of those for TDs, and add on 3 more fumble recoveries that he returned for TDs and you have a safety creating a hell of a lot of points. He was a part of those nasty Bears defenses that are remembered for Urlacher, Briggs, and a mean front 7. Everyone forgets the guy that was the anchor in the back.
Kerry Rhodes
Man was Kerry Rhodes consistent for some bad Jets teams. He should have been the only guy making it to the Pro Bowl, but they were so bad he didn't even get that respect. 23 career interceptions is the most on this list so far. He could stick his nose in the run game or make a TD saving tackle too. He always managed to have close to at least 70 tackles per season for all the full seasons he played. The Jets like to forget about the years he was on the team, but real fans won't forget the work he put in.
Reggie Tongue
Reggie Tongue was always a safety that was solid and was just always around. He had many seasons with no interceptions, but still managed to finish his career with a very solid 15. This man was just a tackling machine though. Excluding his first and last season he averaged 83 tackles a season. That's a man you can always rely on as your last line of defense, and the Seahawks did exactly that.
Michael Griffin
Griffin was a dual threat at the safety position. He could crack heads with the toughest dudes, and wasn't afraid to be a ball hawk either. His second season in the NFL he feasted. He had 7 interceptions, 1 for a TD, 11 passes deflected and 75 tackles. Griffin was the leader of the Titans defense for a long time, and was the only veteran as they went through a rebuilding period after Steve McNair left. He never went a season in Tennessee without an interception, and only managed to reach 2 pro bowls. He might not have been the overall monster that Brian Dawkins was, but was a similar type of safety.
Greg Wesley
Wesley was really a huge part of a Chiefs defense that a lot of people forget about. In 8 short seasons he pulled home 29 interceptions. Every year as a starter he had at least 2 interceptions and 7 passes deflected. He never had the speed and flash to bring one back to the house, but he was as reliable as they come at the safety position. He was a lifetime Chief, and played his position at an extremely high level, regardless of the fact that he received 0 accolades throughout his career.
Dawan Landry
Everyone remembers Dawan's brother, LaRon for showing up one offseason jacked out of his mind. Dawan was really the better safety. Dawan came into the league as a ball hawk, with 5 INTs, a TD and 11 passes deflected. He then got hurt, and followed it up by turning into a completely different player. He averaged 80+ tackles for every healthy season for the rest of his career.
Bob Sanders
Bob Sanders is the epitome of forgotten safeties. He did have the abilities of some of the best safeties of all time, and all compacted in a 5'8″ frame. Unfortunately, Sanders also had a shortened career due to injuries. He had 2 all pro performances. He didn't let his size get in the way of smacking around some of the most skilled players in the league. His stats don't show much, but the fact that his only 2 full seasons resulted in All-Pro nods says enough. If you watched Bob Sanders, you know what could have been.
-Jake Kobierski (@TheRealKobe83)