Kim Ng In and Theo Epstein Out as GMs. MLB Weekly Recap
This past week was a big one for Major League Baseball General Managers (or President of Baseball Operations). On Friday it was announced that Kim Ng was named Marlin's General Manager. Today, Tuesday 11/17/20, Theo Epstein resigned as Cubs' President of Baseball Operations. Other news in the baseball world was the 2020 major awards winners were announced during the week.
Kim Ng
On Friday 11/13/20 the Marlins' announced their newest General Manager. This hire made history in all 4 major North American sports. She is the first female GM in all of the major North American sports. That is a huge moment in sports. With this hire now hopefully females can get any job they want in sports.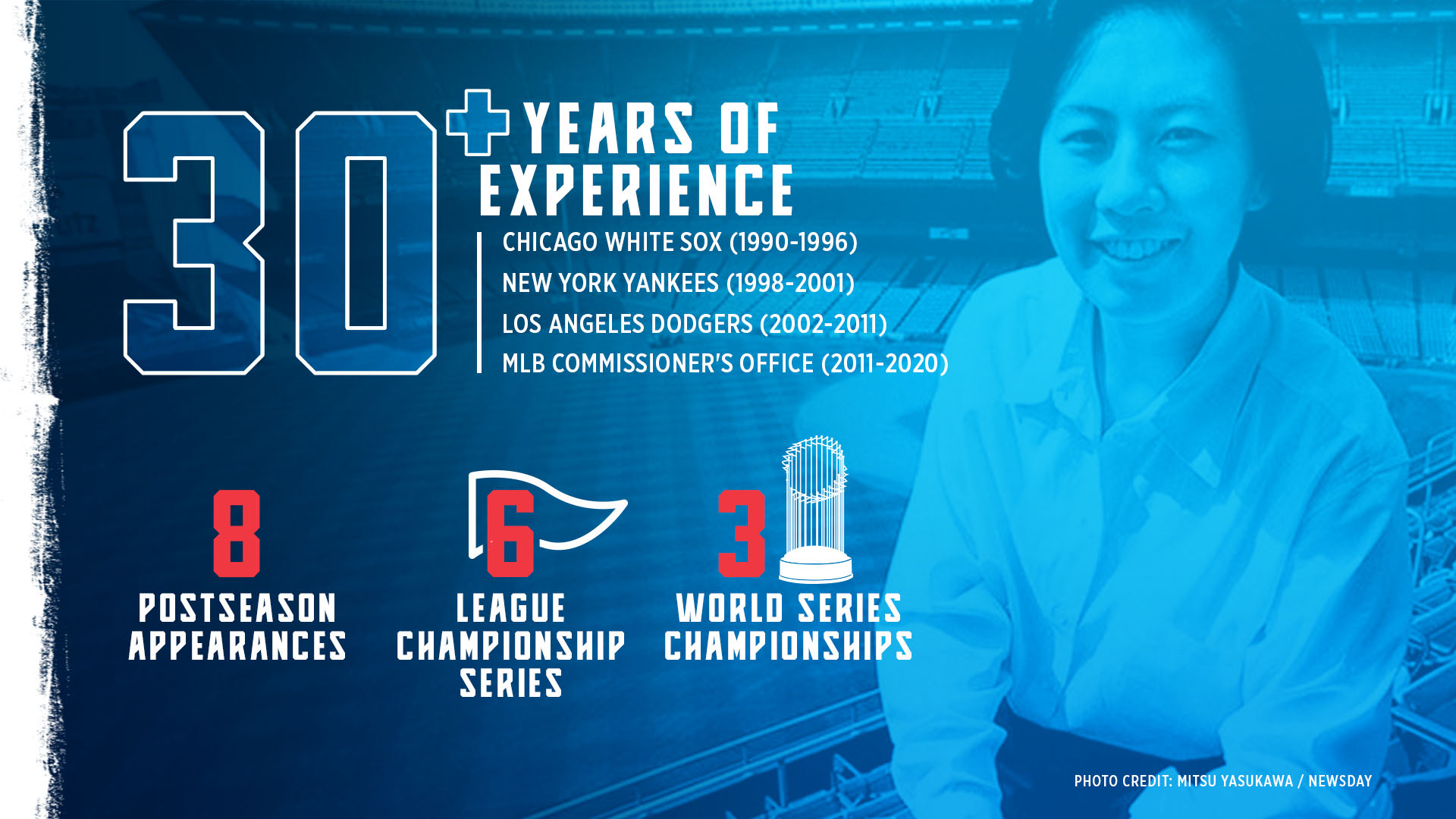 Ng's resume speaks for itself. She help some of the best teams while in front offices. While with the Yankees she worked closely with Brian Cashman to win 3 World Series championships. Also with the Dodgers they were able to make the playoffs while she was there. After working with 3 different franchises Ng moved to the commissioner's office. The MLB keeps breaking the record for most revenue each season. Ng has been a huge part of the growth of the game.
At this point I do believe it should not matter if a person is male/female black/white/Asian whatever. When going for a job it should be what does their resume say, how would they fit for the job. We now see female coaches, refs, and now GMs. I feel that she will not be the lone female GM in sports for long. Also, I can see a female becoming head coach in pro sports. I do not know if that is going to be baseball, but it will happen soon.
Theo Epstein
Theo Epstein will step down from his role as President of Baseball Operations effective Nov. 20 and depart the organization after nine seasons.

Jed Hoyer, who joined the club in Nov. 2011 as Executive VP/General Manager, will be named President of Baseball Operations. pic.twitter.com/SDeF826SFH

— Chicago Cubs (@Cubs) November 17, 2020
Theo Epstein resigned from his role as President of Baseball Operations for the Cubs Today. This is huge news for the Cubs. Epstein was able to bring the first World Series in 108 years back in 2016. Also Epstein brought a World Series to the Red Sox in 2004 for the first time in 86 years. He is considered one of the best baseball executive ever.
Epstein was always ahead of the curve by drafting great players. But, he also would make trades that would get players who brought a lot of value to his teams. Epstein was using analytics to see how players who preform years in advance. This is what he was able to use to break 2 of sports longest championship droughts.
From the report about Epstein will take at least a year off. I do believe he will be in charge of a Major League team again. If the Mets make an offer Epstein cannot refuse he will take it. The Mets seem like the Cubs and Red Sox when he took over. They are up and coming and close to winning a championship with a few moves.
MLB Awards
Before I start, so I do not repeat myself I believe they got every award correct this year. Normally that is not the case.
AL MVP
José Abreu – 21 (1st place) 374 points

José Ramírez – 8 (1st) 303 points
DJ LeMahieu – 1 (1st) 230 points
José Abreu's story to the majors is so interesting. You can read it here in the Chicago Tribune. He won Rookie Of The Year back in 2014. In 2020 Abreu hit .317 with a league leading 76 hits and 60 RBIs. Abreu has been a very good player for his whole career. It is good to see him win a MVP.
NL MVP
Freddie Freeman – 28 (1st) 410 points

Mookie Betts – 2 (1st) 268 points
Manny Machado – 0 (1st) 221 points
Finally Freddie Freeman won a MVP. He has been getting MVP votes for 6 out of the 11 seasons he has played. This season Freeman hit .341 with a league leading 23 double and 51 runs. Freeman is one of the nicest players in the league. I have wanted him to win one for a long time.
AL CY Young
Shane Bieber – 30 (1st) 210 points

Kenta Maeda – 0 (1st) 92 points
Hyun Jin Ryu – 0 (1st) 51 points
From opening day on everyone knew how was winning this one. Shane Bieber was the best pitcher in all of baseball from pitch 1. Going 8-1 with 1.63 ERA was unbelievable. Bieber was brought up as a 4 or 5 starter and has worked really hard. He went on to win All-Star game MVP to CY Young.
NL CY Young
Trevor Bauer – 27 (1st) 201 points

Yu Darvish – 3 (1st) 132 points
Jacob deGrom – 0 (1st) 89 points
This voting was a lot closer than it shows. This race came down to the last start for each pitcher. Trevor Bauer is one of my favorite players. He just has so much fun on the field and is about growing his brand. Bauer showed that his weird training methods do work. He lead the NL with 1.73 ERA. I believe both Bauer and Bieber will both win at least 1 more CY Young each.
AL Rookie Of The Year
Kyle Lewis – 30 (1st) 150 points

Luis Roberts – 0 (1st) 83 points
Cristian Javier – 0 (1st) 11 points
This was another unanimous winner. Kyle Lewis made this not even close. He was the best rookie in the AL. Lewis hit .262 with 11 homeruns and 54 hits, while also playing great defense in centerfield. Another great young player in the majors. Lewis has such a bright future and I cannot wait to see how good he will be.
NL Rookie Of The Year
Devin Williams – 14 (1st) 95 points

Alec Bohm – 9 (1st) 74 points
Jake Cronenworth – 6 (1st) 74 points
This is the closest voting for the major awards. Many people are upset a reliever won it. But if you look at the numbers he definitely deserved it. He let up a run in his 2nd outing and did not let up another for the rest of the season. Yes I see the argument that he only played in 27.0 innings where the other two finalists played in most of their teams games. But this was a season we will not see very often.
Wrap Up
Seeing Kim Ng being named Marlin's GM was so cool! I was able to watch her press conference and she is very well spoken. I think the Marlins will be winning a lot very soon. Theo Epstein stepping down was not as surprising as many people think. He has been doing this for a long time. He will find another job once he is ready. The voters got all the major awards correct this year. Good for all the winners. It was a great 2020. Check me out on Legends Lingo!
-Tom "Powder" Cadmus (@powder42308)