Happy 25th Anniversary Pokemon!
On February 27th, 1996, the biggest form of media was born. Pokemon Red and Blue came out 25 years ago. Since then, Pokemon has grown into a giant worldwide phenomenon. Recently, Pokemon has had yet another surge in popularity. This was just in time for it's 25th anniversary. Now, let's take a step back and enjoy something we all have grown to love, Pokemon!
Pokemon Red and Blue
Here's where it all started. These two are two of the most iconic games of all time. Nintendo took a huge chance with making two versions of the game, and it paid off. For those of you who don't understand how Pokemon works, here's how. The objective is the game is to catch and raise your Pokemon to a high enough level in order to challenge the elite four and the current Pokemon champion of the region. You are gifted your first Pokemon and then are expected to go out on your own to create your own team. There are eight gym leaders in which you must defeat in order to win a gym badge. Once you have all eight badges, you challenge the elite four (the best four trainers in the region). After you defeat them, you challenge the champion and if you win, you beat the game.
Pikachu
We all know who this is. Pikachu has been the logo Pokemon for an eternity. A little fun fact here, Pikachu originally wasn't going to be the logo Pokemon. Originally it was going to be Eevee. But a last second decision was made, and Pikachu became the logo and has never been replaced (and never will be). Pikachu is also one half of one of the most iconic duo's in cartoon history.
This is Ash Ketchum, the forever ten year old Pokemon trainer who is the protagonist in every Pokemon cartoon along with Pikachu. Ash's goal in life is to be a champion in every Pokemon region. Yes, there is a cartoon for each region. But, how many region's are there?
Pokemon regions (Sinnoh)
There are eight regions. This right here, this is the Sinnoh region. Pokemon fans just found out that we are all going to be heading back to the Sinnoh region at a later date this year as Pokemon Diamond and Pearl are being remastered. Fans are very excited about this as this is one of the more popular regions. Me personally, this is my favorite. I truly didn't start to become a true Pokemon fanatic until this region.
Legendary Pokemon
I'd be remiss if I didn't mention legendary Pokemon. These Pokemon are the rarest Pokemon and in each region only one can be found. These three, Moltres, Articuno, and Zapdos are the three original legendary Pokemon. Zapdos will forever be my favorite since Electric type Pokemon are my favorite. Legendary Pokemon add an exciting part to the game since these Pokemon are just so hard to catch. Getting heated towards legendary Pokemon is all part of the experience! It's fun to watch others struggle, but when you yourself are struggling, yeah, it sucks.
Pokemon cards
Alright here's the part I'm sure you were waiting for. A big reason why Pokemon's popularity suddenly exploded is because of Pokemon cards. These cards pictured here are some of the most valuable cards out there. If someone is lucky enough to have a Charizard in perfect condition, they could sell it for thousands of dollars. Recently, Pokemon card values skyrocketed because of some online influencers who would be buying boxes of cards for over 100,000 dollars. Infact, there is an online influencer who spent over one million dollars on boxes of Pokemon cards which again caused values to go up.
In celebration of the 25th anniversary, McDonalds started to put Pokemon cards in happy meals. Quickly, happy meals were sold out. This was probably one of the coolest things McDonalds ever did. You'd get the Pikachu box, the actual happy meal (McNuggets everytime), and a pack of Pokemon cards. This right here should show how popular Pokemon is if McDonalds wanted to get in on the fun.
Other Pokemon games
There are other Pokemon games other than the traditional ones. For example, this right here is Pokemon Snap, which came out on the Nintendo 64 in 1999. The objective of this Pokemon game was to just take quality pictures of the Pokemon. That's it. This game is one of the fan favorites and recently it was announced that finally there will be another Pokemon Snap game coming out in a few months. Yes, there are more than just the traditional, raise Pokemon and fight gym leaders and the champion Pokemon games.
I have to mention this game! We all know what Pokemon Go is and how much of an impact it has made on society… literally. When this game first came out everyone was playing it since you could literally walk around and catch Pokemon. People were literally tresspassing on private property to play this game. It blew up for and became one of the best mobile games and one of the highest selling. People still play Pokemon to this day which lead the game to evolve into something even greater than it originally was. Pokemon Go was a literal game changer when it came out.
My Favorites
Here are some of my favorite Pokemon games:
Okay, before I get into my all time favorite, I have to explain this. Pokemon Stadium and Stadium 2 are not traditionals. Yes, you fight the gym leaders and elite four and champion. But, you do not raise your own team or even catch them. In these games you are given the option to rent the Pokemon in order to fight everyone. Plus, unlike the other traditional Pokemon games, there are fun minigames you can play and even do special events that other Pokemon games do not have.
All time favorite Pokemon game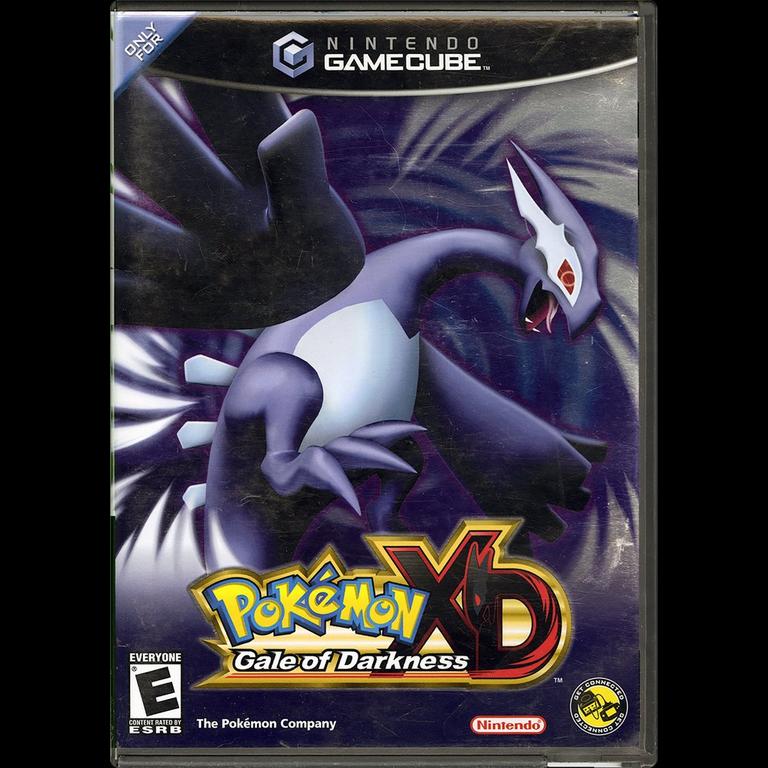 This is by far my favorite Pokemon game of all time. Pokemon XD: Gale of Darkness is so different from everything else. In this game, you are a teenager that has to fight off against a criminal syndicate called Cipher. Cipher has created shadow Pokemon by articially closing the door to their hearts. Your mission is to catch all the shadow Pokemon and open the door to their hearts by purifying them. Also, you obviously have to take down Cipher as well.
It pains me that these kinds of games have never been made again. Pokemon XD was made after Pokemon Colosseum which esstentially has the same story as Pokemon XD. Pokemon XD is a succession of the game but five years later. After Pokemon XD, these games haven't been visited again which is sad because at the end, one of the villians make it seem like Cipher will be back a third time. Sadly that never happened, but it still doesn't affect my feelings about this game. To me, nothing could possibly replace it as my favorite.
The futue of Pokemon
Okay let's wrap this up. This is the futue. Pokemon Legends: Areceus is looking like an open world Pokemon game based in the Sinnoh region. This has never happened before and fans are ecstatic. Open world Pokemon is something all fans have been wanting for years and it look's like it's finally happening. There isn't much known about this game since it was just announced and is expected to be released in early 2022.
Final thoughts
Again, Happy Anniversary to Pokemon! Pokemon has been a huge part of my life and I personally think that it's iconic that both Pokemon and myself were born in the same year! 1996 was a great year! However, it's been a great 25 years with Pokemon and I can't wait for the next 25!
Use Promo code "couchguy20" or "LLP" at Manscaped.com and grab some of the best tools in men's below the belt grooming. Using the code will get you 20% off of your order AND free shipping. Help out the site and help out yourself by buying some products from Manscaped TODAY.
-Matt Burnett (@mattthew_jordan on Twitter)