FIFA World Cup Qualifiers – CONMEBOL Group Stages
Ahead of the approaching 2022 World Cup in Qatar, the qualifying rounds have begun around the world. Around the world, you can feel the excitement in the air! International teams are already battling and things are heating up fast.
In the South American region, the 7th match day out of 18 has come and gone. Out of the matches, 3 really stood out! However, coming up on week 8, there is a lot building up to the action.
CONMEBOL World Cup Qualifiers – Current Standings!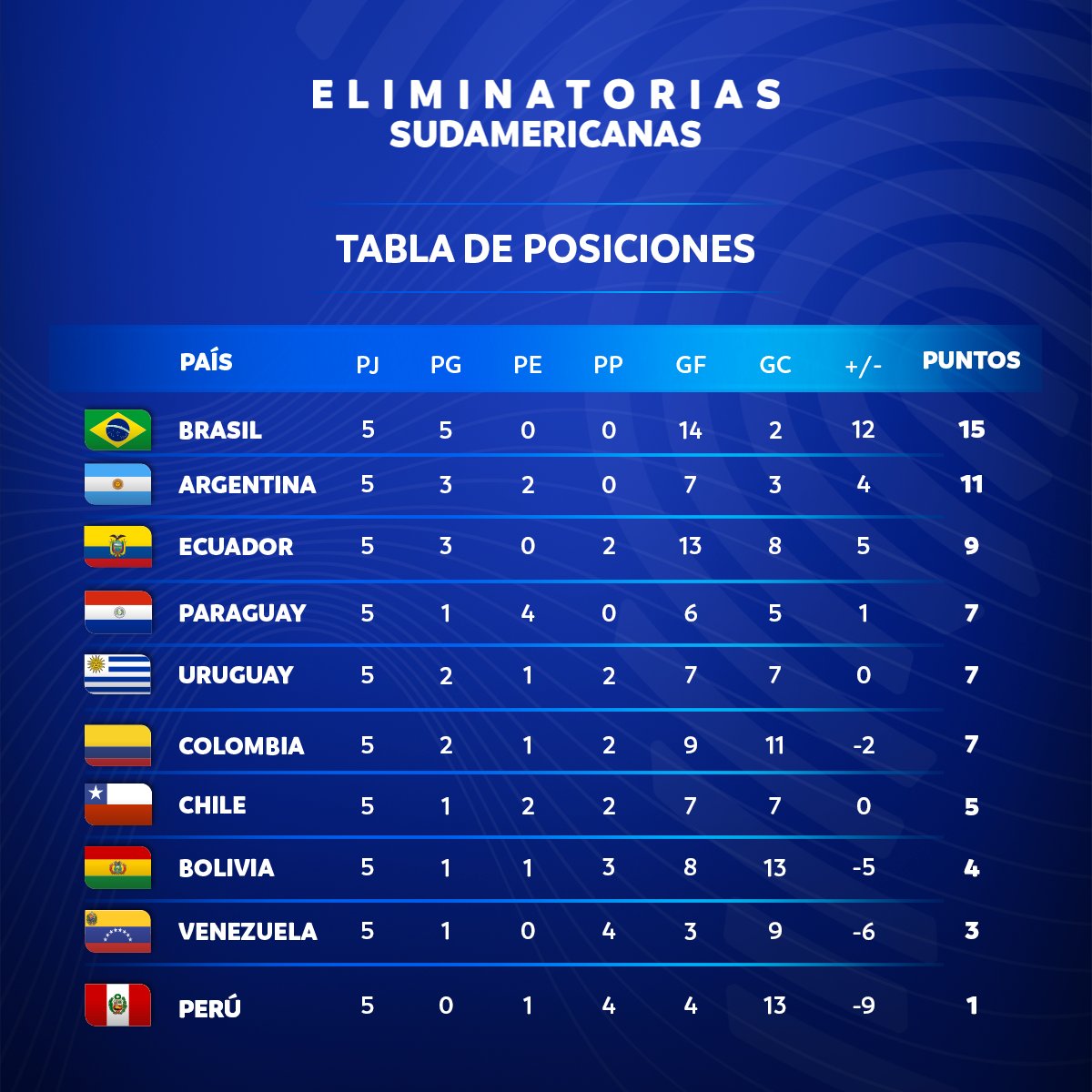 Following the action on week 7 of 18 for the qualifying stages, here is how the South American competition is going. I mentioned earlier, that there were 3 matches that really caught the attention of many. Which ones were they? For Starters, the match between Argentina and Chile left a lot to desire for the Argentine national team. Despite how good Lionel Messi's efforts were, Argentina lacked chemistry and will power to maneuver over a Chilean team that maintained a good defensive composure for the remainder of the game after tying at the 36th minute via a goal from Alexis Sanchez.
Moving on, Brazil and Ecuador squared up and it was another contested matchup but with a bit of a lackluster display from the Ecuadorian side. Brazil's lineup for this game was absurd and displayed the type of talent expected out of the national team. Richardson and Neymar showed why they are where they are in their careers and led Brazil to beat Ecuador 2-0. Meanwhile, Ecuador's lack of discipline and drive, caused them big time in this loss.
Lastly, Colombia would go and face Peru in a game that was also intense and well-fought by the Colombian side. Keep in mind, Colombia is currently in the qualifying stages without their key man, James Rodriguez who is out due to injuries. However, Colombia showed high caliber and youth with a team that went to Lima and beat Peru at home, 3-0. Goals by Yerri Mina, Matteus Uribe and Luis Diaz set things for the Colombian team to move up to 6th place. Colombia will face Argentina on Tuesday, which is already a highly advertised match as Colombia fights to climb back onto the 3rd place of the table, maybe even second place!
Week 8 Matches to Follow!
Colombia vs. Argentina.
Remember when these two countries were supposed to host Copa America? Unfortunate to see that Colombia lost their hosting role but maybe for the better in all honesty. Now, these two nations go head-to-head on Tuesday in what is already going to be a hot contest. Colombia are firing on all cylinders after a great victory against a tough Peruvian team. However, for Colombia it will be the most daunting task to try and keep Messi under control. Then, looking over to Argentina, I wonder if they will finally find their rhythm as last week left many unanswered questions for a team with lots of talent all around it. Personally, I believe this match could end tied at 1 but should Colombia find ways to break out, Argentina's shaky defense could be the reason Argentina loses.
Ecuador vs. Peru
Both teams come off of devastating losses and with a chip on their shoulders. The difference here is, Ecuador is eager to make things work and find a way to classify for Qatar 2022. In this match, it'd be interesting to see if Peru can rebound and make a case for themselves with what would be a statement-victory should they manage to win. However, Ecuador, this would be an excellent rebound that could lead them towards 2nd place should Argentina lose against Colombia.
Final Thoughts!
The potential for surprises is there, some are even suggesting that Argentina could be in a risky situation should their struggles continue? Oh my!
Finally, make sure you are following the Yellow Card Podcast. Brought to you by Couch Guy Sports and they will be covering the world cup qualifiers rounds as they continue! Find the Yellow Card Podcast on Twitter @Podcastcard.
~Diego Galvis (@Diego_TheDJ On Twitter)
Use the Promo code "couchguy20" or "LLP" at Manscaped.com. Grab some of the best tools in men's below the belt grooming. Furthermore, using the code you'll get 20% off of your order AND free shipping. Help out the site and help out yourself by buying some products from Manscaped TODAY.