Fantasy Football: Seahawks vs. Titans Preview
Week two is off to already a hot start after a thrilling Thursday night football game. Now, with the weekend ahead, its time for another exciting matchup and this time it comes in the form of a Seahawks vs. Titans Preview as these two collide Sunday afternoon.
In this matchup, who are ones that you must start, must avoid and should keep an eye on? You're about to find out!
Must Start Players In This Seahawks Vs. Titans Matchup!
Derrick Henry – RB Titans.
(Image credit to titansized.com)
Henry will be an incredibly reliable option for the Titans offense. Especially, as the Titans offensively line struggled last week to protect Ryan Tannehill in the pocket and therefore their passing game wasn't as strong. Henry is also heavily motivated this season to perform, after a good deal that took care of him for years to come with this team.
Last week, Derrick Henry ran for 58 yards on 17 carries against a Cardinals defense that proved to shut down the running game. However, with Seattle focused to shut down the long ball game, Henry is their best attacking option.
My prediction for Henry is an afternoon with the following production: 20 carries, 110-120 yards and a TD. For those in PPR leagues, this is about 17-20 points type of Sunday afternoon from Henry. Start him!
Another Must Start!
DK Metcalf – WR Seattle Seahawks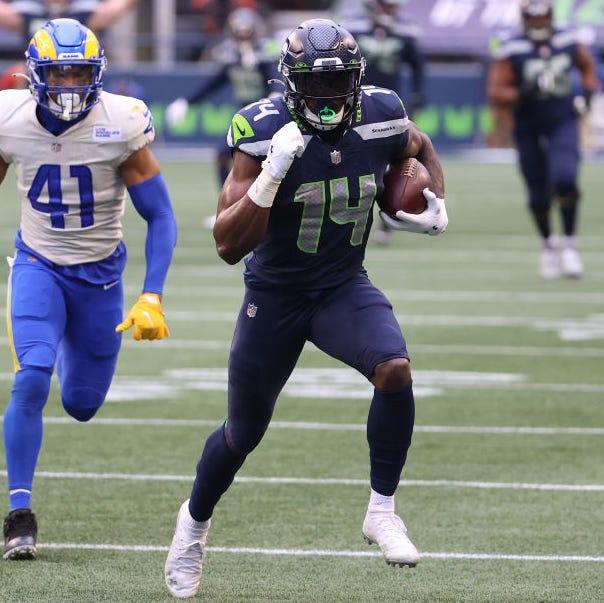 (Image credit to runnersworld.com)
Speaking of problems for defenses, DK Metcalf is about to be huge one for the Titans to contain. For QB Russell Wilson, DK will be a easy target as he can create space and outpace his opposition. Averaging nearly 16 yards per target this past week, Metcalf should be able to get into some more of a productive rhythm this week. Expect DK to have a week where he is targeted 5-10 times, have an average of 80-90 receiving yards and a potential TD. Russell will need DK's physicality to be able to create space against this Titans defense, making DK a problem!
Must Avoid Player in This Matchup?
Anthony Firkser – Titans TE
As we dive deeper into this Seahawks vs. Titans Preview, Anthony Firkser is the guy I would advice on avoiding if possible.
Unfortunately, Firkser is coming off a week where it was clear that he is 4th-5th in the pecking order when it comes to him getting targets from QB Ryan Tannehill.
Additionally, Firkser is still dealing with a knee injury and was limited in practice this past Wednesday.
Player to Keep an Eye out for in This Seahawks vs. Titans Game!
Tyler Lockett – Seattle Seahawks WR
(Image credit to 12thmanrising.com)
During the offseason, the Seattle Seahawks and Lockett agreed upon a 4-year deal, $69.2 Million contract. Perhaps, the performance we saw out of him last week is a way for him to start paying back dividends, and he is paying them back big time!
Last week against a decent Colts defense, Lockett went off for 5 targets, 100 yards and 2 TD's. If you are Tyler Lockett, you ought to be feeling really good and easily in your mind you are the WR1 option for QB Russell Wilson and the Seahawks. With the Titans being the week 2 matchup, I am truly expecting for Lockett to cook this Titans secondary that struggles to contain the passing game.
Some people have used Lockett as a third choice in fantasy football behind receivers like Keenan Allen and Mike Evans. However, if you aren't keeping an eye on him, you are only losing for falling asleep behind the wheel. Simple! Keep an eye on Lockett as this could be a gigantic year for the Seahawk's receiver.
(Featured Image credit to ESPN.com)
Use the Promo code "couchguy20" or "LLP" at Manscaped.com. Grab some of the best tools in men's below the belt grooming. Furthermore, using the code you'll get 20% off of your order AND free shipping. Help out the site and help out yourself by buying some products from Manscaped TODAY.
Tired of soreness and pain slowing you and your workouts down? Change that. Melt stress away anytime, anywhere with the ExoGun. Designed to give you the ultimate recovery utilizing percussive therapy and deep tissue massage, it will change your recovery life FOREVER. Follow this link (Exogun) for 10% off or use code promo code CGS10 at checkout!
~Diego Galvis (@Diego_TheDJ on Twitter)