Fantasy Football Preview: Miami Dolphins vs Las Vegas Raiders
This week, the Miami Dolphins head west to take on the Las Vegas Raiders. The Raiders are a surprise 2-0 team after impressive victories over the Baltimore Ravens and Pittsburgh Steelers. Now, they put their perfect record on the line against a Miami team that is dealing with a massive injury to their quarterback. Quarterback Tua Tagovailoa will not play for the Dolphins this week. Instead it'll be Jacoby Brissett. Things certainly will be interesting. Now, let's take a look at this fantasy football preview: Miami Dolphins vs Las Vegas Raiders.
Must play:
Derek Carr
What a start Derek Carr is having. Fantasy owners should absolutely start him. Carr leads the league in passing yards at 817. His top target is Darren Waller (who should have a field day this Sunday) and so far there has been no slowing down this connection. Carr has been protecting the ball well too only turning it over once so far. The Carr and Waller connection is going to be strong this Sunday so absolutely start Derek Carr.
Prediction: 29-40, 355 passing yards, 2 touchdowns
Jaylen Waddle
Jaylen Waddle has been a stud for the Miami offense so far. So far he has ten receptions for 109 yards and one touchdown. Jacoby Brissett is going to need someone who can get open to throw the ball to. Waddle will be that receiver. Waddle so far has been able to get separation from defenders in the first two games. The Raiders defense has allowed receivers to get open and that should be expected of Waddle and Devante Parker. However, if Waddle get's in the open field, good luck catching him.
Prediction: 5 catches, 80 receiving yards, 1 touchdown
Also start:
Darren Waller
So far, Darren Waller has been a top tight end in the league. Derek Carr throws him the ball at least ten times a game. Waller is hard to bring down and can get open when he needs to. He's Carr's favorite target for a reason! Miami will have a hard time stopping him on Sunday just like the rest of the league. This is a no brainer, start Darren Waller.
Prediction: 9 catches, 120 receiving yards, 1 touchdown
Devante Parker
The other receiver for the Dolphins should be in the flex or WR2 position for this matchup. Park leads the team in receiving yards at 123 on nine catches. The Raiders defense can't cover both Parker and Waddle successfully all throughout the game. Parker can be a deep threat which is a way Miami should attack the Vegas defense. Whenever there's a long ball thrown, expect it to go to Parker each time. He's a problem once he's open or gets hit in stride downfield.
Prediction: 5 catches, 90 yards, 1 touchdown
Toss up:
Myles Gaskin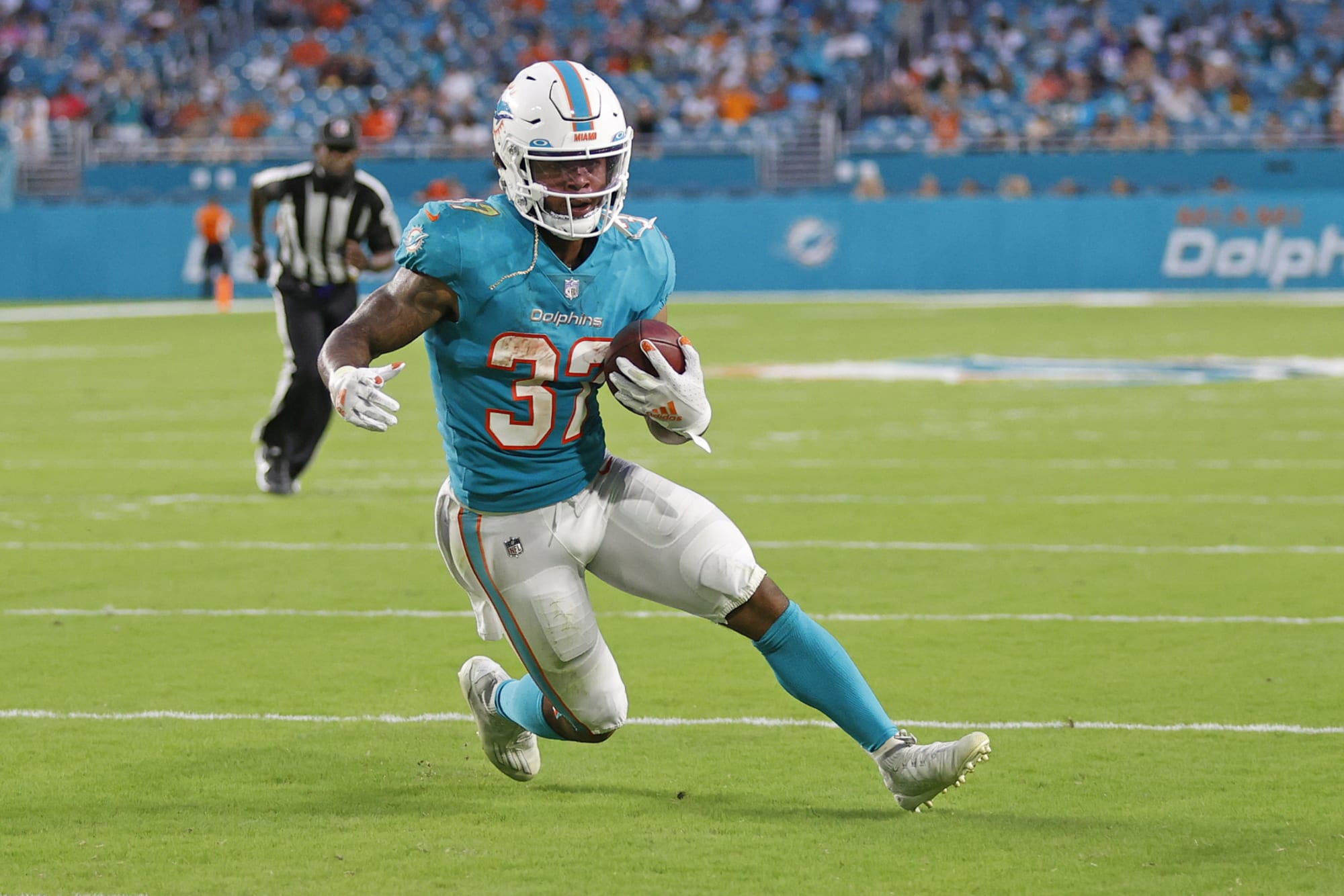 It is a huge risk to play Myles Gaskin this week. Why? He doesn't get the ball often. In two games the starting running back only has 14 rushing attempts. 14. That's it. On an average day that's what a normal running back might get in a game. Not two games. Plus, with Jacoby Brissett also having the ability to make plays with his legs, that will take away rushing attempt's for Gaskin.
Avoid:
Mike Gesicki
The Mike Gesicki fantasy experience has been an absolute nightmare so far in 2021. In Miami's first game, he didn't get a reception. Last week, got next to nothing. It's a trend that's going to continue. Fantasy owners have been dropping Gesicki like crazy, and it's understandable as to why. He's a headache for all owners. Do yourself a favor and stay very far away from Gesicki.
Prediction: 1 catch, 5 yards
Images from: lineups.com, silverandblackpride.com, thephinsider.com, phinphanatic.com, fanduel.com
Use the Promo code "couchguy20" or "LLP" at Manscaped.com. Grab some of the best tools in men's below the belt grooming. Furthermore, using the code you'll get 20% off of your order AND free shipping. Help out the site and help out yourself by buying some products from Manscaped TODAY.
Tired of soreness and pain slowing you and your workouts down? Change that. Melt stress away anytime, anywhere with the ExoGun. Designed to give you the ultimate recovery utilizing percussive therapy and deep tissue massage, it will change your recovery life FOREVER. Follow this link (Exogun) for 10% off or use code promo code CGS10 at checkout!
-Matt Burnett (@mattthew_jordan on Twitter)