Deion Sanders Pulls Historic Move
Deion Sanders pulled a move so historic today that it has everyone talking about.
In the case that you missed the action, stay here to read all about it as you're going to want to.
History Made!
If you just rubbed your eyes to make sure you read that correctly, you absolutely did!
Before the start of the early signing period, Jackson State head coach Deion Sanders teased that he was going to pull of something historic. Speed forward to National signing day, and the Deion Sanders move he was teasing has been fully made as Sanders pulls away a 5-star defensive back from his alma mater, Florida State University.
The #2 recruit in the country, Travis Hunter (CB), flipped his commitment to FSU to Jackson State earlier today. On a Twitter post earlier today, Hunter said the following:
"It's a dream that is hard to let go of, but sometimes we are called to step into a bigger future than the one we imagined for ourselves. For me, that future is the Jackson State University"
Reactions to the Move – Fans
Of course, along with any moves made in the world of sports, there is always a reaction that follows.
In this instance, many of the reactions were that of shock and surprise especially as no one saw it coming.
If Travis Hunter goes to Jackson State it will be the biggest surprise in the modern recruiting era.

— Woody Wommack (@RivalsWoody) December 15, 2021
However, for some others, the move was one that many questioned Sanders' allegiance to his Alma Mater. In example, the below reaction from a fan via a Twitter Post.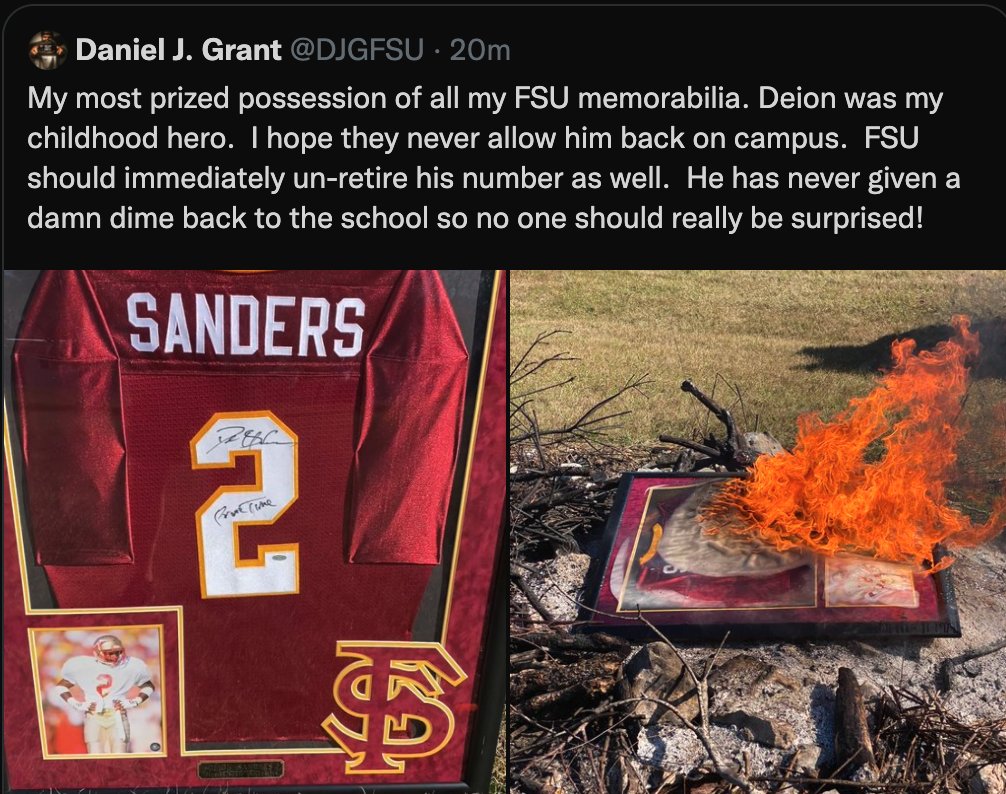 Personal Reaction
My personal reaction is nothing but a giant kudos to coach Sanders. Being able to pull such a move for such a highly ranked recruit is definitely a shocker. Travis Hunter is a 6-foot-1, 165lbs. prospect from Collins High School in Suwanee, GA who had previously committed to FSU so imagine the inspiration Sanders must've given this young man to make such a bold move. Needless to say though, Hunter makes the move wanting to be a giant part of the future for Jackson State while also shedding light in the way for others to follow and recognize that Historically Black Colleges and Universities are definitely worth the consideration when decision time comes.
It is also worth to note this isn't the first time Sanders has pulled ranked recruits. Sanders signed his son, Shedeur Sanders (QB) who was amongst those ranked by ESPN in the 300 recruit 2021 class.
For more on this story, make sure to tune in to the latest episode of the Burnie and Chris podcast, presented by Couch Guy Sports.
(Featured Image credit to TMZ.com)
Feeling tired, unable to focus and low on energy? We got you covered. Go to shockedenergy.com today and get yourself Shocked Energy today! Obtaining maximum energy with healthy ingredients. Use the promo codes "CGS21" or "CGSN" for 10% off your order today.
Tired of soreness and pain slowing you and your workouts down? Change that. Melt stress away anytime, anywhere with the ExoGun. Designed to give you the ultimate recovery utilizing percussive therapy and deep tissue massage, it will change your recovery life FOREVER. Follow this link (Exogun) for 10% off or use code promo code CGS10 at checkout!
~Diego G (@Diego_TheDJ on Twitter)