College Football Roundup: Week 5
We're inching closer and closer towards the first college football playoff rankings and teams are jockeying for position.  We saw dominant performances from most of the top 25 and some rather questionable decisions *cough cough, Penn State*.  But so far, the college football surprise team has been Kentucky, not only are they ranked but they're now in the top 15.  Not too shabby for a basketball school huh?
AP TOP 25
Alabama (58)
Georgia
Ohio State (1)
Clemson (1)
LSU
Notre Dame
Oklahoma
Auburn
West Virginia
Washington
Penn State
UCF
Kentucky
Stanford
Michigan
Wisconsin
Miami (FL)
Oregon
Texas
Michigan State
Colorado
Florida
NC State
Virginia Tech
Oklahoma State
Others receiving votes: Boise St. 86, South Florida 83, Syracuse 74, Cincinnati 35, Iowa 34, Texas A&M 31, Washington St. 14, TCU 13, California 10, Maryland 10, Missouri 8, Mississippi St. 3, Boston College 3, BYU 3, Arizona St. 2, Appalachian St. 2, Duke 1, Hawaii 1, San Diego St. 1
Week 5 College Football Studs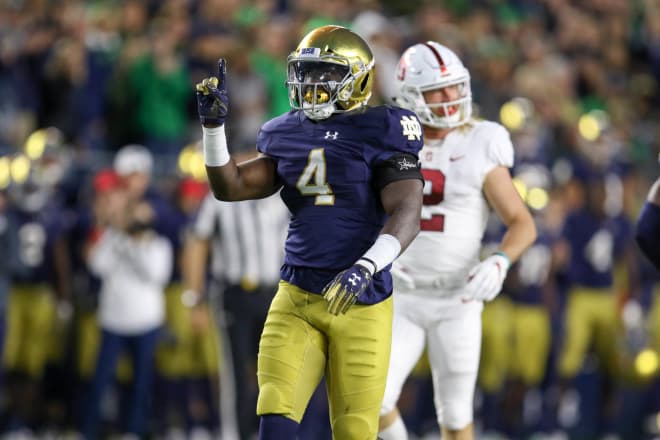 Notre Dame came to play.  They handled Stanford at home in rather convincing fashion 38-17.  The Irish defense held a terrific Cardinal offense to 328 yards of offense and just three second half points.  Mostly because they kept KJ Costello at bay with only 174 yards passing and Te'Von Coney picked off Costello as well.
But the stat that stands out is the Irish held Heisman front runner Bryce Love to just 73 yards rushing.  Meanwhile, the Irish offense was nothing short of spectacular.  Notre Dame QB Ian Book was 24-33 for 278 yards passing and had FOUR touchdowns.  Dexter Willilams went off as well with 161 yards rushing on 21 carries and added a touchdown of his own.  Notre Dame is now sixth in the AP poll and could creep up into the top four soon.  After some close wins in their first three games, many thought this would be a down year for the Irish.  The Michigan fumble, the one score wins over Ball State and Vanderbilt, it makes sense why Irish fans were skeptical.  But back to back blowout wins reassured that Notre Dame is not a team to take lightly.
The other stud this week is Kentucky.  5-0 on the year and 2-0 in the SEC, Kentucky is a threat to win the SEC East.  They opened some eyes when the went down to the swamp and handled Florida in a double digit win.  As a matter of fact, all five of the Wildcats wins are by double digits as their average margin of victory so far is 19.8.  They'll have a tough test next week as they go on the road to play Texas A&M but if Benny Snell keeps running like he has, then they'll be all set.
Week 5 College Football Duds
The play calling of James Franklin and the rest of the Penn State staff at the end of the Ohio State game was rather odd.  On 4th and 5 with the game on the line, Penn State took a timeout to discuss what to do on the play, as any coach certainly would.  But the play that came after the timeout, was horrid.  A shotgun snap handoff to Miles Sanders for a two yard loss which consequently lost the game.  Penn State offensive coordinator Ricky Rahne took responsibility for the play saying:
"Ultimately I didn't give our guys the best chance to succeed."
Gee, no kidding!  Trace McSorely had 461 yards of offense just by himself and you don't involve him on that play?  You took the ball out of a play makers hands unfortunately.  Hopefully; that doesn't cost Penn State a chance at the college football playoff.
-Brian Berard (@CouchGuyBrian)
Check out the Couch Guy Sports store here!
You love fantasy sports but getting tired of the same thing every year? Stop it. Join ThriveFantasy today where you bet on only the top tier players and gain points based on prop bets. Sign up today using the Couch Guy Sports link NOW & get in on the action. (Must deposit a minimum of $10 upon signup and ThriveFantasy will MATCH that $10)