College Football Roundup: Rivalry Week
Rivalry week has come, and has left us.  From the battle of the Iron Bowl to the upset in the Apple Cup, Rivalry Week provided us with some upsets, shakeups, and plays that wowed us.  The college football playoff selection committee will have to look long and hard at several teams and decide if they belong in the top four after this past weekend.
AP Top 25
1. Alabama (61)
2. Clemson
3. Notre Dame
4. Georgia
5. Oklahoma
6. Ohio State
7. UCF
8. Michigan
9. Texas
10. Washington
11. Florida
12. Washington State
12. LSU
14. Penn State
15. West Virginia
16. Kentucky
17. Utah
18. Syracuse
19. Boise State
20. Mississippi State
21. Northwestern
22. Texas A&M
23. Army
24. Iowa State
25. Fresno State
Others receiving votes: Utah State 92, Missouri 88, NC State 39, Cincinnati 33, Stanford 10, Iowa 4, Appalachian State 1, Buffalo 1, Oregon 1.
Rivalry Week Studs and Duds
The studs are simple.  Alabama, Syracuse, and Notre Dame did what they needed to do and Roll Tide and the Orange did so by kicking the crap out of their opponent.  But this week, let's focus more on the duds.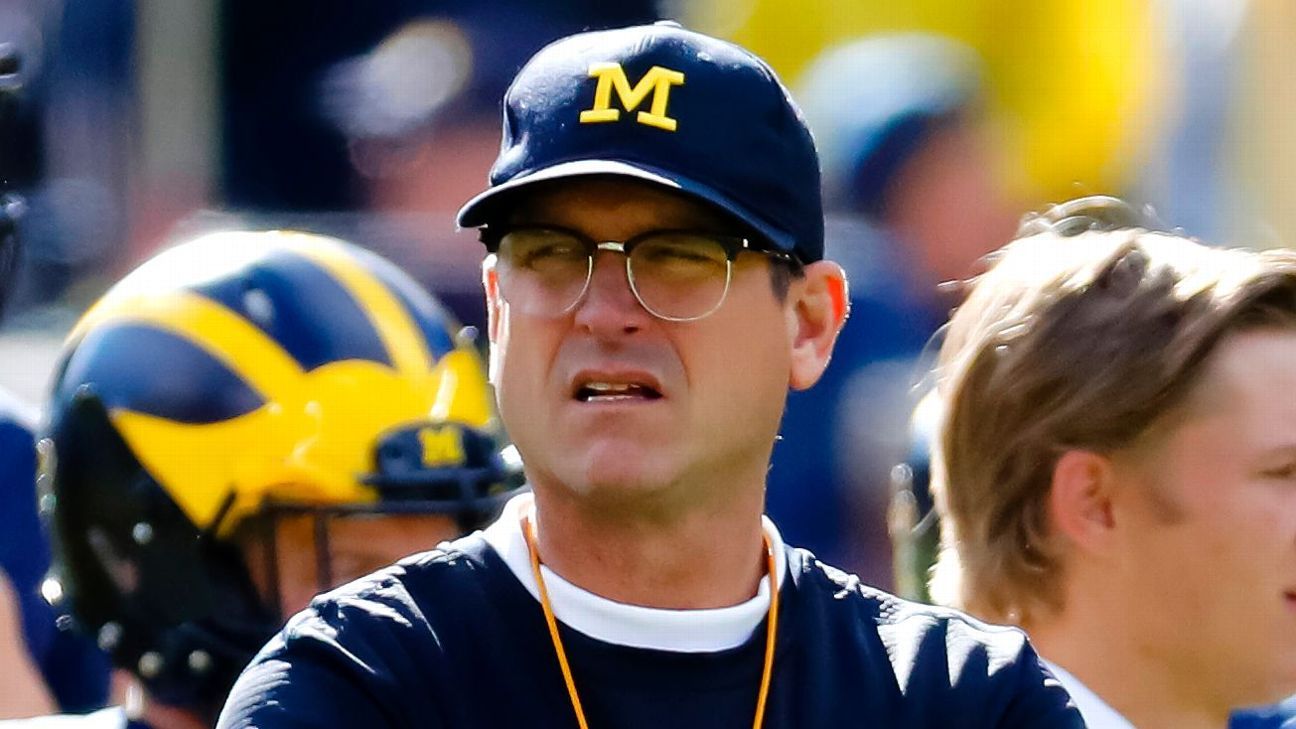 First dud.  Yet again, Jim Harbaugh shows that he cannot win the big game.  His Michigan squad went into Ohio State as the FAVORITE in the game (-4) and they got POUNDED.  This Michigan football team has to be one of the biggest fraud teams in college football.
Out of the ranked opponents Michigan has faced, they have an overall record of 1-2.  The lone win was a 42-7 whooping of Penn State.  The two losses were a 24-17 loss to Notre Dame in which Shea Patterson fumbled the game away.  And of course the 62-39 blowout loss to Ohio St.
The guy simply cannot win against elite opponents.  And his defensive coordinator Don Brown who annually boasts the top defense in the country got out coached by Ohio St offensive coordinator Ryan Day.  Interestingly enough, the two held the same positions at Boston College under Steve Addazio.
The other dud in college football this week was LSU.  They had a 7OT thriller against Texas A&M which ended up being the highest scoring college football game ever with a 74-72 final.  But what makes this team a dud was the fact that head coach Ed Orgeron got the infamous gatorade bath at the end of the game just to have the game clinching INT overturned.  Coaching 7OT's and then losing can't be fun, imagine doing it soaked.
LSU players gave Coach O a gatorade bath & lost in a 7th OT. Brutal. pic.twitter.com/D0AR6yHYVE

— #FreePhillipDorsett (@ftbeard_17) November 25, 2018
Conference Championship Games to Watch
Big XII – Oklahoma vs. Texas.  A rematch of the Red River Rivalry which ended with a Dicker the kicker game winning field goal in Dallas.  Could Texas pull off two wins against the Sooners or will Oklahoma exercise its demons and potentially get into the top four?  Kickoff is Saturday at 12:00pm on ABC.
SEC – Alabama vs. Georgia.  Winner guarantees their spot in the top four, however if Alabama were to lose and get a Oklahoma AND Ohio St loss, they could still sneak into the top four.  A Georgia loss would probably eliminate the Dawgs.  Kickoff is 4pm on Saturday on CBS.
BIG 10 – Ohio St. vs. Northwestern.  Can Northwestern shock the world and dash Ohio States dreams?  Or will Ohio State roll to victory to get them into the top four yet again.  Kickoff is 8pm on FOX.
Final College Football Playoff Predictions
Alabama
Clemson
Notre Dame
Ohio State
The only way Oklahoma gets in is if Ohio State loses.  If Alabama and or Clemson loses, I still think they get in.  Especially Alabama.  You could make a case to bounce Clemson because they play in an extremely weak ACC but Clemson has been so consistent over the past few years, it's hard to keep them out unless they get blown out of the water by Pitt, which won't happen.  Notre Dame having the luxury of not having a championship game is already in so they get to sit back and watch.
-Brian Berard (@CouchGuyBrian)
Check out the Couch Guy Sports store here!
You love fantasy sports but getting tired of the same thing every year? Stop it. Join ThriveFantasy today where you bet on only the top tier players and gain points based on prop bets. Sign up today using the Couch Guy Sports link NOW & get in on the action. (Must deposit a minimum of $10 upon signup and ThriveFantasy will MATCH that $10)