Buffalo Bills: Offseason Needs
The Buffalo Bills were one game away from the Super Bowl. After capping off an incredible 13-3 season, Buffalo looks to do it again. However, now the expectation is that they will produce another season like last year. If Buffalo wants to go 13-3 or better, they need some improvement. In all honesty, they don't need much. Obviously, Josh Allen is the quarterback for years to come, but what about all the other positions? The competition in the AFC East could heat up next season, so Buffalo is going to want to improve the team and make sure the AFC East title stays in Buffalo.
Free Agency
Here's the man with the plan, general manager Brandon Beane. Beane put this roster together and he look's to make it even better. Last season, the Buffalo acquired Stephon Diggs from the Minnesota Vikings which still doesn't seem real to some Bills fans. Diggs instantly built chemisty with Josh Allen and look what happened. So what does Beane have up his sleeve this offseason? Well first things first, they gotta make some cap room. Currently the Bills have negative cap space at $214,684. That's not too terrible but Beane has his work cut out for him. Once Buffalo is back on the plus side of the cap space, Beane will then have to focus on the weak points of the Bills and make Buffalo a better team.
Offensive Guard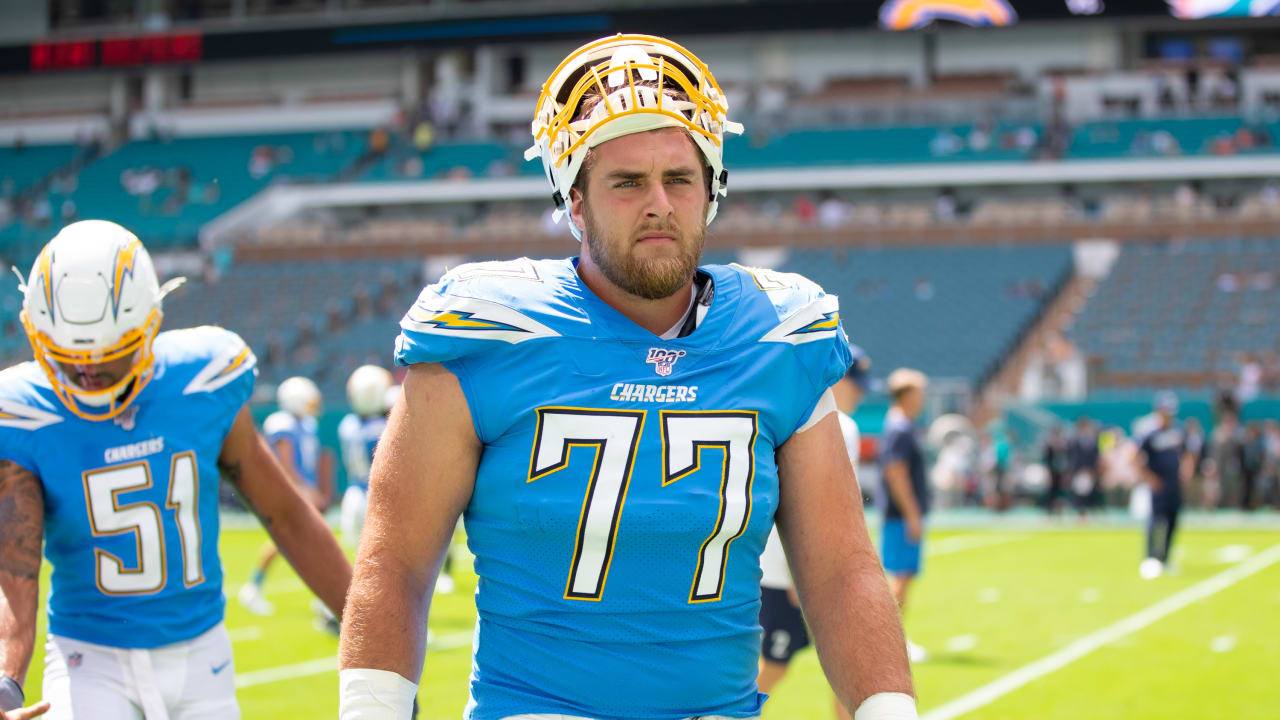 Who is this? This is Forrest Lamp who has been the Chargers 2017. He's a young talent at the offensive guard position that is very underrated. Last season, his job was to protect Justin Herbert. Herbert won offensive rookie of the year because he was kept upright for the most part. He isn't known because he's in LA. Put Lamp in a Bills uniform and his stock will rise as an offensive guard. Buffalo possibly will lose both their guards from a season ago, but, Lamp will be a solid replacement. He doesn't give up sacks which is good for Josh Allen.
Trust Brandon Beane. That's the reason for why Brian Winters will stay in Buffalo. Yes, Feliciano is most likely gone, but brining back Winters is key. For one, Winters already knows the Buffalo system. Two, Josh Allen knows what to expect from Brian Winters. Lastly, Brandon Beane won't let both his guards walk in free agency. Winters played a huge role last year in the success of Buffalo's season and he'll do it again. Bills fans should rejoice when Winters comes back to Buffalo.
Offensive tackle
It's going to be tough to bring back Daryl Williams. If Buffalo doesn't succeed in doing that, this is who they should go after. Germain Ifedi. Ifedi spent last season in Chicago and started all 16 games for the Bears. He only gave up two sacks, and was penalized five times. Ifedi would be a solid pickup for the Bills. He's trustworthy and can protect Allen. That's all you need in an offensive guard. Plus, Beane can sign him for less money than what Williams will most liklely be asking for.
Cornerback
Yes, Buffalo has Tre'Davious White, but they need someone on the other side of the field to go along with him. EJ Gaines, Josh Norman and Levi Wallace are all free agents and Buffalo cannot afford to bring them all back. Instead they should go for Jason Verrett. Third times a charm for Verrett. He was average with the Chargers and things didn't pan out in San Francisco for him. Verrett would fit right in with the Buffalo defensive scheme.
Any trades?
No, Buffalo won't be making any trades. With the cap situation in Buffalo it isn't ideal for the Bills to make any trades. They cannot afford to take on contracts without having to restructure them which could make any player very upset.
Draft
Buffalo needs a tight end. Pat Freiermuth will be sitting there at the end of the first round in the draft. Freiermuth has been compared to Gronk and that is what Buffalo needs at the tight end position, a Gronk like player. This will make Josh Allen a very happy quarterback.
Final thoughts
Yeah, the Bills are going to be a great team for years to come. If Buffalo can bolster that offensive line and can find a cornerback to compliment White, this team is a Super Bowl team within three years. Yes, this team can compete with teams like Kansas City and Baltimore in the AFC. Last season, everyone was put on notice, next season, watch out for this Buffalo team. They're going to be running laps around the AFC once again next season.
Use the Promo code "couchguy20" or "LLP" at Manscaped.com. Grab some of the best tools in men's below the belt grooming. Furthermore, using the code you'll get 20% off of your order AND free shipping. Help out the site and help out yourself by buying some products from Manscaped TODAY.
-Matt Burnett (@mattthew_jordan on Twitter)