Let's go back to the year of 1995. Toy Story was released into theaters. Batman Forever was the number one movie and Gangsta's Paradise was the number one song. The price of gas was $1.15 and the price for a new car was $15,500. You know what else happened in 1995? The Buffalo Bills were the AFC East champions. 25 years later, they are one win away from winning it again. Buffalo will head to the Mile High City for a battle against the Denver Broncos and if they win OR if the Miami Dolphins lose, the Bills will win their eight division title. Al Davis said it best, just win. In this article, I will preview this weekend's matchup.
No Brown
The Bills will be missing a key weapon this weekend. Earlier today, head coach Sean McDermott announced that wide receiver John Brown will not be playing against Denver. Brown missed the last few weeks with an injury. It is unclear why he is out but there is some speculation it's because he has sickle cell anemia and with this game being played in a high elevation city like Denver, it is very difficult to play while dealing with sickle cell anemia. I don't know if that's the reason for sure but regardless, it's better for him to be healthy, so the team can make a good playoff run.
Getting turnovers
The Bills defense played a solid game against the Pittsburgh Steelers last week and were also able to pick off Pittsburgh quarterback Ben Roethlisberger two times, one was a pick six. This weekend, they are facing a quarterback who is near the top of the league when it comes to throwing interceptions. According to TeamRankings.com, Drew Lock throws the second most interceptions in the league (13). He does have 13 touchdowns as well, but I do think the defense can have a good game against Lock.
Another big game from the offense?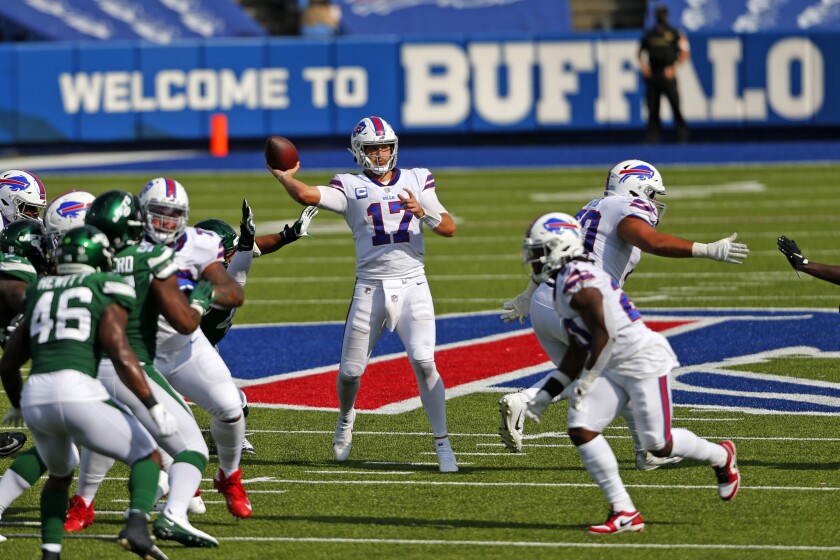 Without a doubt, Buffalo's passing offense is one of the best in the league. In this game versus the Broncos, it's possible the offense can be a force once again. According to Pro Football Reference, Denver's passing defense is 10th best in the NFL, while their rushing defense is 27th. Starting off with the rushing offense for Buffalo, this would be a great week for running backs Zack Moss and Devin Singletary to get going. Neither running back has rushed for 100 yards all season long. With that being said, this could be the weekend one of them gets triple digits in yards.
The Broncos are down to three healthy/available cornerbacks against the Bills on Saturday. Head coach Vic Fangio was asked about that today. pic.twitter.com/pIZ0xqxY3t

— Sal Capaccio 🏈 (@SalSports) December 17, 2020
When it comes to passing, the tweet above is not an ideal situation for Denver. A couple of weeks ago they didn't have a quarterback available, literally. This time is a little different though but it's still not good for the Broncos. We'll see what Saturday brings but I would not be surprised if Buffalo was able to get at least 300 offensive yards.
Not only will Buffalo will look to go 11-3, but they can also win their first divisional title since 1995. You can catch the game this Saturday @4:30 on NFL Network.
-Zach Jezioro (@ZachJezioro_13)