Best Players in Backyard Baseball NOT Named Pablo Sanchez
We all know Pablo Sanchez is the GOAT. No one in the Backyard Sports franchise can come even close to the Secret Weapon's skill set. With that said, you can't have a team of just Pablos. Today, we will be discussing some of the best players in Backyard Baseball that are not names Pablo Sanchez. You will not find any pros on this list either. We will only be discussing the original characters.
Keisha Phillips
Keisha is by far one of the most athletic players in the game. She is one of the best players in every game but she excels in baseball. She is known for her short bat, but she carries a lot of power. In the original game, she has a full rating in both hitting and running, while having 2/4 in pitching and 3/4 in fielding. When you need a big hit in the playoffs, if you can't have Pablo up, you want Keisha Phillips.
Achmed Khan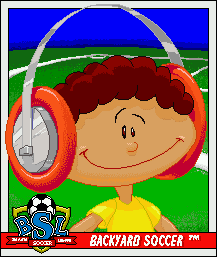 This is another player who can anchor the middle of your lineup. Achmed is small, but he carries a lot of power in his bat. Achmed's real dream is to be a rockstar, but for now, hitting dingers will have to do. In the original game he carries a stat line of 4/4 in hitting, 3/4 in running, and 2/4 in both pitching and fielding. He is the perfect guy to DH for your team, but everyone has to play the field. Put him in the middle of your lineup and stick him in right field and you should be good.
Pete Wheeler
Last and not least we have the speedy ginger, Pete Wheeler. Everyone's favorite backyard character loves to run. He is one of the fastest guys in the game, and is one of the most well rounded characters as well. He has a 3/4 in hitting, 4/4 in running, and 3/4 in both pitching and fielding. Pete can play any position and can easily hit 1.000 if you just bunt every time he hits. He just needs to get the ball in play and you never know what can happen on the basepaths.
Final Thoughts
If you combine these three with Pablo, you got yourself a hell of a team. Throw in Angela Delveccio as a PO and you got yourself a squad. Once you start adding pros, then it really is game over for the opponent. Demitri Petrovich is an honorable mention as he does not look like the typical athlete, but the young man has himself a rocket of an arm. Get these guys on your team, and you're looking at a potential dyansty.
-Pete Chatterton (@Pchat12)