2020 NBA 1st Round Playoff Primer and Predictions
THE 2020 NBA PLAYOFFS HAVE ARRIVED
First things first, the bubble has worked (so far). Especially when put into juxtaposition with the chaotic COVID-roller coaster that MLB is going through due to teams traveling. The NBA has been HIGHLY entertaining during the Bubble-Ball era. The quality of play simply did not miss a beat at all despite being a fan-less environment due to COVID-19.
This playoff season is bound to be WILD. Upsets are bound to happen, with a few in particular that seem extra enticing. Is it the year of the NBA-Cinderella?? It seems like anything goes in the bubble, with home-court advantage totally diminished, this might be the year where ANYTHING IS POSSIBLEEEEEE.
Eastern Conference:
Excitingly enough, it seems like it's a 3-team race for the Eastern Conference crown. The Bucks, with the best record in the NBA are the heavy favorites, but the defending champ Raptors aren't going to give up the crown without a fight. The third team in serious contention is the Celtics. Their depth and recent uptick in health should be enough to give them a shot at a Finals appearance.
The East is super top-heavy, as seems to be the norm in the past few seasons. The good news is that the reason it's not as deep has more to do with injuries than an actual talent-deficit in comparison to the West.
The Future of the East?
The East next year should those 3 main threats (MIL/TOR/BOS) back for the most part (Raps need to re-sign a few key cogs), as well as some newer contenders.
Brooklyn
The Nets with a healthy Kyrie Irving and Kevin Durant are bound to be near the top of the league, not even considering how sneaky-good of a young deep core they have without those two. (Caris LeVert deserves to be an actual #1 option on a young team, not buried in touches to KD/Kyrie).
Philly
The Sixers were a threat to win the East (until Ben Simmons went down for the year) in part due to a much deeper roster than previous seasons. They might be the biggest 'What-If' of the 2020 bubble with Philly fans wondering what they could've done if Simmons stayed healthy following the decision to move him from point guard to a forward role.
Miami
The Heat are probably a sneaky dark-horse already, but a little too-green in my eyes at the moment. How much can one really trust Jimmy Butler? Is he a potential NBA Finals MVP, or just the ultimate blindly confident heat-check warrior? That being said, the team is stacked with young talent. It wouldn't be shocking to see Miami as a legit top-4 seed in 2021.
ATL
The Hawks are super young, but could use some of their plentiful cap space to acquire a star to complement their young duo of Trae Young and John Collins.
Indiana
The Pacers are interesting (when healthy) and could really challenge teams if Victor Oladipo is back to his dominant pre-injury form.
Stay Tuned, But For Now…
All in all, plenty to be excited about for the future of the East. Without further ado, let's dive into the current playoff match-ups in the East, in reverse-order of 'juiciness':
#1 Milwaukee Bucks vs #8 Orlando Magic:
Rating on the Juiciness-Meter: 0.5 out of 5 Juice Boxes: 
This one is going to be silly. The Magic have essentially been selected as the Bucks' lamb-to-slaughter. Orlando's already faced some injuries, but losing Jonathan Isaac to a torn ACL in the bubble is the final straw. Aaron Gordon is likely to return for Game 1 of this series, but pray to the NBA gods that he's healthy enough to play. Giannis is going to destroy whoever attempts to defend him, the Magic have no good answer (as with most teams). Brook Lopez is bound to do a solid job on Nik Vucevic, likely nullifying his impact a bit. The Bucks have Eric Bledsoe back, not that they necessarily need him with the amount of back-court depth they already have to handle Markelle Fultz and DJ Augustin.*
DJ Augustin Tangent
*DJ Augustin has a Magic-adjacent 'Fan Club Account' on Twitter run by some kid, and has more followers than verified DJ Augustin does. They support Augustin but for some reason he blocked the account. It's weird. I don't trust DJ Augustin as a result. I love NBA twitter so much.
When DJ Augustin Fan club's backup account has more followers than Dj Augustin's real account pic.twitter.com/v219zKP9OW

— Mary 🐐 (@overtimemary) July 29, 2020
Enough jib-jab. Let's get down to brass tacks. Bucks are going to steamroll the Magic, and it's going to be fun for no one. But, I do recall the Magic pulling off the upset last season in game 1 against the eventual champion Raptors. Does that mean anything? Maybe something to note for a game 1 upset, but probably not with Isaac out.
Verdict: Bucks in 4.
After I publish this blog, the Magic are going to pull off the upset and win Game 1 just like last year, and I'm going to be kicking myself. I already regret not putting Bucks in 5. 
#2 Toronto Raptors vs #7 Brooklyn Nets:
Rating on the Juiciness-Meter: 2.5 out of 5 Juice Boxes: 
Though this isn't an even series by any stretch, this is lowkey one of the most underrated rivalries in the NBA. If you're a fellow nut-job who LOVES the NBA playoffs and underlying subplots, then you know these two teams really dislike each other.
Their 7-game battle of a 1st-round series back in 2014 brings us back to their most recent playoff match-up. Paul Pierce had some clutch moments, something Celtics fans are pretty familiar with.
And THIS game 7, game-winning block by Pierce:
That might not be enough for you – fine. But check out this notorious clip of Toronto's lead executive, Masai Ujiri yelling out 'F*CK BROOKLYN' back in 2014. I'm telling y'all, this rivalry between these organizations is a thing.
While I doubt the Nets are able to win more than 2 games against the defending champion Raptors, this series has HIGH-DRAMA potential. This is the sort of series where blowouts might need to be on in the background, to monitor the demeanor between teams. For example, the Nets lost in 5 games to the Sixers last season in the 1st-round. That being said, that was one of the most entertaining playoff series last year. Jared Dudley and Embiid went at it, and the tension was through the roof.
HELLO, BROOKLYN ?
Sometimes, for a great series to happen, the contender (Raptors) need to play a team with absolutely nothing to lose.
X-factor for Brooklyn is Caris LeVert. The man went toe-to-toe with Dame Lillard and almost hit a buzzer-beating shot to bump the Blazers from their seeding. LeVert could drop 50 in a typical game, but this Raptors team is the best defensive team in the league. Lower any expectations of a LeVert scoring clinic to 35 points with that in mind.
No Drake Courtside??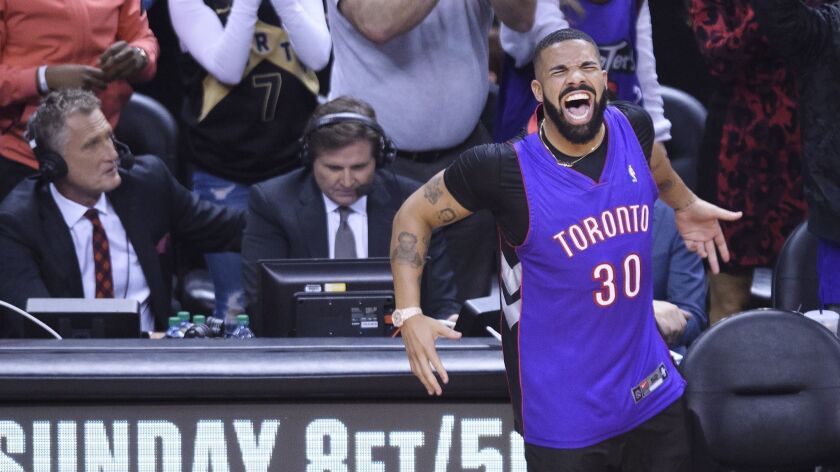 Will Toronto miss their most-prominent courtside fan? Or will they play better without his antics and borderline interference? Probably play better, to be honest. These Raps don't seem to be a group that really cares about the most successful rapper in the world being courtside.
The Raptors will take care of business, and have a balanced enough attack to weather any sort of cold-streak. The Nets just don't have enough healthy bodies to have a legitimate shot at the series, unfortunately. Watch Kyle Lowry though. He has a high-chance of getting under some Nets' skins and causing some flare-ups in this series.
Raptors in 4.
Please Caris LeVert, give us one heat-check game with a massive performance. Take all the shots you can before KD and Kyrie get all of the touches next year. 
#2 Boston Celtics vs #6 Philadelphia 76ers:
Rating on the Juiciness-Meter: 3 out of 5 Juice Boxes: 
The absence of Ben Simmons is glaring. Without him in the mix, the Celtics winning seems like a foregone conclusion. All eyes are on Joel Embiid, as they should be in a series where Boston is going to miss Al Horford's defensive prowess. That being said, the Sixers just don't have enough to have a serious chance here. With Kemba Walker reportedly healthy, and the duo of Jaylen Brown and Jayson Tatum playing well, there's just too much for Philly to handle. Even with Simmons, one would be bold to prefer Philly, but without him, it's foolish to think this will go 6 or 7 games.
X-factor here for Philly might be Matisse Thybulle, who could be in the starting lineup for the series. Thybulle is the sort of impact defender Philly would need to deploy on Brown or Tatum in order to interrupt their rhythm. Thybulle's potential defensive impact could be what makes this a 5 or 6 game series instead of a sweep. For Boston fans, they'll need to see Kemba without a minutes restriction, to better capture how deep of a playoff run they're capable of.
Boston vs Philly (AGAIN!)
Though this match-up is heavily favoring the Celtics, the Philly/Boston rivalry is always entertaining, hence the 3 out of 5 rating. Without Ben Simmons, the rivalry loses a bit of zeal, but we know Embiid is more than capable of making up for any lack of drama. Al Horford on the dark side is an intriguing subplot to monitor, and see how he's received by his former squad.
Side note: I totally forgot this clip existed, but just realized that Marcus Smart and Joel Embiid's beef/rivalry goes back to their BIG-12 days?! WILD DEVELOPMENT.
Don't pay any mind to the talking-heads trying to make this sound like a potential Sixers upset or a 6 or 7-game series. The Sixers were below .500 (8-9) without Simmons this year for a reason.
Celtics in 5.
Wild how much the absence of a single player can make. One never wishes for an opponent to have injuries, even Boston Celtics fans. Hopefully these 2 teams meet again next postseason, for yet another entertaining chapter to the Boston/Philly rivalry. 
#4 Indiana Pacers vs #5 Miami Heat:
Rating on the Juiciness-Meter: 3.5 out of 5 Juice Boxes: 
This isn't a sexy playoff series by any stretch. The Pacers are some classic blue-collar basketball, in the best way. However, without Domantas Sabonis and Jeremy Lamb, the Pacers are facing an uphill battle. Those losses aside, TJ "Bubble-God" Warren is suddenly dealing with plantar fasciitis, further-hurting the Pacers' chances of winning the series.
The Heat have been looming all season, as the popular dark-horse to sneakily contend in the East.
Jimmy Butler vs TJ Warren
I am STOKED for this 'rivalry' or 'not-rivalry' to play out. With Butler getting the better of Warren in their last game, he's claiming there's no rivalry or beef. Back in January, these two had a spat, leading to some exchanged words, gestures, and an ejection. Butler after the Heat won in January said of Warren, "He's trash". Here's the game/beef's ESPN synopsis:
https://www.espn.com/nba/recap?gameId=401161198
C'MON NOW. You can't tell me this isn't a subplot worth watching!! Mr 1st-Team All-Bubble, TJ Warren dropped 53 in his first bubble game. FIFTY-THREE!
Warren continued to stay hot pretty much throughout the remainder of the bubble games, minus the Pacers' loss to the Heat. Warren's bubble per-game stat line: 31 points, 6.3 rebounds, 2 assists, 1.3 steals, 36.4 minutes. If he's recovered from his foot-injury, I want TJ Warren to take 30 or more shots against the Heat. Preferably at least 20 of them while Jimmy Butler is defending him.
Indy Not Up to Pace
The Pacers need a lot to go their way to have a chance against this Heat team. They're facing a better coach, a better star, and better depth. Victor Oladipo struggled in the bubble, and failed to really get much of anything going against the Heat during their sole bubble match-up. 'Dipo seems like he was taking it relatively slow, and has struggled to find a rhythm since coming back from injury. At this point, the Pacers shouldn't expect him to be his All-Star self, and instead should look elsewhere to shoulder the offensive load.
The X-factor is… you guessed it, TJ Warren. He could be the difference to get in Jimmy Butler's head and cause some mistakes down the stretch. We know Butler's a confident guy, but if he turns erratic, it could be a problem for the Heat.
Heat in 5.
I want this to go 6 or more games, but the realist in me tells me it won't. TJ Warren, please prove me (and Jimmy Butler) wrong. 
Western Conference:
Despite hyping up the future of the East. the West remains to be the more dominant conference. The heated playoff race for the 8-seed perfectly exemplifies how deep the conference is. Let's hope the play-in game dynamic stemming from the bubble stays forever. That could be the coolest way to extend the playoffs to teams if one conference is more stacked than the other. The Grizzlies will be back, and with a healthy Jaren Jackson Jr., they might have beaten the red-hot Damian Lillard-led Blazers. The Warriors will be back in 2021 (with a vengeance), as will the Spurs, to some degree (Pop isn't going out quietly). The Pelicans with a full season of Zion & Co should emerge to be fully-immersed in future playoff races.*
An Actual Sad Text Sent Regarding JJ Redick
*Personally, I'm still not over the Pelicans not making the playoffs. Zion aside, this is the first time in JJ Redick's 13-year NBA career that he's failed to make the playoffs. That really stung me. I can't explain it, but I REALLY wanted him to make it and continue the streak. This is a real text I sent to a friend, once the Pelicans were disqualified from post-season contention. Am I okay? Probably not. 
Your likely reaction:
#1 Los Angeles Lakers vs #8 Portland Trail Blazers:
Rating on the Juiciness-Meter: 3 out of 5 Juice Boxes: 
Sneaky-fun match-up here. Portland is RED-HOT, with a ton of momentum following their streak of 'win-to-keep-playing' games. They're just a totally different team with Jusuf Nurkic back, a silver-lining from the COVID-delay to the season.
CJ McCollum is banged up with a back-injury, but has been playing through it in a big way. Damian Lillard was the MVP of the bubble for a reason, and the Lakers don't have the defensive depth in their back-court to slow him or CJ down. Avery Bradley and Rajon Rondo would've been HUGE in a series like this. So with each of them out, Danny Green and Alex Caruso are going to be critical defensive cogs to keep Dame in check (as best they can). If not, expect to see LeBron play some D against Dame, which he's very capable of, but likely not wanting to, in order to save some of that gas to lead the offense. But, c'mon, how can anyone defend shots like this?
DAME FROM THE LOGO! 🤯 pic.twitter.com/3jH7yD9y6E

— NBA TV (@NBATV) August 14, 2020
Rip City, Ready for Battle
Can't forget, this Portland team made the Western Conference Finals last year. A little bit of playoff experience goes a long way in today's NBA. With the way Dame Lillard is playing, he's not going down without a fight. That being said – LeBron and Anthony Davis didn't come to the NBA bubble to lose in the 1st round (or at all). Nurkic and Hassan Whiteside need to step up defensively in order to stifle Anthony Davis. Also, Portland's current roster seriously lacks any remotely good defensive match-up to attempt to defend LeBron. As a result, Portland is going to be relying on upsetting LA in a few shootouts led by their back-court, and perhaps some clutch Melo corner threes.
The Lakers have struggled shooting the 3-ball in the bubble, but expect that to change in this series. The Blazers are missing a few key wing-defenders, and as a result the Lakers should get ample opportunities. Look for the Lakers to work out their shooting kinks and get going from deep in the bubble.
Verdict: Lakers in 5.
But a very fun high-scoring series where Dame scores at will until LeBron is forced to cover him.
#3 Denver Nuggets vs #6 Utah Jazz:
Rating on the Juiciness-Meter: 3.5 out of 5 Juice Boxes:
Are the Nuggets for real? They fell in the semi-finals last year, in a 7-game thriller with Portland, but showed enough that their run to the #2 seed in 2019 was not a fluke. Running it back in 2020 as the #3 seed behind only the LA teams, Denver is flirting with contender status.
Jazz Question Marks
The Jazz seem to be on the opposite trajectory, and on the brink of a break-up between Donovan Mitchell and Rudy Gobert. This could be the make or break moment for the duo, with a playoff run as the potential remedy to a rocky season together. It doesn't help that they'll start the series without point guard Mike Conley, who returned to Columbus, OH this past weekend for the birth of his son. Totally justified reason to leave the bubble, but for the Jazz, it certainly hurts. Conley struggled early on in Utah, but is the glue-guy type facilitator the Jazz could really use for stability in a playoff series. Without him for at least the first 3 games, they're likely going to struggle and rely on Jordan Clarkson a ton. If you're a Jazz fan, that's a scary reality.
Additionally, and perhaps even more importantly, the Jazz lost Bojan Bogdanovic back in May, to have season-ending wrist surgery. Bogdanovic is the Jazz' best shooter, and a quality wing-defender to throw at the myriad of offensive weapons the Nuggets bolster. Those things aside, Donovan Mitchell is in year 3, and with less options offensively, will be firing from the hip. Expect him to serve as the de facto facilitator alongside Joe Ingles, but take enough shots to make up for the absence of Bogdanovic and Conley.
MPJ's Emergence?
Despite the Jazz being down those impact players, the Nuggets are now with Michael Porter Jr. getting the touches to warrant his pre-draft hype. MPJ might be the X-factor for the series, following back-to-back 30 point games against the Thunder and Spurs in the bubble. They seem to be totally lifting any previous minutes restrictions that prevented this sort of output. This postseason could be his chance to prove himself as the clear third-banana to Nikola Jokic and Jamal Murray.
These teams always seem to play each other hard, and this series should be no different. I fully expect Donovan Mitchell to not go down without a fight (full disclosure I just bought his jersey). That being said, there are too many things going right for the Nuggets at this point. I love Jerami Grant, and think he's the perfect jack-of-all-trades to throw at any-Jazz not named Gobert.
Verdict: Nuggets in 6.
Donovan Mitchell isn't going to go out quietly. But he will go out against this Denver squad. Sorry Don, but the Nuggets are:
#2 Los Angeles Clippers vs #7 Dallas Mavericks:
Rating on the Juiciness-Meter: 4 out of 5 Juice Boxes: 
This could be the most enticing series with a foregone conclusion in terms of the final outcome. It's obviously expected that the Clippers will win this series, and likely make a run to face the Lakers in the eventual Western Conference Finals… BUT, if there's a team that can push the Clips to their limits in round 1, it's the Mavs.
Clip City's Nightmarish 1st-Round Matchup
LA fans can't be stoked to have to face Luka Doncic and the hyper-efficient Mavs offense in the 1st-round. Dallas seems to be clicking at the right time, and Luka was 1st-Team All-Bubble for a reason. The Clippers were this season's team who intentionally took their foot off the gas to save some for the postseason. That's fine, especially considering the conference finals home court advantage is totally out the window, but all these other teams are finally healthy too. The Mavs are HUGE, and have the firepower down-low to really challenge the Clippers' bigs. Montrezl Harrell is coming back from quarantine, but even still, is an undersized big who's going to struggle against a confident Mavs frontcourt. Between Kristaps Porzingis, Boban Marjanovic, and Maxi Kleber, the Mavs have enough size and shooting to stretch the floor or wreak havoc inside when the Clippers are going small.
Luka-Time ?
Luka seems ready for the spotlight, and despite this being his 1st playoff series, it's safe to expect him to be the X-factor for the Mavs. If Paul George and Kawhi Leonard can clamp up Luka and force him to take contested outside shots, the Clippers will have an easy go. However, if Luka can consistently drive and get to the rim, the Mavs have a shot to push the series 6 or 7 games here.
Fun Guy Back For More
Let's go back down to Earth a bit, though. The defending NBA Finals MVP, Kawhi Leonard is back, healthy, and ready to make another run. He's looking to be the first NBA player to win 3 NBA Finals MVPs on 3 different teams. The other guy you may have heard of who's also attempting to do the same this year? LeBron James. 
Kawhi and Paul George are enough to anchor any team for a playoff run, but the supporting cast is what makes this team a contender. Lou Williams is likely the 6th Man of the Year (again), and after his Magic City wings-fiasco, is back and performing at a high-level. Montrezl Harrell is actually another contender to be the 6th Man of the Year, and could be the necessary spark plug needed to re-invigorate the Clippers. If Pat Beverley is healthy, the Clippers not relying so much on Reggie Jackson is comforting, if not for just defensive reasons. Pat Beverley on Luka could be an intriguing matchup should his calf injury allow him to play.
The Clippers aren't going away, but with some inconsistent lineups due to injuries, quarantines, and resting, it's not outlandish to think they drop a couple games to Dallas. Doc Rivers' teams have done this before, as many of us know. Back in 2008, the eventual NBA champion Celtics had the #8 seed Atlanta Hawks take them to 7 games. That was so stressful, but honestly I'd expect a similar arc to this playoff series.
Clippers in 7.
While the world might be rooting for the Mavs to pull off what would be a historic upset, realistically, it's just too much to expect from the 1st playoff series for Luka/Porzingis. Luka will bring a championship, or a few, to Dallas, just not this year. Clippers are too good, too deep, and well-coached for a deep playoff run. 
#4 Houston Rockets vs #5 Oklahoma City Thunder:
Rating on the Juiciness-Meter: 5 out of 5 Juice Boxes:
If this playoff match-up happening is any indication, 2020 might just be finally turning around. The Rockets, who just unceremoniously traded away Chris Paul, have to play his new team, the OKC Thunder!? Playoff CP3 has mixed-reviews, but this year, tough to imagine him not being on an absolute mission to prevent the Rockets finals hopes from liftoff. (Was that like corny-bad, or like corny-good? I think I know the answer; corny-bad).
Unfortunately, Russell Westbrook just went down with a strained quad and is likely to miss at least the first few games of the series.
New #Rockets at #TXSN – Rockets' Russell Westbrook to miss at least first few playoff games https://t.co/rawHWhbS23

— Jonathan Feigen (@Jonathan_Feigen) August 13, 2020
From the quality of series perspective, that hurts, and might be enough to tilt the Thunder into prime position to upset the Rockets. Though Houston gets Eric Gordon back from injury before Game 1, the loss of Westbrook is immense. The Rockets' smaller-than-small-ball approach without a center has had mixed results, but those successes were in large part due to Russell Westbrook's explosive impact. Russ was playing as a guard defensively, but just slashing on offensive with very few outside shots. His efficiency sky-rocketed, and defenses struggled to adjust to something so unlike what the rest of the league is doing.
CP3, Revenge Tour
CP3 is going to play his ass off, and it'll be SO entertaining to see him and Harden inevitably get tangled in a bunch of testy fouls. The Rockets have no answer for Steven Adams, so slam the over for his points/rebs totals in this series. It'd be shocking to see him average less than 13 or so boards per game against the undersized Rockets. Shai Gilgeous-Alexander is one of the most talented young stars the league has, and should be able to score at will on anyone not named Robert Covington.
Return of Russ
The X-factor of the series is probably Westbrook and his potential return. However, James Harden has a chance to carry Houston and change his current career reputation as a no-show when it matters in the playoffs. If Westbrook isn't back, the Rockets are in serious trouble. If he's back at all, they still might be in trouble. This Thunder team isn't messing around, and can defend as well as anyone. Harden might need to do some serious world-beating if he wants to advance to the 2nd-round.
Verdict: Thunder in 7.
This could be the most entertaining 1st-round series, with a ton of underlying tension at play. James Harden and Chris Paul are going to be on edge, and I can't wait to kick back and enjoy the DRAMA. The whole series better be airing on TNT, because… they know drama.
-Mike Gilligan (@BigGilli, @VerbalCommitPod and @SmallStateTakes Podcast) – https://podcasts.apple.com/us/podcast/small-state-big-takes/id1432138166 / https://podcasts.apple.com/us/podcast/verbally-committed/id1516871465