The XFL is Back (Kind Of…)
Has there ever been a better time to use this .gif?
Yes, the XFL is coming back in 2020, Vince McMahon announced today through his new business venture, Alpha Entertainment. In a 30 minute Q&A with select media members, McMahon answered questions and gave a very vague outline as to what the league will look like when it launches in January 2020. While some fans are excited to see pro football continue into the spring, others are skeptical given McMahon's background, and the business failure of the original XFL back in 2001. If you didn't get to watch the Periscope broadcast, let's look back at the promising & worrying aspects of the new XFL, and the questions that still have to be answered.
The Good:
No direct competition with the NFL. The league will begin in January, and run a 10-week regular season, followed by two semi-final playoff games and a championship. This means that for the most part, the XFL will not directly compete with the NFL. While there is room for a second football league run correctly, nobody will succeed going directly head-to-head with the most successful sports organization in the country.
There will be no crossover with the WWE. McMahon stressed this a few times during the press conference. From wrestlers-turned-football players, to the announcers, to McMahon himself, he insisted that there would be no WWE fingerprints on this league. When the original XFL began struggling a few weeks into its run, McMahon fell back on what he knows best, turning the games themselves into a sideshow for his own shtick. This, more than anything else, is what led them to being canceled after only one season. Now, McMahon says he will step back, and 'let football people run a football league'.
The league is starting in January 2020. Last time around, McMahon and his people gave themselves a year to put everything together, leading to an unorganized league out of the gate. Seemingly having learned his lesson, this time Vince has given himself 2 years to plan, and it seems like he already has some pieces in place, although he declined to give specifics.
Players will be paid well, and they will be paid to win. It wasn't talked about much in the press conference, but in an interview with ESPN's Darren Rovell that was released simultaneously with the announcement, McMahon said he hopes to pay players as year-round employees, despite their 10-12 week seasons. This, McMahon says, will allow the players to focus on football and not have to have other jobs, while also giving them the opportunity to get involved in the communities they play in during the off-season (if the XFL makes it to an off-season this time). In addition, salaries for players on the 40 man rosters will in part rely on whether or not their team is winning. That should keep players invested for the full 10 weeks, and make them think twice about sitting out when healthy.
The XFL name is here to stay. McMahon was asked if he at any point had considered using a different name for the league, which is a question I didn't realize I needed answered until I heard it. Although other names were kicked around, they just kept coming back to the original moniker, according to McMahon. Honestly, if they hadn't, this whole thing would have been just a big waste of time.
The Bad:
No politics, no social issues: McMahon said from the beginning that his league would be about football, with no rooms for politics or personal statements. While this sounds nice in theory, it will be nearly impossible to pull off in today's climate. For instance, McMahon stressed the fact that the league will require all players to stand for the national anthem. An easy marketing ploy to a certain sect of the population? Sure. But how will this limit the players willing to play in the league? If McMahon really wants the best talent he can get, this seems like an unnecessary way to thin out that group.
No players with criminal records: Let the jokes flow. It seems like a ridiculous concept to form a professional sports league where all the athletes are squeaky clean, but apparently that is what the XFL will try to do. This means no Johnny Manziel, no Ray Rice, etc. Between this and the social issues clause, McMahon is really limiting the talent pool he has to choose from. This is a rule I expect will be altered and scaled back between now and when the league starts play in two years.
McMahon will own all 8 teams. Instead of the teams operating as separate entities under the umbrella of the XFL, the league (and by extension, McMahon) will own all 8 teams. There isn't much history of this business model succeeding, as it requires an insane amount of time and work from the person at the top. Will McMahon be able to run 8 professional football teams, while simultaneously continuing to head the WWE? Vince says that having the entire league in his control will allow him to run things 'how the fans want', and not have to give into external pressures. This will come down to who McMahon appoints as the president of each team. If he can actually get experienced football names, great. If it's a bunch of businessmen who have never run a sports team before…well…just Google "Donald Trump USFL".
The Questions:
Who will the media partner(s) be? Last time around, the XFL was a joint venture between the WWE and NBC. This time though, Vince is on his own. McMahon said that he has not had any conversations with potential broadcast partners; he knows 'there is interest'. He did say that the league would be available as a multi-platform entity, both on what he called 'big screens' (I'm assuming means TV, although showing a weekly football game in movie theatres is something I could total get behind) as well as smart phones and tablets. Will all 4 major networks signed on with the NFL for the foreseeable future, and the WWE Network seemingly out of the question, this remains the biggest and most important question.
What will the digital interactive element be? Will fans be able to draft XFL players on daily fantasy sites? Will the league have year-long fantasy leagues available, like the NFL? The intro video to the press conference hinted to this, and it seems like there would need to be some sort of fantasy element in place for the league to work financially. Also, will there be a video game? Madden SUCKED this year, and the demand for competition is higher than ever. Would the XFL get together with another developer, say 2K Sports, and create and XFL equivalent? I'd buy one.
What is coming back from the old XFL? McMahon said early on that while he wants to capture the entertainment and intimacy of the original XFL, he still wants to do things professionally and not turn things into a circus this time around. So what does that mean? One of the most surprising statements McMahon made is that they still do not know whether or not players will be allowed to have nicknames on the back of their jersey's, like in the original go-round. Passing on that would be a huge mistake. The most lasting image of the original XFL is Rod Smart's "He Hate Me" on the back of his Vegas Outlaws #30 jersey. What about having players mic'ed up live in the huddle? The scramble? It sounds like we'll have to wait and hear as details trickle out in the next couple of months.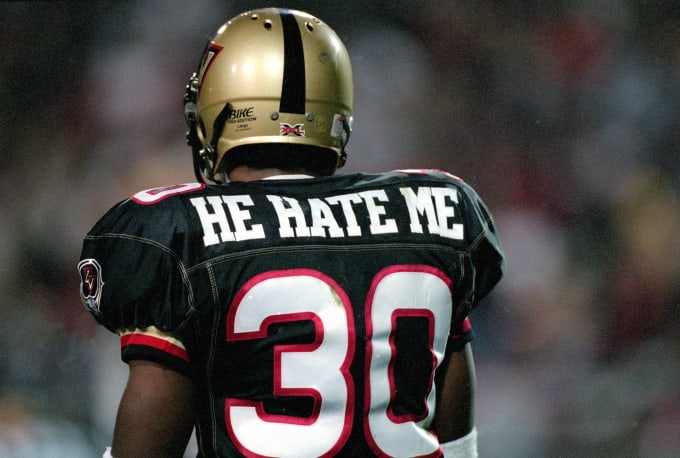 Who are the 'Football Experts' he kept referring to? There were a few questions McMahon answered by responding that the league will check with its 'football experts' and decide what is best. This group was referenced in answers from safety/concussions, forming rosters, banning players with DUIs, and even whether or not the league will have a halftime break in its games. Who exactly are these experts McMahon is relying on? The minds McMahon has surrounded himself with could make or break this league.
What cities will they play in? McMahon said that the league is not afraid of targeting NFL cities to host teams, and that they "want to play football where football is played". He also hopes to "play in football stadiums" and only play in smaller baseball or MLS stadiums when and where bigger venues are not available. Does this mean they could be playing up north in January and February? Or will the league be played exclusively in warm weather cities?
Will the XFL honor the NFL's age requirement? Players are not eligible for the NFL draft until three years after their high-school graduation. Speculation has been that the XFL will waive this requirement, allowing them to sign high profile college freshmen and sophomores, or even the top high school recruits. This could be the best way for the XFL to get eyeballs, promising the best young talent at a professional level. McMahon did say he does not plan on acting as a feeder league in the NFL, but that doesn't stop them from trying to get these players in the league and keep them for good. Also along the lines of this question, will players who play in the XFL be eligible for the NFL and their draft?
What does the NFL think? Unsurprisingly, the NFL did not release any statement on McMahon's announcement. I would expect that to come when the XFL starts forming rosters, if they end up signing any NFL free agents or top prospects.
There is a lot left to happen between now and January 2020, and I expect at least some of this will change based on the fan response McMahon's presser gets. Cities are expected to be announced in the next couple of months, with rosters coming in the next year or so. Will they bend to the likes of Johnny Football? Is this Tim Tebow's second chance? We will have to wait and see, but Vince McMahon has football fans right where he wants them, hanging on his every press release.
Written By: Alex Barth (@RealAlexBarth)