The Elite Launch Their Own Wrestling Promotion: All Elite Wrestling
"Change the world." The phrase used by the Young Bucks, Cody Rhodes, Hangman Page, Marty Scurll, and Kenny Omega, better known as The Elite. It's almost impossible to argue anyone else had a better 2018 in the wrestling world than these guys. Together they sold millions of dollars worth of merchandise and grew their brand so large, they were able to host their own wrestling event: All-In, which sold out in a record-breaking 29 minutes.

The nomadic Cody Rhodes took to the mic at the event in front of the 10,000 in the Sears Centre back in September:

"You know, sometimes when you make a bet, you go double or nothing."

The boys in The Elite have done just that.

At midnight PST on New Year's Eve, a special episode of the faction's YouTube series, "Being The Elite" uploaded a new video. The video revealed the clock that had been counting down for months would reveal the logo for All Elite Wrestling.

Cody's previous statement became a reality as they also revealed the follow up to the undoubtedly successful All-In titled: "Double or Nothing."

It was revealed a few days later that the president of the promotion will be co-owner of the Jacksonville Jaguars, Tony Khan, and that they will have $100 million to put toward their budget.

The Elite have led the charge in proving that you don't need to go to WWE to be successful in wrestling. Maybe it was like that at one point, but no longer. They are arguably some of the highest paid wrestlers in the world now, without the corporate conglomerate. Cody took a chance by betting on himself and leaving the WWE. Now he's going one step further, and following in his late father Dusty Rhodes footsteps in running things behind the scenes, and betting on himself to start his own WWE.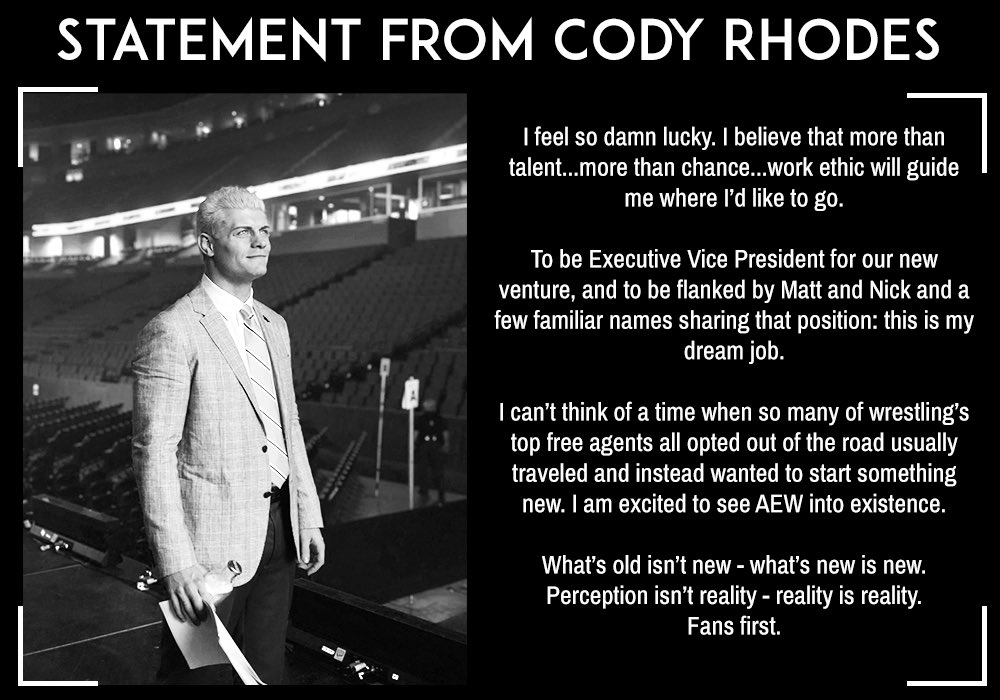 -Braden Jackson (@Dembrae)