Mets and Marlins take Powerful Stand
The Mets and Marlins took the field last night; for 42 seconds. In a symbolic gesture to honor the life and legacy of Jackie Robinson, and to do their part to protest and support the protests of racial injustice going on in this country, each team stood on their respective baselines for a 42 second moment of silence. The Mets starters took the field, led by Dominic Smith and Billy Hamilton. They then removed their caps, and recognized the events happening in our world. After the moment of silence, each team tipped their caps to each other and walked off. No baseball was played in Queens last night. The only item remaining on the field was a Black Lives Matter shirt draped over home plate. It was an incredibly powerful moment, please watch below.
Wilpons do it Again
Jeff Wilpon is an ass. After his players have already decided to not play last night's game, Wilpon had the audacity to suggest coming back out an hour later and playing the game. Read the room, Jeff. He was concerned about how the game would be rescheduled. Who. Gives. A. Damn about rescheduling. I have been embarrassed to be a Mets fan before, but learning that Wilpon wanted to play takes the cake. People's lives are at stake and you are concerned about when a baseball game will be played? GM, Brodie Van Waganen, made comments criticizing Rob Manfred as Brodie understood it as Manfred's idea to play. Those comments may cost him his job, as the Wilpons are buddy-buddy with the commissioner.
In a statement, Fred Wilpon says he is "very stressed and disappointed to learn that Brodie Van Wagenen made disrespectful and inaccurate comments about our Commissioner."

Jeff Wilpon added: "Brody's [sic] misunderstanding of a private conversation was and is inexcusable."

— Anthony DiComo (@AnthonyDiComo) August 28, 2020
Do you want to know what else is inexcusable? Saying the two teams should play a baseball game while people are dying because of their skin color. There are a lot of reasons to hate the Wilpons, but this one is now at the top of the list.
Final Thoughts
I am sorry for some of the language I used in this post. I do not usually say those words, but I felt it was warranted. The Mets and Marlins took an incredibly powerful stand last night. The two teams came together to fight racial injustice. I am proud to be a fan of the players on the Mets, but cannot stand for what the owners stand for. It is not surprising to know the Wilpons care more about the games than protesting racial injustice, but the players stand united as one team.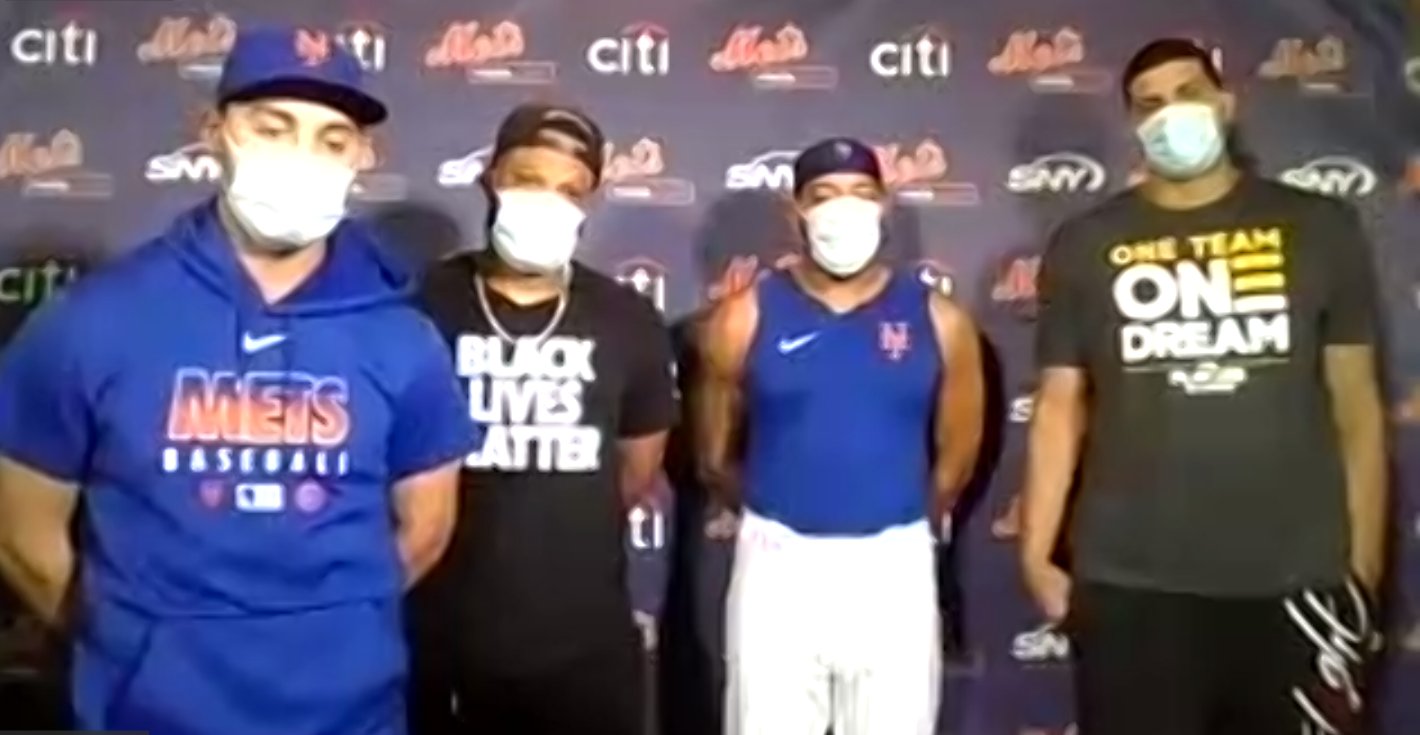 With all that said, the Mets will take the field this weekend against the Yankees as both teams are in contention for the playoffs. But last night needed to happen. The Mets needed to take a stand, and they stood tall.
-Pete Chatterton (@Pchat12)