Is it Time for Syracuse to Move on from Jim Boeheim?
It is hard to replace a legend and Jim Boeheim is exactly that. He stepped foot on Syracuse's campus as a freshman in 1962 and is still there 60 years later. Boeheim has been the head coach of the men's basketball team at Syracuse since 1976. His resume is very impressive and that is evident as he is a member of the Basketball Hall of Fame. He has 10 Big East regular season championships and 5 Big East tournament championships. In addition, he has led Syracuse to five final four appearances including the National Championship in 2003 with Carmelo Anthony. The Orange joined the ACC for the 2013-2014 season and have been mediocre ever since. What has happened with the Orange since they joined the ACC? Why have they not been an elite team in the last decade? Should it mean they need to move on from Jim Boeheim?
Recruiting
Syracuse never really lived at the top of the recruiting board. Other than Carmelo Anthony, they haven't had a true blue chip prospect in the last two decades. That has especially been evident since they joined the ACC. Since Syracuse joined the ACC for the 2013-2014 season, they have signed a total of 16 ESPN Top 100 recruits. Out of those 16, at least five of them transferred out after their freshmen or sophomore seasons. That is not necessarily a Syracuse problem, but the state of college basketball with the transfer portal. For comparisons sake, Villanova has signed 17 ESPN Top 100 recruits in the same time frame and have won two National Championships while Syracuse is a bubble team every season.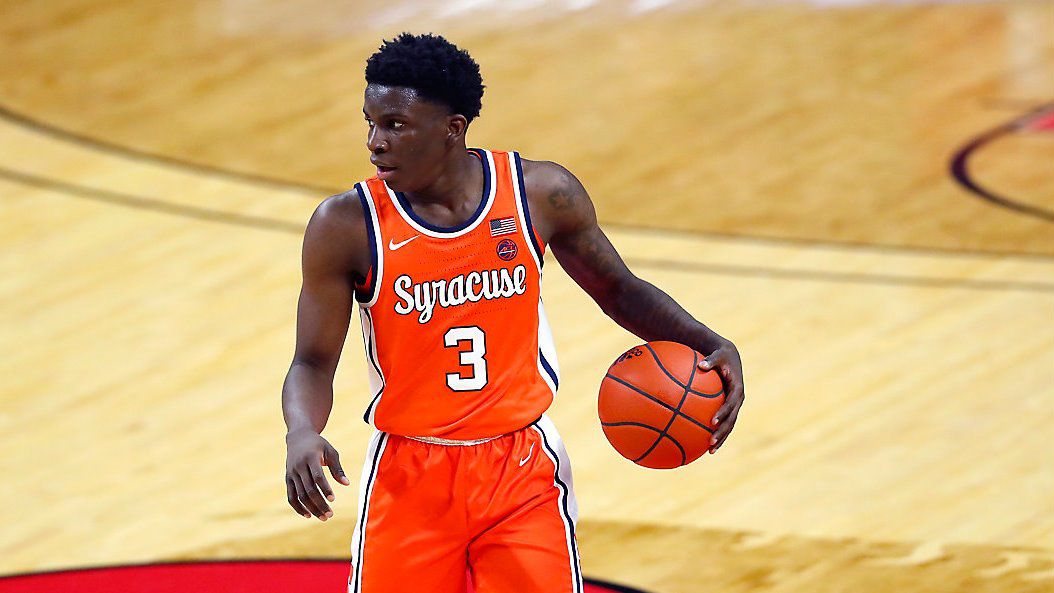 Boeheim has been a contributing factor in some of these guys transferring out. He chose to prioritize Joe Girard over Kadary Richmond. Girard is a very streaky player who can single handedly win you a game and can single handedly lose you a game with poor shooting and careless ball handling. As a freshman, Richmond was one of the most composed players on the team who would often handle the ball in crunch time. His poise as a freshman was very impressive leading to only 1.6 turnovers per game. Girard on the other hand has average 1.9, 2.1, and 2.9 turnovers per game in his three seasons with the Orange. Boeheim's reluctance to trust Richmond as his starting point guard led him to transfer to Seton Hall.
Syracuse can't survive in the ACC with the type of recruiting they have been doing. The 2022 class has a bunch of quality players, despite none of them being ranked in the ESPN Top 100 right now. However, they have two in the top 150 according to 247sports and are looking to add top 55 recruit Judah Mintz late in the recruiting cycle. This class looks to be one that can propel Syracuse forward in the recruiting trail in the coming years.
Mediocre Regular Seasons
As a result of their struggling recruiting, Syracuse has not been a deep team since joining the ACC. They consistently have one or two players averaging close to 40 minutes a game. In the past it has been Tyus Battle and Oshae Brisset. Now, it is Buddy Boeheim. They continually play only 6 or 7 guys each year. That is not a sustainable way to win. Their lack of depth has contributed to their struggles in the regular season. They have finished above sixth in the ACC once since joining; and that was in their first year with the conference. Despite their struggles in the regular season, they have found their way into the NCAA tournament a few times including a miraculous final four appearance in 2016.
After being a perennial tournament team for many years including some 1-seeds, this stretch has been very disappointing as an Orange fan. They need to find better consistency. Every year, they seem to find a way to win a game they have no business winning and losing a game or two they have no business losing. This has been a constant battle since joining the ACC. Better recruiting can lead to better depth which will certainly help this team moving forward in the regular season.
Should Syracuse move on?
Boeheim has been at the helm for 46 years. No coach in North American sports is more synonymous with one team than Jim Boeheim is with the Syracuse Orange. However, I personally believe it is time for the school to move on. They need to shake up the culture that is Syracuse basketball. The team has gone downhill since joining the ACC. It has proven that they cannot compete with the top programs on the court and on the recruiting trail. The replacement may already be on Syracuse's bench with Gerry McNamara or Adrian Autry. However, we may just get more of the same if the school promotes one of Boeheim's long-term assistants. It is time to redefine what Syracuse basketball is and bring in a fresh perspective. When that is, only the school and Jim Boeheim know for sure. But as a fan, I hope it can be sooner rather than later.
-Pete Chatterton (@Pchat12)
Featured image courtesy of the Daily Orange.
Feeling tired, unable to focus and low on energy? We can help. Go to shockedenergy.com today and get yourself Shocked Energy today! Obtaining maximum energy with healthy ingredients. Use the promo codes "CGS21" or "CGSN" for 10% off your order today.
Tired of soreness and pain slowing you and your workouts down? Change that. Melt stress away anytime, anywhere with the ExoGun. Designed to give you the ultimate recovery utilizing percussive therapy and deep tissue massage, it will change your recovery life FOREVER. Follow this link (Exogun) for 10% off or use code promo code CGS10 at checkout!