This could potentially be one of the most active QB free agency periods in recent memory. There has always been those 1 or 2 above average names that move in the offseason, but this season has 3-4 top of the line names with expiring contracts. In today's NFL that has been incredibly rare, with the way teams overpay to keep guys they think are franchise QBs like Derek Carr or Matthew Stafford. Here is a prediction as to where each guy is going to land.
Tom Brady – Of course this is where we are going to start. Since this has been the talk 24/7 by any radio station east of the Mississippi. I find it hard to believe Brady signs anywhere besides back in New England, no matter what the media wants to feed the public. Sure he might take a trip around the country to get wined and dined, but does he really want to learn a new offense? Grow chemistry with new weapons? Deal with the antics of Jon Gruden and Mark Davis? Listen to underachieving coaches like Anthony Lynn? I don't see him wanting to rebuild his entire career at 43 years old, so he's going to end up back home for one more stretch run. Consensus: New England Patriots
Drew Brees – Brees seems all but a sure thing to go back home to New Orleans. After deciding he is not going to retire, and posted #WhoDeyNation. Brees has won over the City of New Orleans, and he wants another shot at his 2nd ring. He will be back with the Saints to finish off his career. Consensus: New Orleans Saints
Philip Rivers – Rivers is the last of the veterans that are hitting the market this offseason. He also seems to be the only sure thing that is going to be on the move. 2 locations seem the most appealing for old Phil. He went to North Carolina State, and the Panthers may have an opening. He also bought a house in Florida, and rumors have been swirling around the Buccaneers moving on from Jameis Winston after his 30 INT season. Rivers feels like he would fit better with an offensive minded, and well tenured coach in Bruce Arians, and a small market like Tampa might do him well. I think a new QB could do well with their new uniforms. Consensus: Tampa Bay Buccaneers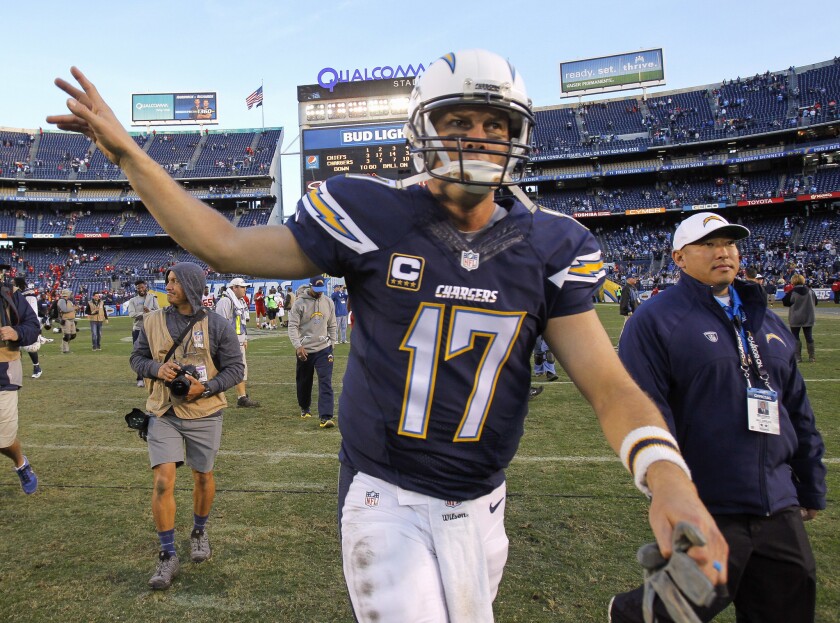 Dak Prescott – Jerry Jones seems pretty married to keeping Dak around on this team. If Dak were to hit the open market, there is a good chance he may become one of the highest paid QBs in the NFL. I think an owner like Jerry Jones is not afraid to do that. He's convinced Dak is the future of their team. There have not been many rumors of other teams that want Dak. Or maybe, they are overshadowed by Brady talks. Either way, he will most likely end up back in Dallas. Consensus: Dallas Cowboys
Ryan Tannehill – Mike Vrabel did not seem completely convinced that Tannehill is right for the Titans. He had a lot of good things to say about what he did. However, not much has been said about the future. Maybe he thinks there is a good chance he reels in Tom Brady. Plus Tannehill is already 32 and finally had the best year of his career, so there's no telling if he will be consistent. However, unless there is someone he wants in the draft, Mariota is not the future either, and Tannehill put the Titans on their best stretch in years. After they fail to bring in Brady, the Titans will realize Tannehill did some great things for them and bring him back for round 2. Consensus: Tennessee Titans
Jameis Winston – It's hard to believe a QB coming off of a 30 interception season is going to be a starter. There is a good chance he might be brought in to have a chance to compete for a starting position with a struggling starter though. Guys like Mitch Trubisky or Derek Carr might need some competition, or could lose their jobs. The Bears seems like a more likely landing spot, where they do not have a high draft pick, and Matt Nagy might be a good coach to put him in better positions to succeed. Consensus: Chicago Bears
Marcus Mariota – What a draft 2015 was when the top 2 picks end up free agents in their 5th season. Mariota will have a hard time finding a starting position, especially after being benched in favor of Tannehill. At best he might find a similar situation to Winston. The Colts may be looking for another QB after Jacoby Brissetts up and down season. He might have a chance at a job in Carolina if Cam Newton leaves. Otherwise he could end up a backup to another mobile QB like in Baltimore or Arizona. Consensus: Carolina Panthers
Teddy Bridgewater – Teddy might be the most highly sought after QB this offseason. He played fantastic in relief of Drew Brees. That will help him land a starting spot and some serious dough. There are definitely other QB hungry teams that have unsure futures. Washington might not be 100% in on Dwayne Haskins, but with Teddy's injury history and the fiasco the Redskins training staff is it would not be smart on his part. Again the Colts could be in the market for some competition for Brissett. The Chargers will most likely draft, as well as keep Tyrod Taylor around. That could leave options like Miami and Denver. They have young and unproven QBs, along with veterans that could be traded. Flacco was terrible last year. There is no guarantee Drew Lock is ready to go after only playing the last couple games of the season. Consensus: Denver Broncos
Use Promo code "couchguy" or "LLP" at Manscaped.com and grab some of the best tools in men's below the belt grooming. Using the code will get you 20% off of your order AND free shipping. Help out the site and help out yourself by buying some products from Manscaped TODAY.
Follow this link and signup for Seated. The restaurant reservations app that will get you discounts and other gifts just for using the app to reserve your table at your favorite restaurants in Boston: seated.s2l3a2.net/c/2016892/705985/10715
-Jake Kobierski (@TheRealKobe83)