Couch Guy Sports Fantasy Football League Recap: Week 2
Week 2 of the NFL season has come and gone! Fantasy Football this week was a disaster for many, with more injuries in a single week than any other in recent memory. Not as much trash talk as Week 1, so we all better ramp our shit talk up and come CORRECT for a rowdy Week 3.
The basic rundown of these weekly recap blogs is as follows. Recap the previous week's matchups, analyze a smidge, and lastly, talk a bit of trash.
Week 2 Matchups and Recaps:
Wilson! Wilson! (Al Nahigian) over Boston Antidote (Diego Galvis) 173.92 to 74.36
Wow. Not only did he FINALLY name his team, but Al bounced back in a big way this week after a disheartening loss to Quags. 'Wilson! Wilson!' is a very solid team name. BUT, if I'm Al, I'm trying to go all in on any relevant Wilsons now. Jeff Wilson Jr, the 49ers RB becomes a MUST-ADD. Also, props to Al for not taking the low-hanging fruit that was a feces-related OBJ joke as a team name. Al is complex, he's too sophisticated for such a low form of humor. I admire his poise.  
Not So Average Al!
Quite the Wallop (with a capital W) for Al this week. After an unlucky week 1 loss, he might actual be a contender. DangeRuss Wilson put up quite the stat line, heavily influenced by FIVE passing TDs. Alvin Kamara might be the #1 RB for the rest of the season, and he proved why that is on Monday night. OBJ and Mike Evans had bounce back weeks with big performances. CeeDee Lamb might be the best rookie WR out there. Hunter Henry is somehow still HEALTHY(???) and putting up solid stats. When Hunter Henry can actually stay on the field and put up the numbers everyone's been wanting from him, that's when I know 2020 is getting out of hand. Everyone but Al's 49ers D/ST put up double digit points. Damn near impossible to lose your matchup when that's the case.
Alvin and The Chipmunks?!
First – that subheading serves as a a fire team name suggestion for any people who roster Alvin Kamara. But, as mentioned, Alvin Kamara may have an opportunity to become the top running back in football, especially with McCaffrey hurt, and Saquon Barkley out for the year with a torn ACL. Which just brings me back to how Al somehow drafted Kamara 5th! Hindsight is 20/20, but for both Zeke and Dalvin Cook to go before Kamara is just bananas. I can't recall if Kamara's contract was straightened out by the time we drafted, so maybe that explains why he fell to 5. Either way, I'm upset he's not on my team.
Only negative for Al this week was a minor one, in that his 49ers D/ST endured a ton of injuries. It didn't matter a ton because they were playing the Jets, but it'll be noticeable soon. Not a huge X-factor, but something to keep an eye on. He's gotta drop the Seahawks D/ST at this point though. Not sure he can trust them to serve as his hedge against relying on that 49ers D/ST.
Boston Antidote Picks Their Poison
Sorry to Diego, but his team just didn't have it this week! Lamar Jackson somewhat underwhelmed, in a game where the Ravens' was super balanced and didn't give him a chance to light it up. Lamar Jackson had an okay week (17.56 pts), but by his standards, was a little disappointing. But, this is the tricky downside to committing to a single offense. Some might say, Diego picked his poison here, and is willing to live and die by the Ravens offensive output. 
With Lamar, the bar has been set so high that a 17 pt effort (especially in a win) feels like a letdown. It kind of reminds me of a certain Kendrick Lamar lyric:
Girl, I'm Kendrick Lamar (Uh)
A.K.A. Benz is to me just a car (Uh)
Now for the Lamar Jackson version of that lyric:
Dude, he's Jackson Lamar (Uh)

A.K.A. 17 pts just not up to par (Uh)
X Marks the Drop?
Mark Andrews only had 1 reception, albeit for 29 yards, and just 3 total targets. Going to need him to get more looks in the offense in order to be the bonafide TE1 and be in the same tier as Kelce and Kittle. Depending so heavily on him to get targets in the redzone looks like it might be a risky move. Additionally he only played 58 percent of offensive snaps! Am I onto something, or merely overreacting? Maybe it was just a weird game for the Ravens. Either way, something to monitor.
El Tractorcito: Engine Light On? 
Did you know Derrick Henry's nickname on Pro Football Reference is 'Tractorcito'? What the actual f*ck? Has anyone literally EVER, heard him called this? These stat websites out out of pocket on these nicknames. Eric Bledsoe's listed nickname on Sports Reference's hoops stats site is 'Mini Lebron'. How ridiculous is that?!?!? 
That absurdity aside, Derrick Henry's 8.4 pts was underwhelming as heck this week. Maybe he'll heat up in the 2nd half of the season and go on a tear that makes all doubters look silly again. Or maybe the miles of his crazy-high usage in the past 2 years are finally catching up to him? Would make sense if that were the case, and kind of matches up with the 'Tractorcito' nickname. Perhaps he's banged up and in serious need of servicing before returning to his dominant form. 

Matchup MVP: Russell Wilson (34.42 pts)
Alvin Kamara had more points scored, but that was basically after the matchup had already been decided, so I'm going Russ here. Russ went off against the Pats secondary, scoring 5 passing TDs and only 1 INT. That was while going 21 for 28 for 288 yards through the air. Not really crazy counting stats there, but hey, score 5 TDs and that'll do just fine. Congrats to Russell Wilson, as this is the first time he's been voted MVP of anything. (BOOM, roasted.)
Matchup Letdown: Derrick Henry (8.4 pts)
Derrick Henry is getting enough touches needed to produce big numbers, 25 carries this week. But only 84 yards (3.4 yds per carry) and no TDs to show for it. Not abysmal, but not what Diego was hoping for against a motivated Al Nahigian led team. 
Henry's just not exploding like the last 2 years quite yet. He's always been a 2nd half of the season guy who goes off and becomes unstoppable. But for those like Diego who drafted him in the 1st round, they need him to step it up now!
CGS President Quags (Nick Quaglia) over Danvers Powderpuffs (Tom "Powder" Cadmus) 165.3 to 98.48
Couch Guy Sports President Quags rolls his way to a huge performance and ensuing victory once again. Dominating performance, just shy of being the top scorer for a 2nd week in a row. Ironically enough, he's now defeated two Legends Lingo Podcast hosts in a row. Thankfully their 3rd host, Fiesta is not in the fantasy football league, or else Quags would be headed for a 3-game win streak. Maybe it's a clause in their contract with Couch Guy Sports that they will intentionally lose to Quags as a sign of respect? I'm not sure. Maybe Quags is just the kryptonite to Al and Powder.
President Quags Stays King… For Now
Quags remains atop the standings after another systematic dismantling of his opponent. Dak dropped over 40. Josh Jacobs had a solid day. Adam Thielen was a bit of a let-down, with only 6.1 pts, but other than that, Quags has a lot to feel good about. Jonathan Taylor, AKA the predicted 2020 League Winner by Steve Scott of Your Fantasy: 2 Dudes, Fake Balls, had a phenomenal day. It appears he's the top dog… but how long will that last? His next opponent? Yours truly..
Dak and Quagster
Someone take away MS Paint from me. I just can't help myself. I am unwell.
Dak Prescott went OFF after a slow start against the Falcons. 41.8 pts in a MASSIVE day through the air and on the ground. 450 yards, 1 passing TD, and 5 carries for 18 yards… AND 3 RUSHING TDs!!! Despite a solid day in his own right, those who roster Zeke must be a little salty seeing those stats, knowing Dak punched in 3 TDs on the ground to Zeke's 1.
Overall, huge day for Quags, carried primarily by Dak and Aaron Jones. Jones was a MONSTER, with 45.6 pts. More on that effort shortly…
Not Rolling in the Green
What an awful day for AJ Green. 3 receptions on 13 (YES, THIRTEEN) targets from Joe Burrow. A huge chunk of the targets from Burrow's 61 passing attempts in the Bengals game against the Browns. Only 29 yards on those 3 catches. I know he had a solid Week 1, but if the Bengals are giving him that many opportunities to make plays, he's simply has to do better than this!
Matchup MVP: Aaron Jones (45.6 pts)
Unreal performance for Aaron Jones. Seriously a monstrous effort. 18 carries for 168 yards. That's a 9.3 yards per carry average!!! My GOODNESS. 2 rushing TDs. 4 receptions for 68 yards and a receiving TD. This guy is just a BEAST. 236 yards from scrimmage like he's playing a Pee-Wee team. The Packers will probably have to pay this guy soon, but he sure is doing his best to making an extension seem worth it for Green Bay.
Matchup Letdown: Saquon Barkley (2.8 pts) 
This isn't a typical letdown of a matchup where it's an underperformance, it's a season-long injury related letdown. Saquon tore his ACL during the Giants' game against the Bears. Just a total letdown for Powder's hopes and dreams to dominate the 2020 Couch Guy Sports Fantasy Football league. Losing him for the year is BRUTAL, especially considering Powder's fleet of RBs is banged up enough as is.
A not-so honorable mention to AJ Green as a letdown this week. We already mentioned why, but damn. 61 passing attempts for Burrow and AJ Green has 3 catches for 29 yards?! Yikes.
The Sharks (Fred O'Brien) over Fresh Prince of Helair (Jared Scali) 145.78 to 130.14
2nd closest matchup of the week right here. This turned out to be a stout showdown between 2 very good teams that should both be in the mix barring any catastrophic injuries. The Sharks, led by Fred O'Brien proved to be too much for Jared Scali to handle this week, despite the solid performance. 
Scali played a bit of roulette and picked the wrong FLEX this week though. Parris Campbell was a major letdown at the FLEX spot, racking up 0.7 points. Meanwhile he had 3 options on the bench that scored over 14 points, 2 of which scored 20+ and could've secured him the W! Tough break, but, as we know hindsight is 20/20 and with clear information on forecasting player's injuries and who's going to play or not it's easy to look back. 
Thursday night football kills #Fantasyfootball decisions. Would've played Hunt or Boyd if we had injury info 😂

— Jared Scali (@Jared_Scali) September 18, 2020
** Upon further review, Scali was convinced either Kenny Golladay or AJ Brown would be fine to play on Sunday. They were not, but those 2 aforementioned 20-point scorers, Kareem Hunt and Tyler Boyd both played on Thursday night. His hands were tied. Just a super tough sequence of events here for Jared Scali.
ShouldveDraftedJoshAllen.com
On the other side, Fred's squad, The Sharks, showed OUT. Josh Allen is an absolute BEAST, and bested his awesome Week 1 performance with a strong day against the Dolphins. It's an actual atrocity that we as a league allowed Josh Allen fall to the very end of the 12th round for Fred. I will never get over the value of that selection, and it could end up being what makes him a league-winner. (In my defense I overdrafted Pat Mahomes at the end of the 3rd round because I have zero other shares of Pat Mahomes in my other leagues.)
Back to Josh Allen's day. 24 for 35 passing the ball, good for 417 yards (!!!!!) 4 TDs, and 0 INTs. What a game for the pro-Josh Allen crowd. I get it's "just the Dolphins" but come on!!! Pats fans were collectively stoked after Cam Newton did significantly less damage against the 'Phins than Josh Allen! Side note, it's apparent that this year, the Bills have fully given Allen the keys to the offense. No more pounding the ball like crazy in years past and just limiting him to 20ish passing attempts per game. No no no, they're letting him SLING it. That's a pretty damn efficient 400-yard day if you ask me.
Sharks Circling
Other than Allen, Ezekiel Elliott ended up eating up his share of touches for the Cowboys' comeback win against the Dirty Birds. He might be the most reliable/consistent RB1 in recent memory. Dude just produces at a high level week in, week out. Back to back weeks of 22 carries, for 96 and 89 yards, as well as 1 TD in each respective game. Additionally, huge games from DK Metcalf (20.2 pts), Travis Kelce (24 pts), and Keenan Allen (16.6 pts) proved to be enough for The Sharks to muster the hard-earned W. Huge drop-off in production this week for Davante Adams, who's hamstring injury cost Adams some time on the field and cost Fred fantasy points! Either way, seems like Adams' injury isn't too serious, so he should be fine to get back to carrying the load like he did in Week 1 for The Sharks.
The Sharks left huge games from Stefon Diggs (29.3 pts), and Joe Burrow (24.54 pts) on the bench, but it didn't end up mattering. Obviously Allen outperformed Burrow, but the rookie phenom could serve as a dynamite backup option if Allen goes down to injury, or faces a tough defensive matchup. Pretty bonkers that Diggs is likely relegated to Fred's bench unless he wants to swap him for Keenan Allen. AND he still has Mark Ingram II ready to swap out for that RB2 slot occupied by Ronald Jones. That's what happens when you draft your top 10 fantasy QB in the 12th round! Skill position depth for DAYS. Ugh I need to move on here, looking at Fred's roster is making me jealous.
Injuries, Inc.
Scali's team, like mine and many others, has become plagued by injuries already. Although, lucky for Scali, his injuries are mainly still week-to-week situations, not IR-worthy. Realistically, he should see Kenny Golladay, AJ Brown, and even Jamison Crowder back sooner rather than later.
Ridley's Believe It Or Not!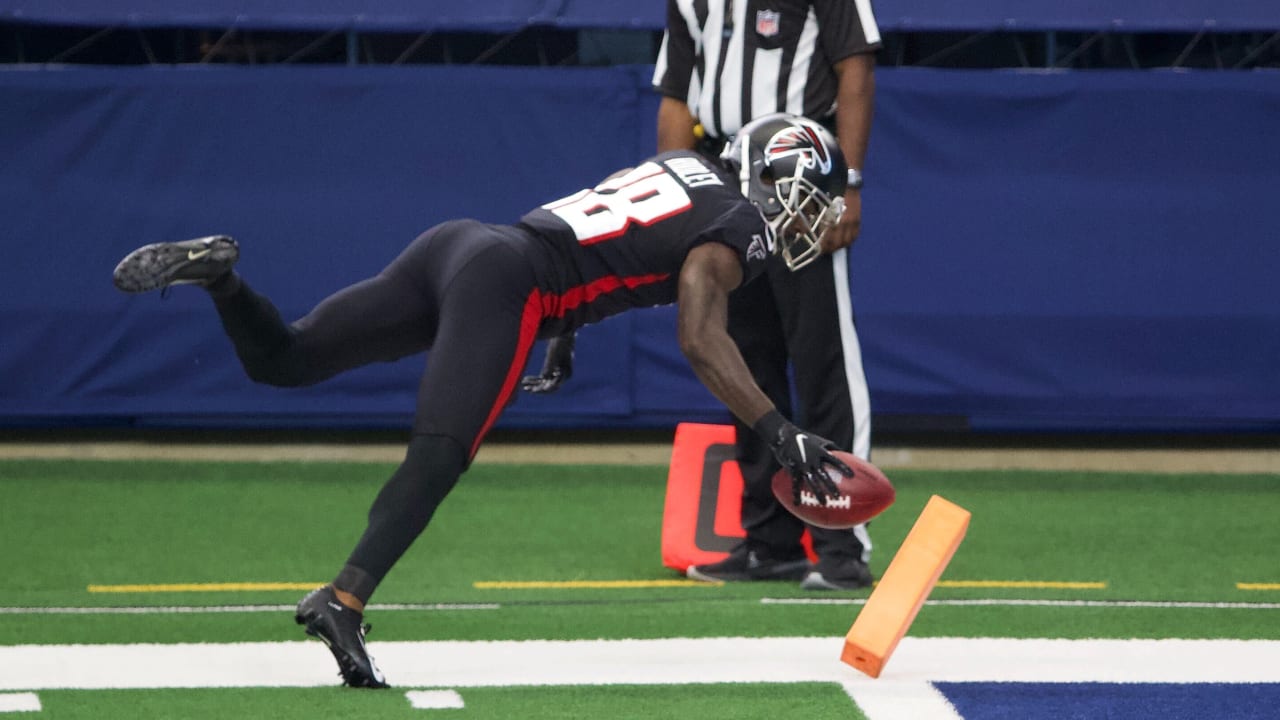 Despite the loss, a major positive in Week 2 for Jared Scali is the arrival of Calvin Ridley. Week 1 may have felt a little flukey, but Week 2 proved he's HERE. Following up on his 33.9 point performance in Week 1, he backed it up in a big way, with 29.9 points in Week 2. In this league, he has 14 more points than the next best wide receiver (DeAndre Hopkins)!
The dude is legit. Despite the 0-2 start, Ridley's breakout might be a revitalizing dynamic for the Falcons and Matt Ryan. This doesn't appear flukey, as he exceeded 100 yards for the 2nd week in a row, and had 2 TDs once again. If those targets stay in that 10 and above range, he's a legit WR1 for fantasy purposes. Scali went big on Ridley taking him in the middle of the 4th round (35th overall), and it's already paying him dividends.
Matchup MVP: Josh Allen (36.48 pts)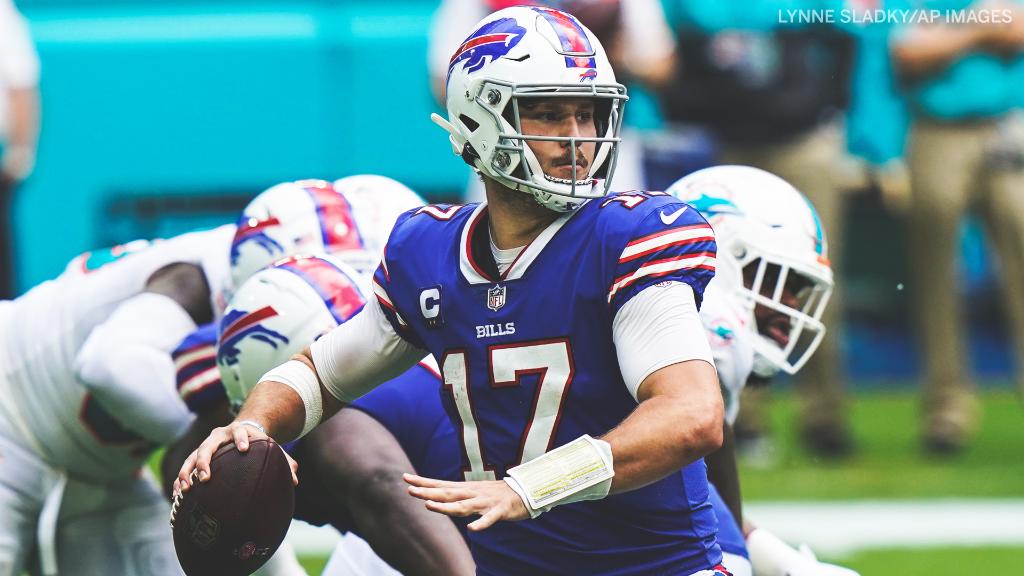 I know so much about him has already been said, but I just will not get over this dude. Josh Allen is so dope. I must admit, the loudness and stubbornness of his countless haters on Twitter makes me love him that much more. He's gone 14 games since throwing an interception. He just threw for 400 yards on 24 completions. In a game against Miami, he could've modeled what Cam Newton did just last week, and take care of the football. Run some conservative clock management focused formations, and ran the back 10-15 times. Instead, he zags, chucks it 35 times, only rushes 4 times, and still ends up with the win, and a prolific day passing the ball. Josh Allen is knocking on the door of being a top 5 fantasy QB, and I am 100% here for it!
Matchup Letdown: Parris Campbell (0.7 pts) 
Tough situation for the 2nd-year WR out of Ohio State here, who's performance cost Scali the matchup. Campbell probably shouldn't have had much expected of him, but given the shitty luck of Scali's injuries and scheduling of games, he had little to no choice but to play him and hope for a big game. Long-term, Campbell should be intriguing and fine, but for now, he's best relegated to a low-risk flier spot at the end of a roster.
He's the only real option for the letdown title here, even if it doesn't seem fair to give him that distinction. Scali's team otherwise did what they had to do.
Team Waleed (Waleed Jeha) over Small State Big Cakes (Gilli – aka me) 152.98 to 113.88
Tough draw this week for your boy. I had little to no chance, even if I had made some marginal sit/start changes. Waleed's squad went OFF, lef by a massive Darren Waller performance and even a great day for Christian McCaffrey before succumbing to injury. PS, there's often one guy in a league that doesn't name his team. Apparently Waleed is THAT DUDE.
A Light Brees
Lowkey, is Drew Brees kinda done? He's looked pretty rough thus far in 2020. I'm not so sure he's the same QB we're used to. Perhaps the lack of Michael Thomas is really making it that much worse, but still, his gun-slinging stats just aren't at the level we're used to. 14,48 points against the Raiders on Monday Night Football! Back to back weeks in that 14.4 point range. I'm not sure if Waleed is panicking about his QB1 yet, but with CMC out for a few weeks, he might want to start considering starting Matt Stafford or trading for another QB just in case. Then again, he's 2-0, and I'm 0-2, so what the heck do I know.
What's Up Sir Purr?
The outlier awesome performance of Darren Waller aside, Waleed's skill positions were rock-solid across the board. CMC, despite the injury, still racked up 24.8 points. Austin Ekeler showing he was worth being drafted high with a strong 18.8 point performance, despite 0 TDs on the day. Tyler Lockett, as many Pats fans know, had a field day, and racked up 19.7 points for the Seahawks. Cooper Kupp did what Cooper Kupp does, with a nice but not insane day of 13 points.
BUT, the sneaky great day and guy to monitor moving forward in my eyes, is Robby Anderson of the Panthers. After a great Week 1, Anderson was back with 10 targets in Week 2, good for 9 receptions and 109 yards. Though he had zero TDs for the day, that's one HELLUVA baseline. I don't care if he doesn't know who the hell Sir Purr is, the dude can BALL. Jets are the Jets for letting such a talented offensive weapon like him go.
"What's that bear doing?"

Robby Anderson being introduced to Panthers mascot Sir Purr is too much 😂

(via @Panthers) pic.twitter.com/zzFFAaqkTp

— SportsCenter (@SportsCenter) September 16, 2020
CMC will be back for Waleed, and if Brees figures it out, or he finds a replacement QB to rack up the points, Team Waleed is a team most should be afraid of.
Good, BUT NOT GOOD ENOUGH
113 points is an improvement from my abysmal Week 1, but in a PPR league like this, not enough to expect to win. An improvement from last week for sure, but still an underwhelming effort overall. Pat Mahomes did what he had to do, as did Miles Sanders, but it just wasn't enough for me to have a semblance of a shot this week. David Johnson came back down to Earth with 7 points after his opening night heroics. Noah Fant was a pleasant surprise, and THANK GOD I drafted him to hedge my risky pick of Gronk. I thought the Saints D/ST was supposed to be good to great this year? Then they let the David Derek Carr-led Raiders score 34 points?! HUH? What is going on!?!
I can't even be upset about leaving points on the bench, because it wasn't enough to even make this close. Who the hell knows what Antonio Gibson is going to do for the Washington Football Team on a weekly basis? Davante Parker is likely slotting into that Courtland Sutton WR2 spot for now, but I don't feel good about it. I don't ever expect to play Baker Mayfield, but his presence on my roster is more of a motivational one. That chip on the shoulder attitude is necessary to battle back from this sorry-ass start to a season. Can't blame anyone but myself for my predicament. The journey to the playoffs re-starts next week for me. Against Quags. So maybe 0-3 isn't that bad – I'll start the comeback in Week 4? Maybe? Idk.
Small State Big Injuries
I don't mean to overplay this card, BUT, what the actual heck is this shit. No Miles Sanders, and then I lose Michael Thomas and Le'Veon Bell Week 1. Okay, fine. Week 2, and I lose Courtland Sutton to an ACL tear, and my #1 waiver-wire pickup Malcolm Brown to a pinky injury! Just a tough stretch for your boy. Though, I am no stranger to pinky injuries, so I totally understand the severity for Brown. Prayers up, from a fellow pinky-injury warrior:
BUT STILL. Fantasy Gods, what have I done to upset you? How have I wronged you!?!? TELL MEEEEEE!
Matchup MVP: Darren Waller (28.3 pts)
I essentially needed Waller and Brees to go negative on MNF to win this one. Instead, they put up reverse numbers, and Waller had a crazy-prolific outing as Derek Carr's #1 target. I like Waller, especially with his incredible journey back to the NFL, but 16 targets?! My goodness, Gruden is really outdoing himself with that gameplan. But hey, it worked, as Waller's 12 catches for 103 yards and 1 TD served to be enough to anchor the Raiders' passing attack. 28.3 fantasy points, enough to lead the charge for Waleed to get to 2-0.
Matchup Letdown: Malcolm Brown (4.7 pts) 
The #1 waiver-wire pickup of last week, Malcolm freaking Brown, already letting me down! To be fair, Brown endured a pinky injury, and already had surgery on it. Honestly, maybe it's me, and any player I roster is bound to get hurt. His lack of production wasn't really a difference maker, unless he had a 50-piece performance in him, but still. I'm bummed, and might be back out on the waiver-wire to find some diamonds in the rough to shore up my injury-laced roster.
Team Chubby (Brent Buckley) over The Click Baits (Connor Ryan) 141.4 to 137.44
I've saved the best matchup for last here. The closest matchup of the week, and a high-scoring one at that! Only 3.96 points between winning and losing this one, each start/sit choice from Connor and Brent had major implications. Let's dive right in.
From Half to Full Chubb
Nick Chubb was one of our Matchup Letdowns in Week 1, and deservingly so. Apparently he's a devout Couch Guy Sports blog reader, because he bounced back in a big way Week 2! Chubb went OFF, in an explosive 26.3 point performance for Team Chubby. Chubb's dominance came mainly on the ground on Thursday Night, when he carried the ball 22 times for 124 yards and 2 TDs (and what probably should've been 3). Chubb proved he's still the RB1 in Cleveland, and though Kareem Hunt had an excellent game as well, Chubb is the lead back for a reason.
Buckley's RBs overall had a phenomenal week, scoring 64.8 points between Chubb, Raheem Mostert, and Chris Carson. If those 3 are producing, Buckley might have a pretty sneakily dangerous squad on his hands.
A Tale of Two TYs
Ty(reek) Hill had an interesting day, headlined (and in some ways rejuvenated) by a 54-yard TD against the Chargers. Only 5 catches on 11 targets is a little suspect, especially considering that 54-yard TD consisted of half of his 99 receiving yards. Maybe the Chargers secondary is just that good, to hold Hill in check for much of the game? Or maybe Mahomes and Hill are a little out of sync to start 2020?
On another note, T.Y. Hilton looked like he was just some random dude on the Colts offense. Are we sure Philip Rivers has met T.Y. Hilton and understands what he's capable of? I'm really not sure, after back to back weeks of lame Hilton stat-lines. 5 targets, good for 3 receptions and 28 yards is NOT what Brent signed up for when he drafted him in the 4th round! Philip Rivers, heed this warning. You better get your shit together, or else the pitchforks are coming out to call for Jacoby Brissett.
Julio Get The (Hamstring) Stretch(ed)…
Tough week for Connor and The Click Baits, the second in a row of such fate. Despite a great effort from his team overall, it seems that Julio Jones' nagging hamstring injury was ultimately the difference maker between a W and L. Only 4.4 points for Julio as he played through the injury, and Matt Ryan gave Calvin Ridley and Russell Gage nearly all the love. Though Julio had a crucial drop from Gage that likely cost the Falcons the game, he still should've had more than 3 targets in this one prior to that pass. Was Matt Ryan thinking about all of the Connors in the world that NEEDED Julio to at least score 10 points to win their matchups? I'm thinking not, and that's a damn shame. I'm beginning to think Matt Ryan just doesn't care! There's a reason they call him Matty Ice and not Matty NICE.
Connor (Might Be Cryin') Ryan
Honestly not much else to be bummed about if you're Connor. He's the strongest 0-2 team of the bunch, and will be fine in the long-run. He weathered an injury that sidelined 3rd rounder George Kittle with a solid game from TJ Hockenson (10.2 pts). Also, Rodrigo Blankenship with a 15 point effort might be his MVP of the week. Just kidding, Kyler Murray exists and put up 32.14 against The Football Team. What a shame to waste that type of performance. His RBs did what they had to do, so he's got to have confidence in both Dalvin Cook and Melvin Gordon moving forward. Though it didn't matter in the end, I'm most impressed by his poise to not play J.K. Dobbins after a great Week 1 of usage, and stick with his guy by playing DJ Moore (20.0 pts) in the flex.
Conversely, if Connor had the foresight to play Diontae Johnson over Marquise Brown, he would've been on the winning side of this matchup and probably in the middle of a 2-day binge celebration, drunk on champagne and caviar, somewhere out in Nebraska, or Iowa, or South Dakota. Where the hell does that guy even live anyway?
Matchup MVP: Nick Chubb (26.3 pts)
Wow. What a difference a week makes. Shoutout to Nick Chubb for reading our Week 1 blog and using it as motivation / bulletin board material. Congrats on a great Week 2, Nick. Keep it up.
Matchup Letdown: Julio Jones (4.4 pts) 
No other real choice here. Especially after seeing Julio's drop on a surefire TD pass from Russell Gage. Here it is below.
Rumor has it Connor's accounted for 30% of this video's 5,000+ views. Just ruminating on the loss this week. What a damn shame. 
Weekly Accolades:
Some random shout-outs and disses to acknowledge the best and worst performances of the past week.
The Galaxy Brain Award: Wilson! Wilson! – Al Nahigian (173.92 pts)
Congrats. You made all the right moves this week. A true galaxy-brain level performance that led to the most points scored.
Worth noting that Al JUST edged out his boss/mentor/nemesis Quags (by 8.62 pts) to be the top scorer of the week. Congrats to Al.
The WAP (Weak Ass Performance) Award: Boston Antidote – Diego Galvis (74.36 pts)
It happens to all of us, but this was the week nearly every single player (except Amaeri Cooper) on Diego's roster was a let-down. No injuries impacted the score, which was the lowest scoring performance of the week. But having no injuries is a nice silver-lining in the sense that he doesn't have to scramble and claim like crazy. 
The Went Down Swingin' Award: The Click Baits – Connor Ryan (137.44 pts)
BACK TO BACK for Connor Ryan on this award. Wow. That's just some terrible-ass luck. 
The Click Baits were in a shootout once again this week, on the wrong end of a matchup against a high-scoring team. He did nearly everything right, yet it wasn't enough. But even in a shootout between a couple of sharpshooters, someone has to lose. Way to go down swingin' champ, better luck next time.
The Sneaky Snake Award: Team Chubby – Brent Buckley (141.4 pts) 
This person won with the lowest score total among all winners this week. A little luck goes a long way in fantasy, and this is symbolic of that. For now, congrats… but it let it be known that we see you slithering your way to a victory! So much of fantasy is playing teams on the right week, the fantasy gods are on your side, for now…
*Pretty high score here for being the lowest scoring winner of the week. Almost removed this one, because it doesn't feel quite right. Ending up keeping it, though. I like the snake image. Sue me. 
The Honey, We're Going Streaking Award: Small State Big Takes – Gilli (Me)
I am Will Ferrell here. I've gone streaking in the worst way. 2 losses in a row. Neither particularly great performances for me, either. Of the three teams with 0-2 records, I have the least points. That's not good. God, I at least hope KFC is still open.
The Tis But a Scratch Award: Danvers Powderpuffs – Tom "Powder" Cadmus
This award goes to someone enduring some devastating injuries. I was another contender in the category, but had to give it to Powder after this week 2. To lose Saquon Barkley for the season is just absolutely nightmare shit. Phillip Lindsay also missed the week with injury, as did Duke Johnson. James Conner was back and performed, but DAMN. Talk about one position being nearly totally depleted. 
Quick – someone send Powder a trade offer including an RB, STAT!!
The If You Could Turn Back Time Award, Presented By Cher: The Click Baits – Connor Ryan
What a song. Congrats to Connor on being the first team to win 2 awards in a single week. Not only did he have the most points scored by a losing team (again), but he wins the award sponsored by Cher! He wishes he could turn back time to Sunday morning and make a different start/sit decision, which would've resulted in a matchup win, not a loss.
Side note: Fantasy Football leagues are totally screwed once we figure out time travel. Shit's going to be defunct so fast when someone cheats, waits until Week 16, and then time travels back to the draft and picks the best performers of the year. 
Standings After Week 2
Once again, extremely sad to find myself at the bottom here.
Not even sure why I posted the standings again. No one asked me to do this. Am I just gaslighting myself for being a terrible disappointment? Maybe. Either way, I'm almost panicking. Way too early to panic, but I'm finding a way to do so. This is not fine. I am not fine. Someone send me a trade.
HOWEVER, I will not be taken advantage of, despite my team's injury-laced lackadaisical start. So, if it's a terrible trade offer where you expect me to give up Patrick Mahomes for a bag of broken assholes, dream on!!! Let me save you the time and let you know that you can SAVE THAT SHIT.
Song Expressing My Current Feelings following Week 2: 
Good luck to all in your respective leagues – may the waiver odds ever be in your favor. I'll be back next week with another recap on the Couch Guy Sports fantasy league.
-Mike Gilligan (@BigGilli, @VerbalCommitPod and @SmallStateTakes Podcast) – https://podcasts.apple.com/us/podcast/small-state-big-takes/id1432138166 / https://podcasts.apple.com/us/podcast/verbally-committed/id1516871465
Use Promo code "couchguy20" or "LLP" at Manscaped.com and grab some of the best tools in men's below the belt grooming. Using the code will get you 20% off of your order AND free shipping. Help out the site and help out yourself by buying some products from Manscaped TODAY.