Coming off of their bye week, the Buffalo Bills will look to rebound after suffering a heartbreaking loss against the Arizona Cardinals a couple of weeks ago. The Bills will host the Los Angeles Chargers this Sunday in what should be an intriguing game to watch. In this article, I will point out a couple of things to keep an eye on if you watch the game.
Allen vs. Herbert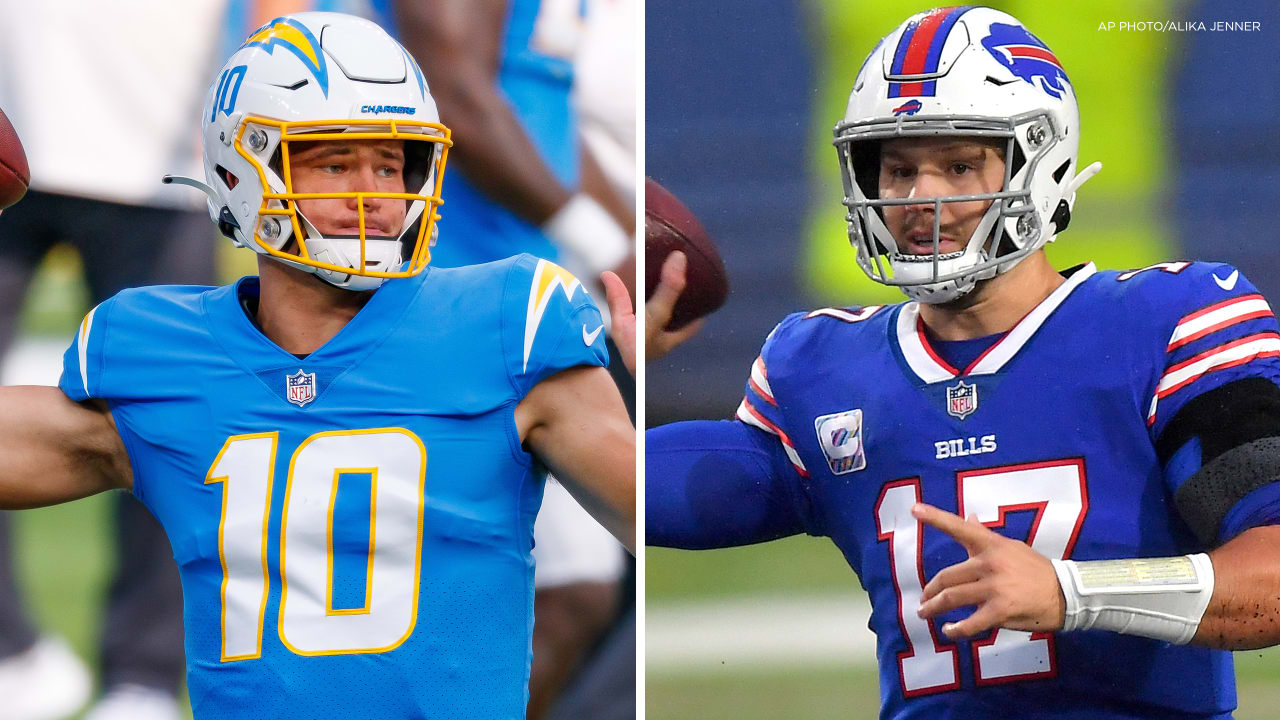 On Sunday, two young quarterbacks will be dueling it out. Chargers quarterback Justin Herbert and Bills quarterback Josh Allen will face off for the first time on Sunday. According to Pro Football Reference, both quarterbacks have great numbers. Starting with Allen, he continues to show great promise. He has 21 touchdown passes and seven interceptions. When it comes to passing yards, he has 2,871. For Herbert, he is having a fantastic rookie season. Along with 2,699 passing yards, the rookie has 22 passing touchdowns and six interceptions. With how good the numbers are for each QB, one thing is for sure. It's going to be a great duel between Allen and Herbert.
Davis breakout game?
On Friday, the team announced that wide receiver John Brown will miss this weekend's game with an ankle injury. With Brown being out, this opens the door for rookie wide receiver Gabriel Davis. So far this year, Davis has 19 catches for 275 yards and three touchdowns. Davis has shown some signs of being a good receiver but this weekend can be a breakout game for him. With most of the attention focused on Stefon Diggs and Cole Beasley, Davis can step up if he is given the chance.
A tough challenge
Even though they're 3-7, the Chargers are a better team than what their record says. If you look at all of the games they lost, they were all close games. With Buffalo's defense not being the powerhouse we saw the last few years, Los Angeles has the offense to pull off the upset. Running back Austin Ekeler might me coming back as well for the Chargers. Along with Keenan Allen as well, I have a feeling this game will be a shootout. However, the Chargers will be missing some guys according to Adam Schefter.
Chargers ruled out CB Casey Hayward and LB Melvin Ingram for Sunday's game in Buffalo; they're listing RB Kalen Ballage as questionable.

— Adam Schefter (@AdamSchefter) November 27, 2020
Buffalo will have one less offensive lineman as Cody Ford will miss the rest of the season with a torn meniscus. I think it's going to be a fun game and it will come down to the final drive. You can catch the game on CBS @1pm.
Use the Promo code "couchguy20" or "LLP" at Manscaped.com. Grab some of the best tools in men's below the belt grooming. Using the code you'll get 20% off of your order AND free shipping. Help out the site and help out yourself by buying some products from Manscaped TODAY.
-Zach Jezioro (@ZachJezioro_13)