Buccaneers at Patriots: Fantasy Football Preview
The biggest match in years for the NFL is finally here. The clash of titans where David meets Goliath! Week 4 of the NFL schedule presents the Buccaneers at Patriots. The time for a fantasy football preview has arrived and I'm here to share with you my thoughts on who to start, who to avoid, keep an eye on and more.
Time to get this showdown, Buccaneers at Patriots, underway!
Who You NEED to Start This Week!
Antonio Brown – Tampa Bay Bucs WR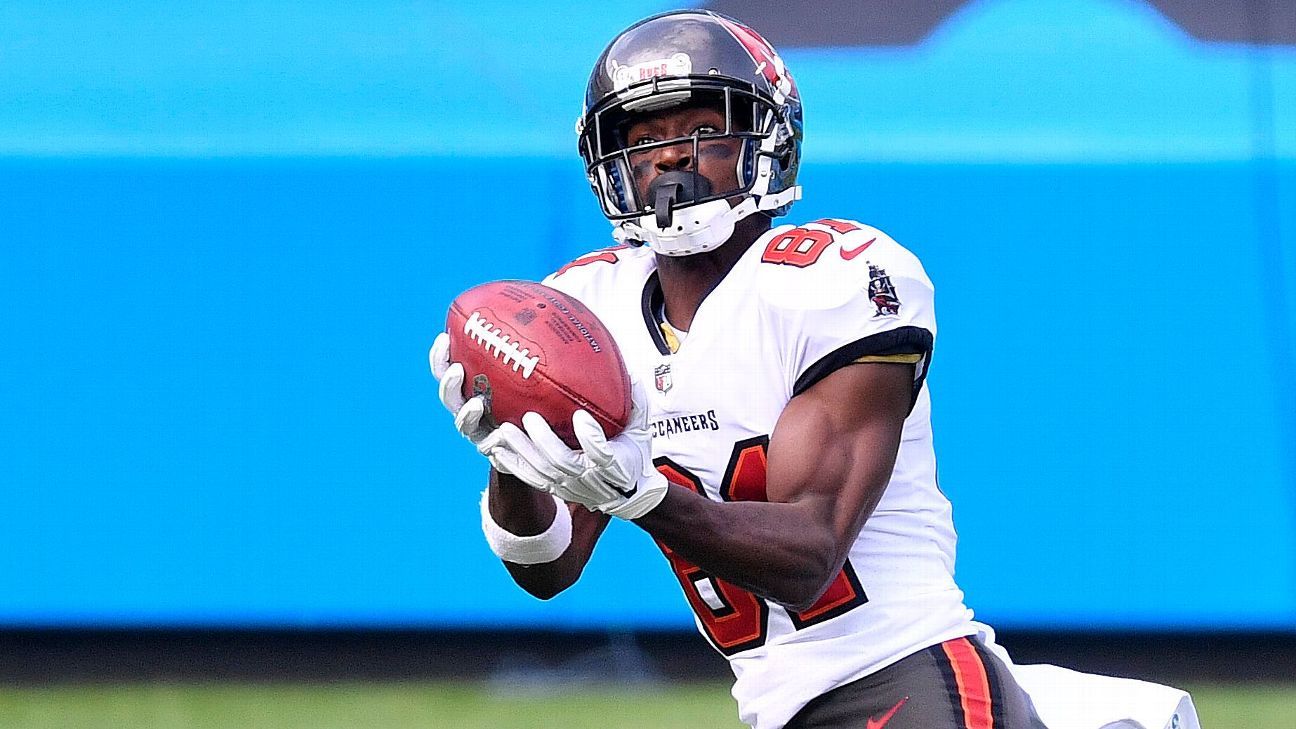 (Image credit to ESPN.com)
Antonio Brown has been activated from the COVID-19/IR list by the Buccaneers coming into this week four matchup against the Patriots. Prior to Brown going to the Covid-19 list, his performance against Dallas Cowboys impressed. Brown was targeted seven times for 121 yards and a TD.
While the Patriots are currently fifth allowing the fewest fantasy points to wide-receivers, let's not forget who they have faced so far. Pats have gone up against the Dolphins, Jets and Saints and have yet to be tried by this much of a powerful offense that Tampa brings to this matchup. Additionally, with Godwin and Evans being a coverage priority and Stephon Gilmore being out? Yeah, Brown represents a big problem for New England come Sunday night. Start em!
Avoid If Possible!
Mac Jones – New England QB 
(Image credit to masslive.com)
It pains me a lot to say it, but this is a week to avoid Mac.
Last weeks' struggles against New Orleans create a challenge like no other coming into this week. Where Jones completed just 3/19 attempts throw at least 15 yards, definitely raises some eyebrows as to how we will bounce back this week.
It is also reported that Richard Sherman will be active for the Tampa Bay Buccaneers, which will help improve a defense that has struggled against wide-receivers. Probably doesn't help either, that the Tight-End game has yet to be utilized to its full potential. Looking at this outing, it's just best to avoid the rookie in all formats for Fantasy Football purposes.
Lookout For…
Leonard Fournette – Tampa Bay Buccaneers RB
(Image credit to sportscasting.com)
Ok so game three for Fournette wasn't much in terms of rushing yards for Tampa. So what, it's against arguably the best defense in Football and the Rams have been lights out at shutting down that game. However, if you have the opportunity to Flex with someone like Fournette coming into week four of fantasy football, I'd recommend it.
Here's why, for starters Tampa will need his services. Their options of Ronald Jones and Gio Bernard haven't really shook the ground much. If anything, Bernard will be out due to injury for week four which increases the carry-chances for Fournette. Currently, New England is ninth-fewest against the backfield game and if the Patriots neutralize Brady's targets, Fournette will be a painful threat.
Keep an eye out for his performance this week!
(Featured Image credit to NFL.com)
Feeling tired, unable to focus and low on energy? We got you covered. Go to shockedenergy.com today and get yourself Shocked Energy today! Obtaining maximum energy with healthy ingredients. Use the promo codes "CGS21" or "CGSN" for 10% off your order today.
Tired of soreness and pain slowing you and your workouts down? Change that. Melt stress away anytime, anywhere with the ExoGun. Designed to give you the ultimate recovery utilizing percussive therapy and deep tissue massage, it will change your recovery life FOREVER. Follow this link (Exogun) for 10% off or use code promo code CGS10 at checkout!
~Diego Galvis (@Diego_TheDJ on Twitter).