BREAKING NEWS: NO ONE ELECTED TO BASEBALL HALL OF FAME IN 2021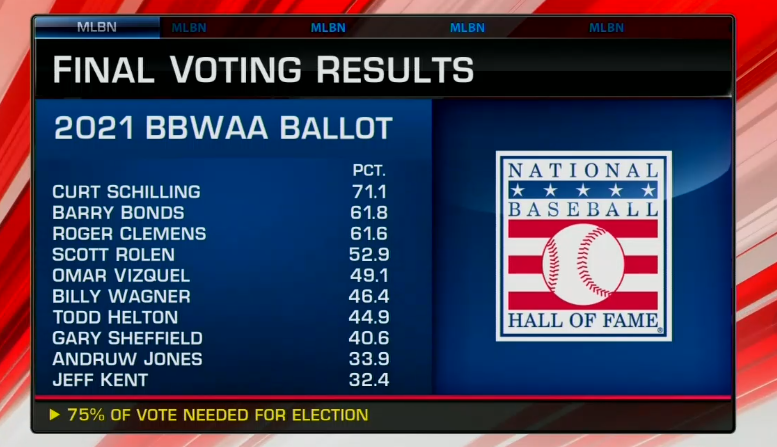 As you can see no one was voted into the MLB Hall Of Fame in 2021. The closest was Curt Schilling who feel 16 votes shy. This is the 9th time since voting began and the first since 2013. I was shocked when I watched the announcement live. I actually got mad at my tv.
Who Should Have Made It In
When the Hall Of Fame ballot went out I gave my thoughts on who should get in. I still believe what I said back then. Curt Schilling, Roger Clemens, and Barry Bonds should have made it this year. Yes they all have their own issues when it comes to character, but that does not take away from their stats and play on the field.
Thoughts
Curt Schilling was one of the best postseason pitchers ever. He won 3 rings and was major piece in all 3. Schilling went over 200 innings 9 times in his career. He finished 2nd in Cy Young voting 3 times and won a World Series MVP (shared with Randy Johnson). Having over 3000 strikeouts is something not many pitches will do anymore. I could go on and on about his stats, but the case is closed and Schilling should get into the Hall Of Fame someday. Schilling is trying to take himself off of his last year on the ballot. I hope it does not work and he makes it next year.
Wanted to share the letter I wrote to the amazingly kind folks at the HOF yesterday. https://t.co/UfggsxYclt

— Curt Schilling (@gehrig38) January 26, 2021
I should not have to get into any stats about Barry Bonds. The tweet below should be enough to show how good he was. An average hitter does not get intentionally walked over 600 times. Pitchers would not throw to him. I know Bonds is accused of using PED, but that does not take away from his talent. PED do not help you hit the ball. Hopefully we see Bonds get over that 75% mark next year. I am all in on Bonds to the Hall Of Fame.
Barry Bonds intentional walks: 688

Entire Tampa Bay Rays franchise combined intentional walks: 623

— Danny Vietti (@DannyVietti) January 26, 2021
Lastly Roger Clemens should have made it this year. Like Barry Bond. Clemens is linked to PEDs, but winning 7 Cy Young awards should mean something. Clemens finished with over 4,600 strikeouts and 350 wins. Also, he had a career 3.12 ERA. Those stats are unbelievable over a 24 year career. During his era Clemens was consider the best pitcher in all of baseball. Like Schilling and Bonds I hope to see Clemens in the Hall Of Fame next year.
2022 Hall Of Fame Ballot
The two biggest new comers to the next Hall Of Fame ballot are Alex Rodriguez and David Ortiz. Being a Red Sox fan I hope Big Papi gets in next year. My baseball fandom and what I have seen from voters I do not believe they will elect Ortiz in on the first ballot. He was a DH his whole career. Even though Ortiz might go down as the best clutch hitter of all time that does not save him from not playing a position on the field. A-Rod most likely will not make it for a few years if he even does. A-Rod came out and admitted to taking PEDs. The writers do not take kindly to that. I think both of them are first ballot guys based on talent and stats. But I do not get a vote, so my opinion means nothing when it comes to votes.
I think Scott Rolen and Billy Wagner will make another huge jump come 2022. They both put up Hall Of Fame Careers and will make it closer in 2022. I believe they will both be in with the 2023 or 2024 classes.
The biggest vote percentage increases this year. #HOF2021 l @CampingWorld pic.twitter.com/VwUPKWEfE3

— MLB Network (@MLBNetwork) January 26, 2021
Wrap Up
The 2021 MLB Hall Of Fame ballot did not elect anyone in. This is shocking to many people, myself included. I am hoping in 2022 Barry Bonds, Curt Schilling, and Roger Clemens make it in. David Ortiz is new to the ballot next year and should make it in. Tune into Legends Lingo to hear more of my thoughts.
-Tom "Powder" Cadmus (@powder42308)