Benches Clear in Mets and Nationals Game
We are two games into the season, and we have our first benches clearing kerfuffle. Nationals pitchers hit James McCann twice and Pete Alonso once on Thursday night. Both McCann and Alonso got hit close to the head creating some ruffled feathers in the Mets dugout. Things escalated Friday evening when Francisco Lindor squared around to bunt in the top of the fifth inning. Nationals pitcher, Steve Cishek, threw a pitch up and in the ultimately hit Lindor in the face, knocking him to the ground. The first person on the field you ask?… Mets manager Buck Showalter.
Francisco Lindor was hit in the face and Buck Showalter & the Mets came out of the dugout furious.

Lindor has left the game. pic.twitter.com/DYeTm5hQNX

— SNY (@SNYtv) April 9, 2022
After being the fourth Mets batter to be hit by Nationals pitchers in 14 innings of play, Showalter and the Mets showed their displeasure.
Fallout
Once things calmed down, Steve Cishek was ejected for hitting Lindor. Perhaps a warning may have been more appropriate, but something needed to be done after the Nationals hit two Mets players in the head in two games. Buck Showalter was quite candid in his postgame comments, saying "Those things can't happen."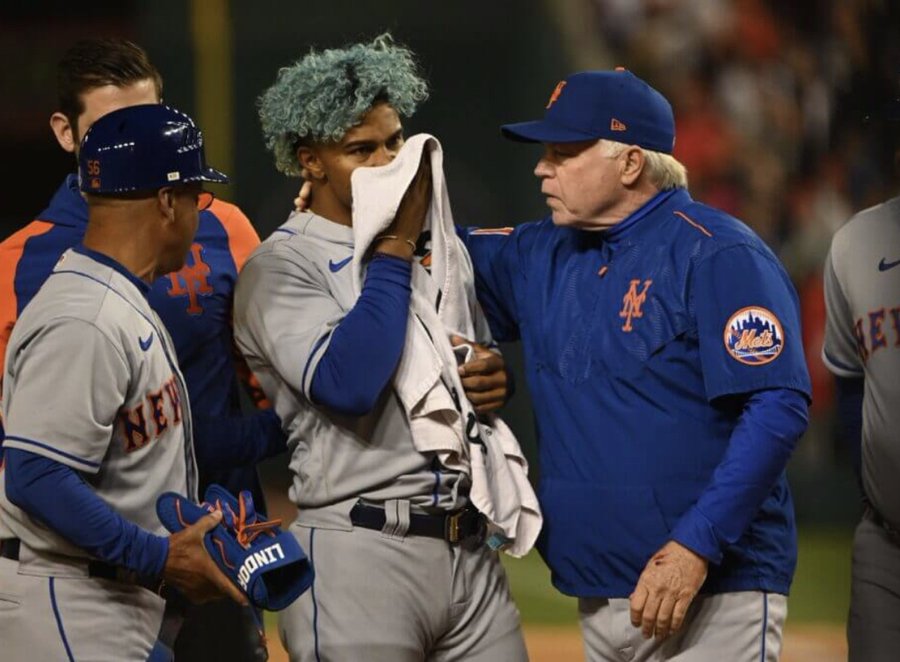 Whether or not it was intentional, it is very alarming for Nationals pitchers to struggle that much with their command. Two games into the season and they already have hit four batters and two in the head. You can blame the cold, the lack of sticky stuff, or blame whatever else, but the Mets haven't had any trouble thus far. The Mets deserve to be pissed and that showed last night.
Buck is the Man
There were some questions regarding Buck Showalter's hiring. Some thought he was too old and that the game has passed by him. But right now, he is proving to be the manager this team needed. After two failures in Mickey Callaway and Luis Rojas, it is so refreshing to see a manager be there for his players like Buck showed last night. He has created a unity in this team that we haven't seen in a long time. I know it is only two games in, but this team already looks different and feels different than Mets teams of years past.
Final Thoughts
The Mets and Nationals play again this evening. Francisco Lindor may not be in the Mets lineup tonight but he came out relatively unharmed as he cleared the concussion protocol and had negative x-rays. The bats have been hot for the Mets to start the season as they have 25 hits through two games. In addition to the amount of hits, they are getting timely hitting. One of the Mets biggest weaknesses last year was hitting with runners in scoring position and 2 outs. So far this season, that has been one of the Mets biggest strengths. Like I said, this team simply looks different than years past, and I am here for it.
-Pete Chatterton (@Pchat12)
Featured image courtesy of Mitchell Layton/Getty Images.
Feeling tired, unable to focus and low on energy? We got you covered. Go to shockedenergy.com today and get yourself Shocked Energy today! Obtaining maximum energy with healthy ingredients. Use the promo codes "CGS21" or "CGSN" for 10% off your order today.
Tired of soreness and pain slowing you and your workouts down? Change that. Melt stress away anytime, anywhere with the ExoGun. Designed to give you the ultimate recovery utilizing percussive therapy and deep tissue massage, it will change your recovery life FOREVER. Follow this link (Exogun) for 10% off or use code promo code CGS10 at checkout!